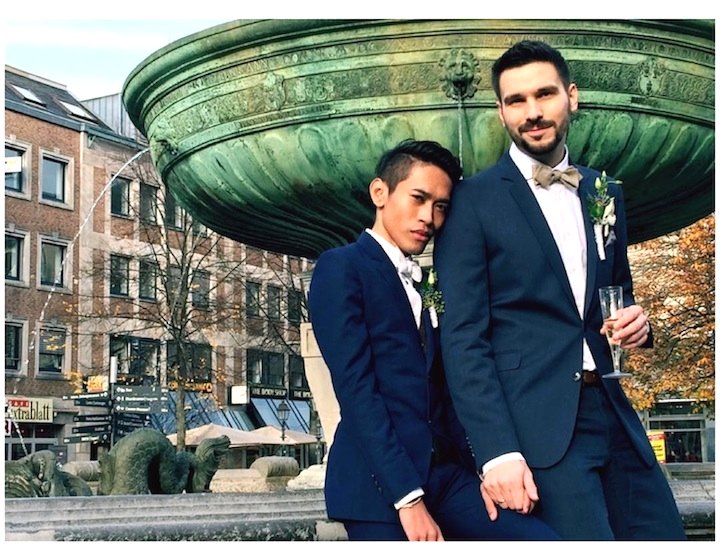 Internet is fascinating as it randomly makes some people heroes and victimize others. It's very much the devil's playground. One tweet can shoot a 16-year-boy named Alex who worked at Target to 15-minute stardom.
Yet another tweet sent an interacial gay couple in Thailand to cyber hell.
When a Filipino website posted this random photo on a Bangkok subway, netizens criticized the couple's gayness and interacial dating with comments including, "Foreigners are fond of pets."
The couple turned out to be Middelhof and Kaendi. Some netizens said the white one, Middelhof, was better loooking, and debated that Kaendi, the Thai one, was with Middelhof because Middelhof was the creative director of a modelling agency in Bangkok.
A year after the incident, Kaendi took it to Instagram and posted more photos about their relationship and said, "Thorsten and I are just normal people who only want to have normal lives. We always respect other people while in public: we never kiss, never be in each other's arms and hardly hold hands. But apparently every time we get close while going out, people look at us, judge us, [say] that we [don't deserve] each other shooting the negativity right at us. Taking the bullets hurts …
I'm not a famous actor nor a public person who knows how to handle criticism… I'm just ME.

"
OK. "They are NORMAL people who only want to have NORMAL lives." Whose life is abnormal?
"We always respect other people while in public: we NEVER KISS, NEVER BE IN EACH OTHER'S ARMS and HARDLY HOLD HANDS."
Now that's sad. Who's to say that PDA is disrespectful for gays or non-gays?
From their own words, we realize this couple is not Angelina Jolie and Brad Pitt. They are internet fashion victims and apologists at best. They are not winners of internet fortune either like Alex of Target.