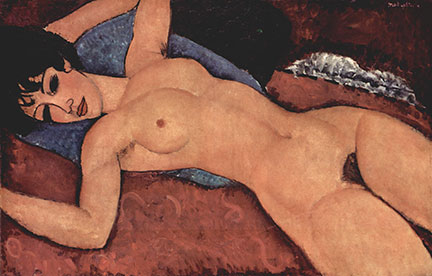 Amedeo Modigliani's Reclining Nude (Nu Couche) became the second highest price ever for a work of art sold at auction. After a bidding battle at Christie's in New York, Reclining Nude was sold on Monday to Chinese billionaire investor Liu Yiqian for $170M.
Reclining Nude is one of the series of great female nudes made in 1917-1918. When it was exhibited at Modigliani's one-man show at the Galerie Berthe Weill in Paris, scandal erupted. Crowd formed outside the gallery, outraged by one of the nude paintings on the window display.
Liu, a chairman of a Shanghai-based investment company Sunlike Group, has a net worth, according to Forbes this year, estimated at $1.37 billion. Once a taxi driver, Liu began investing in stock exchange and eventually made a fortune through trading. An avid art collector, Liu recently paid $45M for a Tibetan embroidered silk tapestry at an auction house. With his wife Wang Wei, he founded the Long Museum in Shanghai three years ago which houses contemporary pieces by Jeff Koons and Yayoi Kusama among others.