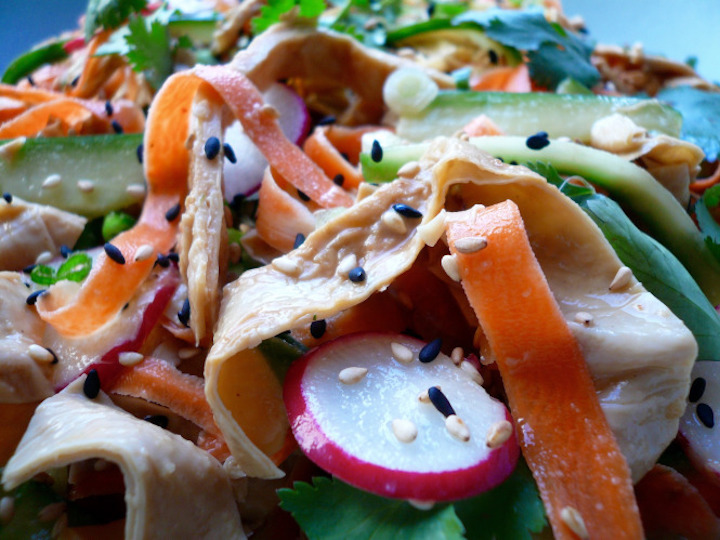 Hungry Empress Joan Chen ponders on being American and made a yummy salad: "I know I have shared a Yuba noodle salad just a week ago, but here it is again — the non-spicy version.  It is so simple to prepare, so delicious and healthy that I make some version of it three or four times a month.  Today, I doubled the recipe and we each enjoyed it from a bowl right in front of the TV screen while we watched a screener of Mad Max: Fury Road. Since I am a voting member of the Academy, I have all the films from 2015 on DVDs. I watch most of the films, especially my favorite indie films by myself during the day when no one is around, but for louder and more commercial films it's more fun to watch with the family.
Usually we have a no device rule at dinner table, but once in a while when the girls are too pressed for time, they will eat while doing their home-work, or on a Friday, like tonight, we will have a movie dinner.  Typically on a movie night, we have popcorn, nuts, fruit salad or desserts all laid out on the coffee table alongside the dinner — the closest I ever get to a Monday night football, with herbal tea instead of beer.
Amy Tan once told me that the yardstick of cultural assimilation, the proof of one's becoming a true American is watching football. I suppose I will never be a true American by that definition, but what about just movies and popcorn?  Shouldn't that be the second closest yardstick next to football and beer?  Maybe movies and tahini Yuba noodles are even more American — this is a land where cultures blend and become born again as American."
Get the recipe on HungryEmpress.com.