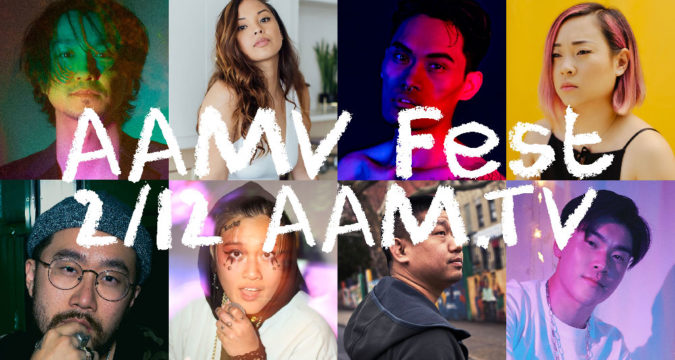 After the January 12, 2021 streaming release of The Slants Collection, a retrospective of The Slants' musical works including their Taiwan tour documentary on AsianAmericanMovies.com (AAM.tv), The Slants founder Simon Tam along with Quentin Lee will launch and stream worldwide the Asian American Music Video Fest (#AAMVFest) on February 12, 2021 which marks the beginning of the Lunar New Year and The Year of the Ox
In celebration of Lunar New Year, AAMV Fest is the first Asian American music video series to be released bi-monthly, free to stream for the world on AsianAmericanMovies.com. Each season of AAMV Fest will feature 8 music videos by up-and-coming Asian American artists with an introduction by Simon Tam, founder of The Slants and The Slants Foundation.
The Season 1 of AAMV Fest includes eight fresh music videos "Perpetual Heartbreak" by Bao, "Honor" by Jason Chu, "Clean" by Darro, "Never Settle" by Lola Menthol, "GPS" by Jessica Lewis, "Gold in the River" by Priska, "Hakugei" by St. Lenox and "to the last of the dying breed" by Wu Am I.
"We're so excited to be partnering with AsianAmericanMovies.com to be launching this exclusive collection of videos. Our work has always centered around lifting up Asian American voices, so this aligns directly with our mission." said Asian Rock Legend Simon Tam about the #AAMVFest.
He continues saying, "Spending 13 years performing in The Slants was an absolute joy and I hope that our excitement, growth as artists, and energy shines through in these videos. The Taiwan Tour film is an homage to foodies and music aficionados alike." Asian American Music Video Fest is a great way for our band to help use our platform to shine a light on other AAPI musicians. We're looking forward to featuring the incredible talent of our diverse community."
The Slants Collection is available for streaming now on https://www.asianamericanmovies.com/the-slants-collection
STREAM FREE AAMV Fest now: https://www.asianamericanmovies.com/aamvfest