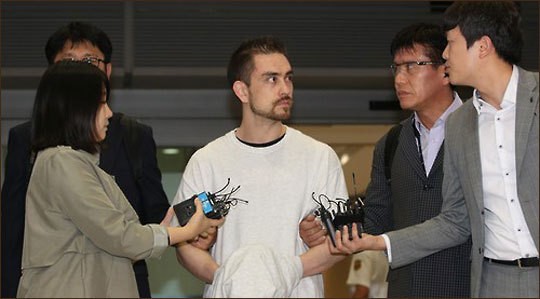 Thirty-six-year-old Arthur Patterson was convicted yesterday in the Itaewon Murder Case, the fatal stabbing of a Korean college student in a Burger King in Seoul, South Korea nearly two decades ago. He was sentenced to 20 years in prison for the crime also known as The Itaewon Burger King Murder, bringing some closure to the victim's family after almost 20 years of waiting.
On April 3, 1997, 22-year-old college student Cho Jung-pil was found dead in the bathroom of a Burger King restaurant in Itaewon, a seedy district in Seoul that is popular among tourists and U.S. military personnel. Eighteen-year-old Arthur Patterson, son of an American father and a Korean mother, and his Korean-American friend Edward Lee, 17, were attending a party of approximately 20 people on the fourth floor of the same building where Cho was found stabbed nine times in the neck and chest of the ground floor Burger King restaurant. Prosecutors initially called the murder a random "American gang-style" killing. A few days later, Lee confessed to being in the restroom with Patterson at the time of the murder. Throughout the investigation and the subsequent trial, Patterson and Lee accused each other as the perpetrator of the crime.
The case raised some controversy regarding police procedures in South Korea. Locals questioned the skills and competencies of their police. Without an English-speaking interrogator, the initial questioning was slow and delayed the process. Tensions also rose between local Koreans and American military members. Patterson was living in Seoul at the time with his father who was a US military contractor. Some believed the Status of Forces Agreement (SOFA), a treaty signed in 1966 between South Korea and US which grants American military personnel freedom from prosecution within Korean jurisdiction, further hindered the investigation process.
Lee was eventually convicted of murder and sentenced to life in prison. Patterson, convicted of possession of an illegal weapon and destroying evidence, was sentenced to 18 months but received amnesty and was released in 1999. Lee was also later acquitted due to a lack of evidence. After the insistence of Korean activists and Cho's family, authorities promised to further pursue the conviction of Patterson for the crime. It proved to be too late because Patterson had already left for California when a prosecutor mistakenly failed to renew his travel ban.
In 2009, the case experienced renewed interest when the film The Case of Itaewon Homicide, which dramatized the murder, was released to a blockbuster success. With the statue of limitations on the case approaching, Korean authorities decided to reopen the investigation in 2011. Lee, who has always maintained his innocence and given consistent testimony, promised to cooperate with the investigation.
Patterson was finally extradited to South Korea in September 2015 and brought to justice yesterday, almost 19 years after the fateful night Cho's life ended on the floor of the Burger King restroom.
"I've spent the past years feeling sorry for Jung-pil because the real culprit hasn't been caught," Lee Bok-su, 74, the mother of the victim, told reporters after the trial according to Korea JoongAng Daily. "I feel much better now."