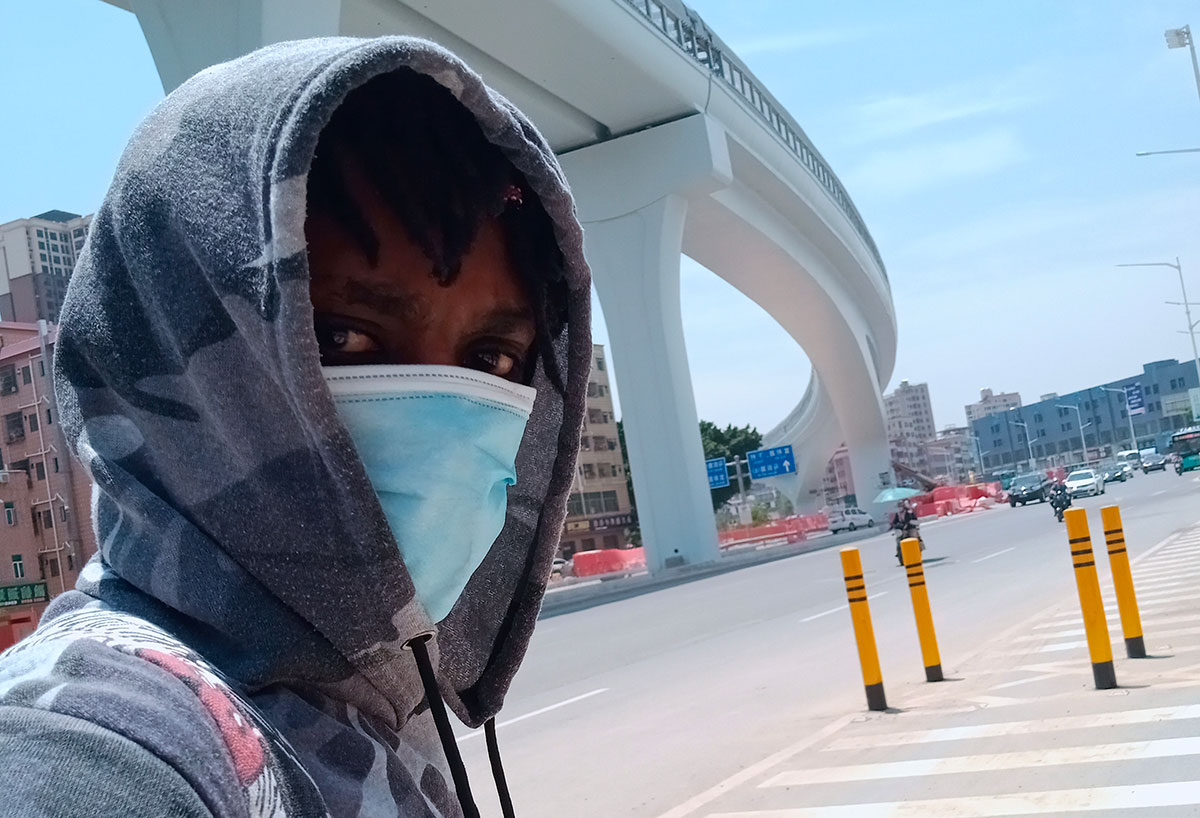 24 years old, Dennis Mirii Kinyanjui was originally from Mwingi, a town in Kenya. He arrived last November in Shenzhen to study filmmaking and Chinese. CHOPSO interviewed him about his experience in China, having survived the worst of COVID-19.
Tell us about your hometown in Kenya and how you've come to be interested in Chinese and filmmaking.
DMK: I was brought up in a humble family in a small town called Mwingi of Kitui county in Kenya. My passion for film started when I was young, probably at six years old. My father used to come home over the weekends from work and always bring Chinese martial arts movies. We would watch together as a family. At that time, I would say I was attracted to the action and Chinese cinema, though I did not understand the language. Later in primary school, I first performed in a small play.
Can you tell us more about your film school in Shenzhen and what classes are you taking? Have you already gone to college in Kenya?
DMK: I recently got a partial scholarship in Hebei, China to study a degree in film production. The school advised us to learn Chinese for one year first before we start our major. After high school, I joined a diploma class to study Chinese language and culture. My aunt Betty helped me enroll for the Chinese course at a local Confucius institute. It took two years of learning before I graduated.
Since you have been there like for 8 months, which meant you arrived around last September. What was it like for you during the Coronavirus lockdown in China? How has it affected your school?
DMK: It has been very traumatizing. I had actually traveled to Shenzhen during the winter vacation. I was not going to stay for long but then on January 15th the Chinese government announced the Coronavirus outbreak and people were advised to stay indoors. Ever since I have been stuck here in Shenzhen, I have not been able to go back to school. The school has not resumed and there is no sign of any announcement about opening date of the school. I would say it is one of the most scary and insecure situations in my life.
I know you also have acting aspirations? Why does acting interest you and who is one of your favorite actors?
DMK: Yes, I do. My passion for filmmaking and acting have grown over the years. I love acting because it's such a selfless art. I would best describe acting as a selfless art of sharing morals and lessons that creates a mutual connection between the character and the audience. One can learn through the life experiences of the character by virtually being there as it happens through film. And that's why Jet Lee is my favorite actor.
What's the film industry like in Kenya? Do you have a favorite Kenyan filmmaker?
DMK: It has been doing well in the recent and even better right now. Television stations are now airing more Kenyan content of different genres. Now there is a social media platform called Viusasa where young filmmakers upload their content and get noticed and appreciated. Eugene Mbugua is one of my best filmmakers. He deals with a wide genre of films that inspire me a lot.
Tell us a few of your favorite films ever.
My all time favorite is Tai-Chi where Jet Li is the star. I have learned a lot from that movie. It's also one of the movies my dad bought when I was young. The Shawshank Redemption with Morgan Freeman and Teen Wolf with Tyler Posey are also my favorite movie and TV show.
How long do you plan to stay in China and what about China you like most so far?
DMK: Well, I don't have any plans of going back home so I think I will spend some years in China. China is a big country with a lot of amazing things, both man-made and natural creations. Most of all, the kindness of the Chinese people has struck me as a surprise. As I normally like to take walks in the local markets and homesteads, sometimes local people might seem a little scared seeing a black person for the first time. After a few visits, they get used to me, showing growth and a positive perspective view towards foreigners. Chinese people have a good heart.
What would be your dream film you want to make or your dream role as an actor?
DMK: Basically my goal is being able to connect with the audience and bring hope and love through my films. I really would love to work with Chinese film industries by promoting their films in Kenya and Africa both as a filmmaker and actor.