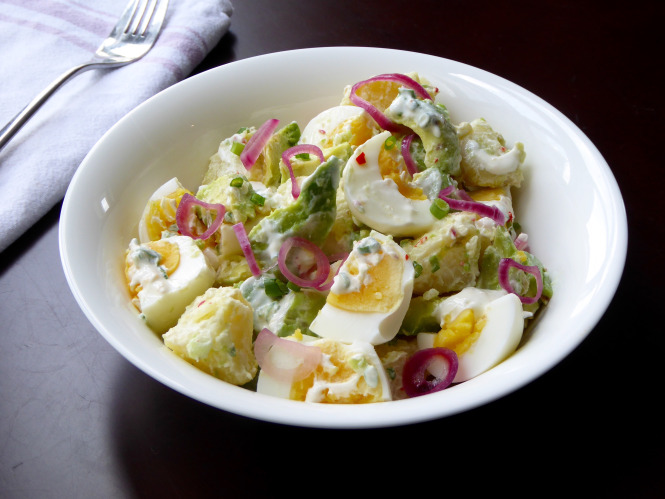 Hungry Empress Joan Chen makes potato egg avocado salad: "This is one of the simplest and most satisfying salads I have ever made.  I have a friend visiting me from Beijing and he is a passionate potato lover.  He can eat potatoes everyday and never get tired of it.  I asked him how he wanted his potatoes cooked today and he said, "Oh it doesn't matter.  I can just boil it in water and eat it with a little salt."  So I boiled them for him, but added a few other ingredients than salt.  The result was absolutely sumptuous.
When I was making the Greek yogurt dressing, I wished I had some lemon and coarsely ground Dijon mustard.  However, the salad turned out very tasty without them.  The Greek yogurt is tart enough without the lemon, and the garlic-chili-green onion combination was perfect for this salad. The pickled Thai red onion added a refreshing and piquant finishing touch.  A yummy Sunday brunch!"
Get the recipe on HungryEmpress.com.