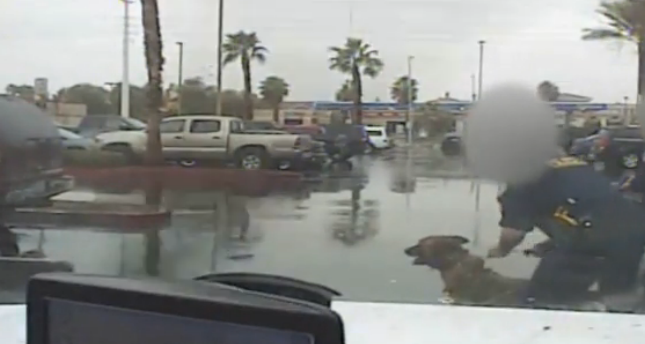 On January 30 of this year, the owner of a health food store in Henderson, NV called the cops because of a disgruntled customer. What follows is another messed up case of mistaken identity that involves a K-9 and a terrified infant.
After the telephone call from the health food store owner, the cops arrived at the parking lot looking for a black man in a black shirt. Arturo Arenas-Alvarez, a Latino man in a white shirt, was just pulling his SUV into park when the cops ordered him out of the car. One of the cops immediately realized that Arenas-Alvarez wasn't the man they were looking for and said, "That's not him, dude. That's not a black man in a black shirt."
The story could have ended here with Arenas-Alvarez released and cussed the pain of being brown in a racist city, but it unfortunately didn't. Another cop arrived at the scene with a Belgian Malinois K-9. He quickly released the dog into the parked SUV while Arenas-Alvarez, who was still apprehended by the cops away from the car, yelling, "My baby! I've got my baby!"
The cops quickly ran to the SUV but the K-9 had already gone into the car and bitten Arenas-Alvarez's 17-month-old daughter, Ayleen, on the right arm.
According to Las Vegas Review Journal, Henderson agreed to pay the girl's family $13,000 to settle a legal claim.
Las Vagas Review-Journal requested all records relating to the case and eight months later, police turned over their dash-cam videos of the incident. Here's part of the video.
[iframe src="http://content.jwplatform.com/players/65ciRBOR-Bw0sFO2g.html" width="100%" height="500″]