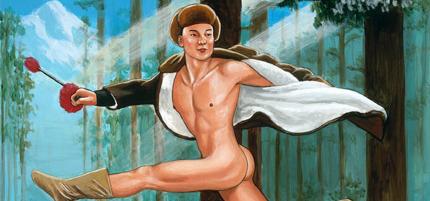 featured image by Musk Ming
Whether you agree or not, a lot of people have called 2015 the 'tipping point year' for LGBTQ rights. The conversation has focused on the United States, with marriage equality and transgender visibility topping the bill. But what about elsewhere in the World?
In China, a year which saw the government clampdown on free speech and the right to protest has been filled with activists, NGOs and businesses who have made some significant moves towards queer equality. Here are a few key moments.
People sued the government
There have been a small but significant number of lawsuits filed against the Chinese government this year in the name of LGBTQ equality, on issues from marriage to art. The big one was Guangzhou student Chen Qiuyan's complaint against the Ministry of Education, over continued reference to homosexuality as a psychological disorder in school textbooks. The case was accepted by a Beijing court and resulted in a mediated discussion with Ministry officials. Whilst that has yielded no concrete agreement so far, Chen's campaign continues.
China's 'Poison Tongue' got her own show
Renowned choreographer Jin Xing crashed screens in January this year with her new talk show. She had previously appeared as a judge on reality show Fei Tong Fan Xiang, but was unceremoniously removed by state regulators because she is transgender. With her biting wit and headstrong honesty, The Jin Xing Show was a ratings success, and has brought the concept of Trans* into homes around the country.
Taobao helped couples say "We Do"
The online marketplace ran a Valentine's Day competition to win an all expenses wedding in USA. They eventually sent seven lucky same-sex couples down the aisle in June. "By holding this campaign, we want to demonstrate our respect toward the aspirations and dreams of same-sex couples," a spokesperson told The WorldPost.
Seek McCartney passed state censors
Award winning director Wang Chao announced in September that his queer love story had been approved for screening in China. Observers have noted that this doesn't necessarily indicate a real change, and could just be a blip on the censorship radar. However, the release later this winter will be the first time Chinese queer main characters are seen on the big screen, 20 years after East Palace West Palace.
The Pink Yuan became a thing

Businesses began to sit up an notice the LGBTQ market, estimated to be worth around US$300 million. Maybe a little cynical, but money talks in a growing economy, and market visibility could mean a shift in community awareness. The Pink Economy can be a misleading concept, contributing to the idea that queer people are richer and like to spend more than other groups. The increased interest is being met by groups like WorkForLGBT, who published their second data report on income, wellbeing and employment for LGBTQ in China earlier this month.