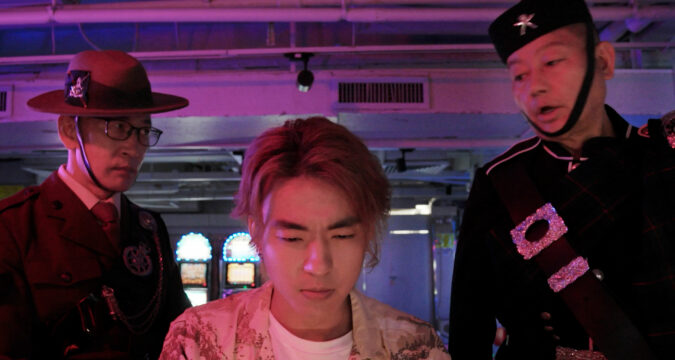 Donna Ong's unique short film on Hong Kong "Karma's Meth Nightmare" streams FREE now on AAM.tv. I took the opportunity to review the short and interview Donna about the making of this obtusely insightful short film on Hong Kong culture.
Reminding me the early brilliance of Wong Kar Wai, Donna Ong's fresh and cinematic debut "Karma's Meth Nightmare" is an imaginative experimental short dramatic film about a Nepalese teen experiencing a meth induced nightmarish and entertaining hallucination. The film is inspired by the emotionally displacing plight of Hong Kong-born Third World youths. I programmed the short film at 2022's Yale in Hollywood Fest where it was praised by playwright David Henry Hwang and awarded Best Experimental Short.
In making the film, Donna worked with all non-professional actors and created a compelling short film that articulates the emotional displacement of a Third World youth in Hong Kong with imaginative storytelling and a mix of martial arts fantasy. Facing both parental and cultural displacement, Karma does meth (dubbed "ice" by Hong Kong users) to escape the emotionally uncomfortable reality and ends up being reprimanded by his imaginary ancestors and getting into a knife fight with his imaginary enemies. While the hallucinatory story is played with comedy and fantasy, the story carries a deeper and sadder resonance about how today's Hong Kong youths, including the ethnic minorities, face a both a hopeless family and community life.
In writing and researching the film, Donna worked with a local social worker to research at-risk Third World youths in Hong Kong such as second generation Nepalese teens who are often not even on the radar of Hong Kong popular culture and discourse. She also cast Ratna Khimding, an ex British Gurkha soldier and now a permanent Hong Kong resident in the film, symbolizing the young local Nepalese colonial ancestry.
On the surface, "Karma's Meth Nightmare" appears to be a fun and imaginative drug-induced hallucination. Deeper behind the narrative surface are historical and cultural explorations of how Hong Kong came to be in the British colonial history, illuminating the never-before-seen point-of-view of at risk Third World youths in Hong Kong glossed over by locals and their mainstream culture.
Donna said she showed the film to a local commercially successful director who was completely baffled after watching her film. Her experience with the local film director illustrates the total blind spot and cultural ignorance of the Hong Kong film industry, if you could still call it an industry, that erases local subculture and obtuse perspectives that truly make Hong Kong unique. It is precisely this ignorance of Hong Kong mainstream culture that makes a film like Donna Ong's "Karma's Meth Nigmare" none the less more important in the global culture.