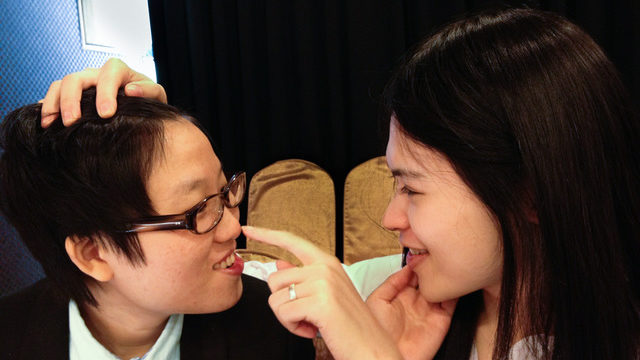 The nonprofit organization ​Chinese in Entertainment ​today announced a showcase of four LGBTQ-themed short films selected for the ​2021 Los Angeles Chinese Film Festival LGBTQ Showcase​. This showcase will be hosted virtually on the streaming platform ​Montage​ at www.montageplay.com​ from January 18 – February 5, 2021, and is free for the general public to attend. The event will culminate with a virtual Q&A session at 7PM PST on Saturday, January 30th.
In light of the global pandemic, the Los Angeles Chinese Film Festival (LACFF) has transitioned to a virtual festival for the 2020-2021 season. Instead of hosting a competitive film festival, the LACFF has decided to use this unprecedented time as an opportunity for retrospective screenings. In previous years, LACFF has screened a limited lineup of standout films selected out of hundreds of submissions by talented filmmakers from around the world. As with all traditional film festivals, having a single in-person screening for each film meant that many of the works selected by the LACFF could only be seen by a small group of film aficionados in the Los Angeles metropolitan area for one night. The pandemic-era restrictions on in-person gatherings, while difficult in many respects, have also given us a unique opportunity to share these outstanding films with a much broader audience. In the first month of 2021, LACFF will present an LGBTQ Virtual Showcase — a screening of four shorts selected from previous LACFF programs and our community partners.
Xuan Zhang​, Festival Director, Chinese in Entertainment: "There are so many creative and talented filmmakers from the LGBTQ community from China, Taiwan and the Chinese diaspora whose works are often underrepresented. This year's LGBTQ virtual showcase allows us to present the stories that drive changes across societies to a broader audience."
Guo Liu​, Director of Operations, Montage Media: "We are very proud to continue to be a presenting partner of the Los Angeles Chinese Film Festival's virtual showcase program! As a streaming platform that programs independent films and documentaries, we always celebrate diversity and freedom of expression."
Damien Lu​ will serve as the moderator of the Q&A event. Damien Lu received his Ph.D. from UCLA and currently works as the President of Information Clearinghouse for Chinese Gays & Lesbians. Damien started to work with the Asian LGBT community in the 1980's and hosted one of the first Internet-based forum for gay Asian people from around the world. In 1998, he joined the newly founded Aibai.cn, which provides vital information for Chinese speaking LGBT community worldwide.
Four LGBTQ shorts from China, Taiwan and the Chinese diaspora will be included in the showcase. This event will be co-hosted by the ​China Rainbow Network​, the largest nonprofit organization for Chinese sexual/gender minorities outside of China; the ​Taiwan International Queer Film Festival​, an annual film festival established in 2014 and organized by the Taiwan International Media and Education Association (TIMEA); and ​unCoVer​, a Shanghai-based nonprofit organization that uncovers, documents and examines narratives, opinions and perspectives on issues around social justice and intersectional identities.
Los Angeles Chinese Film Festival aims to discover and promote outstanding Chinese language, Chinese heritage and Chinese culture-focused films, and foster cultural exchange through screenings, panels, workshops and social events. In 2019, LACFF received 382 submissions, screened 28 films, and drew more than 1,500 attendees from the Los Angeles metropolitan area.
The shorts confirmed for the 2021 Los Angeles Chinese Film Festival LGBTQ Showcase are:
We Outlaws
Synopsis
By day, Chen Shi presents as an ordinary man working in a textile factory. By night, she dons a red dress and transforms into a vision of liberated feminine grace, the belle of the dance hall. ​We Outlaws​ is the story of just one of countless Trans and non-binary people who lived their lives in secret during an era of strict governmental prohibition, their very existence a crime. But this isn't just a story of persecution and fear. Chen Shi's story is ultimately one of bravery and hope, as she fights to live and love freely, to truly be herself.
Director's Bio
Wang Kaixuan is the director of ​We Outlaws ​(Winner: Best Chinese-Language Film, 1st Global University Students Film Festival; Best Film, 2019 Shanghai Pride Film Festival), and has also served as the Assistant Director of the ​Fengshen t​ rilogy and ​Blossoms.​
Director's Statement
From 1979 to 1997, Chinese criminal law codified the concept of "crimes of indecency." In those years, many people targeted by these laws were just ordinary people who wanted to be able express their love for each other. In this story, ​We Outlaws,​ I told the story of a person who wanted to live their life as a woman and to find love with a man, two things made nearly impossible by the Chinese government at
that time for someone born with a male sex. When HE realized that HE was a SHE, the storm began to take shape.
I wanted to say something for the LGBTQ community, because in China, they are still considered a group of demons to some people. My friends just couldn't imagine what had happened to them thirty years ago, so I shot this short film to tell the story.
The Last Lesbian
Synopsis
The Last Lesbian​ is a raucus road trip romantic comedy, with a splash sci-fi and time travel. It's 2318, and the last lesbian on earth, Susannah, is desperate to save the world's gay community, which has been exiled to outer space. She travels back to 2018 to find the one girl who can save them all: Bella, a fashionista with no time for the bizarre antics of a strange visitor from the future–she has an extremely important event to attend, one that could make or break her career. Determined to succeed in her mission, Susannah hides in the trunk of Bella's car as she drives off to her blogging summit, an inglorious start to a funny, zany, romantic road trip of a lifetime.
Director's Bio
Olivia Liu received her M.F.A in Film and TV Directing from Chapman University where she was taught by Martha Coolidge, the former chairman of the Director Guild of America (DGA). She worked for Academy Award-winning producer Ron Yerxa. Olivia's films were selected by acclaimed film festivals including Shanghai International Film Festival, the Golden Reel Award, and European Independent Film Festival, among others. She directed ​A Big River​, a documentary film produced and released by China Central Television (CCTV). Currently, she is directing ​"Unqualified" Mothers​, a documentary feature film about female reproductive rights in China.
SHe
Synopsis
How does the physical body matter when we talk about sex and sexuality? Chiku, a transwoman, and Wei, a lesbian, got legally married in Taiwan on December, 2013, complying with the island's restrictive marriage laws at the time by registering with their birth sexes — male and female. This documentary shows the subtle moments of their daily married life, through which common prejudices and voyeurism are subverted and defied by the couple's ordinary, everyday, mundane and tender care for each other. The film vividly illustrates how gender fluidity that cannot be rigidly fixed onto existing heterosexual frameworks, and radically asks for a reconsideration of the entire system of gender norms.
Director's Bio
Born in 1988, Kuo Hsin-Ying was a student in the Department of Radio and Television at National Cheng-Chi University. Her manifesto is to question and problematize the norms of the world.
"For me, it would be ideal that one day LGBT is not an issue any more but a term that simply addresses sexual orientations of people. Everyone in the world can be so unique. It is my goal to ask for a necessity of highlighting and understanding those unmarked and unrecognized in the society—we cannot assume something as not existing simply because we are not aware of it."
Mom's Clothes
Synopsis
"A nonfiction reflection on being out of the closet. As a queer person of color, it's taken me a long time to be as comfortable as I am through navigating forms of intimacy, gender, and self worth. It doesn't always get better, but you're beautiful however you decide to present, including the choice of garments you decide to wear."
Director's Bio
Jordan Wong is a Chinese-American experimental nonfiction filmmaker whose work pursues emotional honesty. His practice explores concepts of escapism, loss of control, struggling to remain present, and our inability to communicate with one another. Drawing on autobiographical experiences, his works engage rules, repetition, trauma, and efforts to create a queer lens through which to view the world. His films have screened internationally, including DOK Leipzig, NewFest, Animafest Zagreb, Japan Media Arts Festival, and the Ann Arbor Film Festival, where he was recently awarded the Tom Berman Award for Most Promising Filmmaker for the film ​Mom's Clothes​.
For images including posters and headshots, please ​download them here​.
Los Angeles Chinese Film Festival®
The Los Angeles Chinese Film Festival committee is devoted to finding and curating high-quality original films from all over the world, focusing on works produced by the Chinese language or heritage community. The programming features a balanced selection of feature-length and short films, including narrative, documentary, and experimental filmmaking approaches.
For more LACFF lineup announcements and event information, please visit ​lacff.org​. Chinese in Entertainment
Chinese in Entertainment is a 501(C)(3) non-profit organization based in Los Angeles, California with a branch in Beijing, China. Our mission is to connect and empower talent from mainland China, Hong Kong, Taiwan and the Chinese diaspora, and to promote Chinese culture in the global entertainment industry.
For more forthcoming events and initiatives of LACFF's parent organization Chinese in Entertainment, please visit ​chineseinentertainment.org​.
Montage
Montage​ (montageplay.com) is a streaming platform that curates independent films, documentaries and shorts from Asia and Asian diasporas for an international audience. Founded by Hollywood and Silicon Valley veterans in 2020, Montage currently offers free and premium content ad-free, on demand.
For more information on upcoming independent films and documentaries, please visit ​montageplay.com​, or join Montage on ​Facebook​, ​Twitter,​ ​Instagram​ and ​YouTube​.
China Rainbow Network
The Chinese Rainbow Network Inc. (CRN) was founded in 1996 by the members of the LGBTQ+ community in North America. It is the largest community organization for Chinese sexual/gender minority outside of China. It is the only non-profit organization (NPO) registered in the United States that serves the Chinese LGBTQ+ community. CRN's mission is to build a better Chinese LGBTQ+ community. Many Chinese LGBTQ+ people have been hiding in every corner of the society for various reasons. They face the pressure from both families and the society in isolation. CRN is to help them to cope by building a multi-functional community platform and to make every Chinese LGBTQ+ member feel at home while living overseas. For more information, please visit ​https://www.crn.ngo​.
Taiwan International Queer Film Festival
With the belief that the power of films and media can help to create this bond, Taiwan International Queer Film Festival aims to establish ourselves as the premier LGBT film festival in all of Asia. It is important not only to present to the Taiwanese people LGBT films from around the globe, but also to showcase the best Taiwanese queer cinema on the international stage. This will be the start toward a better understanding of the visions of the world. For more information, please visit ​https://en.tiqff.com/
unCoVer
unCoVer is established in February 2020, dedicated to presenting the narratives, opinions, and diverse perspectives in and beyond the COVID-19 pandemic. Within the past four months, unCoVer has published 27 articles, including 14 original pieces. People from all walks of life are invited to share their thoughts, including scholars in and outside of China, higher education practitioners, media professionals, and NGO leaders. unCoVer has also collaborated with organizations and initiatives including Wuhan LGBTQ Center, "Spread Stories, Not the Virus", Sinophobia Tracker, and Asian American Feminist Collective to co-publish quality translations and articles. For more information, please follow "unCoVer2020" on WeChat.