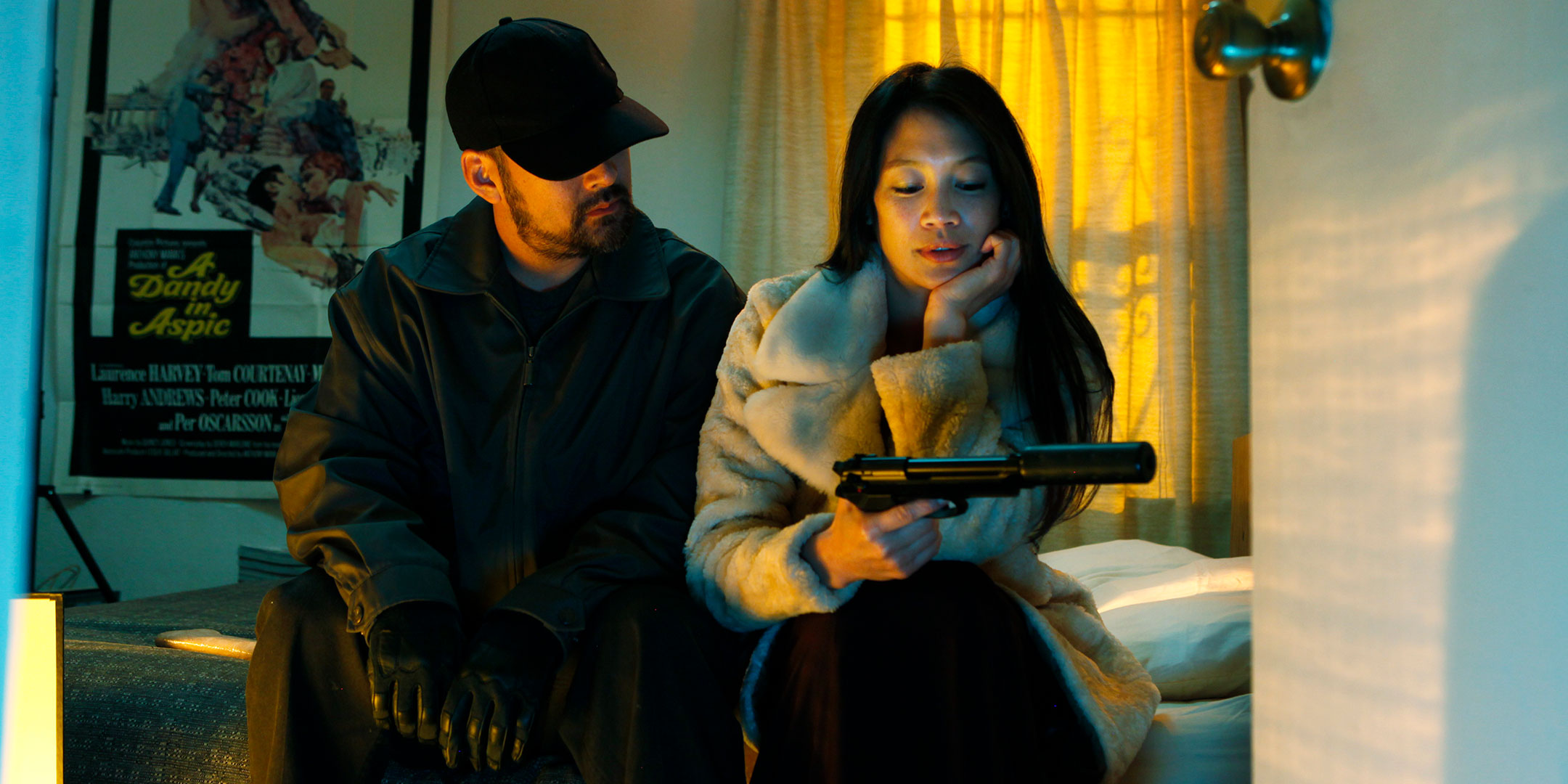 CHOPSO is proud to present Stangers, the Director's Cut of the neo-noir feature set in Los Angeles by Michael Aki and starring Eugenia Yuan and television producer Matt Westmore. A dead man's girlfriend turns out to be a hit man's new assignment, but an unfamiliar longing for connection stays his hand. The unlikely odd couple embarks on an odyssey that necessarily evolves into a getaway.
Strangers is the sophomoric feature directed by Michael Aki after his first feature, Sunsets (1997) that world premiered as part of Class of 1997, Asian American New Wave, at the San Francisco International Asian American Film Festival in 1997.
Produced for under USD$5,000, Strangers was shot guerilla style piecemeal on the streets of Los Angeles. Michael Aki directed, co-wrote, co-produced, co-edited and also starred in the feature opposite Eugenia Yuan. It took Aki between 2008 until this year to finish the Director's Cut of Strangers. The score was provided by Ken Kawamura and the additional music provided by Crepiscule Trio.
A longtime collaborator with Michael Aki, Eugenia Yuan is a Hong Kong Film Award winner and daughter of martial arts legend Cheung Pei Pei. Eugenia's career spans between America and Asia, acting in such movies such as Memoirs of a Geisha, Crouching Tiger Hidden Dragon 2, Revenge of the Green Dragons, The Eye 2, Charlotte Sometimes, and television series such as Into the Badlands and Secret City.
Preceding Strangers is Director Brian L. Tan's 30-minute film Holdout, a historical action drama based on a true story of the last Japanese holdout from World War II. Left behind on an island by his unit, he never learned of Japan's defeat and has been fighting a one-man war ever since. Suddenly, his worldview is challenged when he encounters a modern American tourist. Shot on location in Hawaii, Holdout was produced by Angie Laprete, Chris Pluchar, Wainani Tomich, Roy Tijoe and Ric Galindez and stars Toshi Toda, Mick Tolbert, Joji Yoshida and the late Wesley John.
CHOPSO will present the world premiere FREE SCREENING of the Director's Cut of Strangers and Holdout on December 7 Friday at 8:00 pm at National Center for the Preservation of Democracy at the Japanese American National Museum, 100 N. Central Avenue, Los Angeles, CA 90012.
Actress Eugenia Yuan, Filmmaker Michel Aki and Brian L. Tan "BLT" will appear for a Special Q&A after the film screening. Join them at the After Party at Little Tokyo's historic Far Bar (https://www.farbarla.com/), at 347 East 1st Street, Los Angeles, CA 90012 after 10 pm. Cash bar only.
[button url="https://www.eventbrite.com/e/the-world-premiere-of-strangers-directors-cut-by-michael-aki-and-holdout-by-brian-l-tan-blt-tickets-52036615919?utm_campaign=new_event_email&utm_medium=email&utm_source=eb_email&utm_term=viewmyevent_button" style="red" size="large" type="square" icon="" target="_self"] RSVP For the FREE SCREENING on Dec 7 , 2018 [/button]
 STRANGERS and HOLDOUT will be streamed worldwide date and date on December 7 on CHOPSO

CHOPSO is the ultimate streaming destination for English-language Asian content worldwide.  Movies, documentaries, short films, TV and digital series…"All Asian, all English, 24/7!" For $4.95/month or $49.95/year, customers can stream CHOPSO's library anytime via the app (on IOS & Android devices) or website worldwide. https://www.chopso.com.  All handles are @CHOPSO