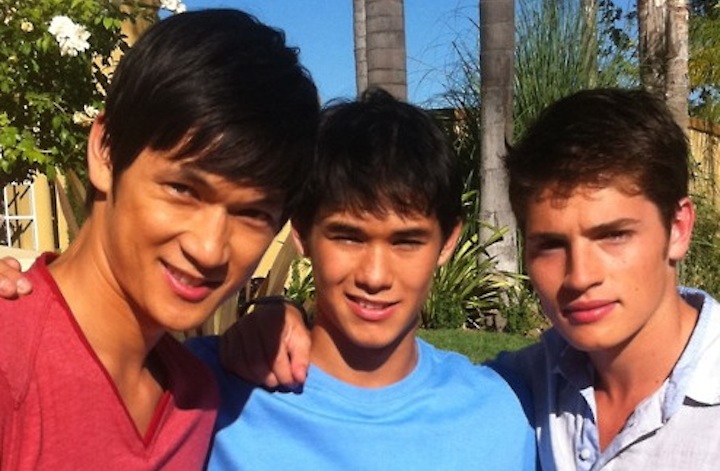 Film For Humanity, founded by Fabienne Wen, is proud to announce the White Frog Playwright Contest. We are looking for the next great playwright to bring the film WHITE FROG (2012, available on Netflix, Amazon, iTunes) to the stage.
The winner will be selected by our esteemed judges David Henry Hwang, Chris Lee, Quentin Lee and Ellie Wen.
David Henry Hwang, playwright, librettist, screenwriter, and college professor, is best known for his Tony Award-winning M. Butterfly, Joseph Jefferson Award-winning Chinglish, Obie Award-winning FOB (Fresh Off the Boat), and Pulitzer Prize-finalist Yellow Face. His body of work spans from theater, broadway, opera, to tv and film.
Chris Lee is a veteran film producer, studio executive and educator. After serving as President of Production at Tristar Pictures and Columbia Pictures, as well as helping found Legendary Pictures, he founded Academy for Creative Media at University of Hawaii. He also serves as President of Chris Lee Productions, which co-produced WHITE FROG.
Quentin Lee is a film director, producer and founder of Margin Films. His notable features include SHOPPING FOR FANGS (1996), DRIFT (2000), ETHAN MAO (2003), THE PEOPLE I'VE SLEPT WITH (2009), WHITE FROG (2012) and THE UNBIDDEN (2016). He has also published novels such as Dress Like a Boy and Campus Ghost Story.
Ellie Wen is an independent filmmaker. She co-wrote and produced the feature film WHITE FROG. She has worked at CAA and CBS Films, and is currently producing for Super Deluxe. Ellie is also shooting a short documentary series about social entrepreneurs around the world.
All four of our judges have made a huge impact within the entertainment industry, as well as within their communities through film and theater, and we are excited to have them on board.
Camilla Grove will serve as contest administrator and US ambassador for Film for Humanity. Any additional questions or concerns should be directed to her at Camilla@filmforhumanity.com.
Camilla moved to Los Angeles after graduating from Lawrence University in 2013. She worked in production at Relativity Media and now works at an independent film production company. She also independently produces short video content with other filmmakers.
Before you put pen to paper, please stick to the following rules and guidelines:
1.Each play should be between 60 to 90 minutes.
2.Changes to race, gender, and background of characters are allowed. However, the play must keep with the theme and the spirit of the movie.
3. The play should adhere to standard script format, which is available through Final Draft, Celtx, or another available playwright software.
4. All submissions need to be in English.
5. Please include a cover page with your name and contact information.
6. People of all ages and from all countries are allowed to submit as a single person or a team of two.
7. Please submit all submissions to submissions@filmforhumanity.com and no other email address.
The winning playwright will retain sole copyright of the play and share 50/50 split of all royalties with White Frog LLC. The playwright will also receive a grand prize of 2,000 dollars and will get the chance to see his or her play performed around the world.
Once the winning play is chosen, the first ten U.S high school drama clubs to stage a production will receive 1,000 dollars each. Additionally, the first ten high schools outside of the U.S will receive 1,000 dollars each. Please note that no word in the script can be changed without the playwrights consent.
Entries open on January 1, 2016 at 11:59 PM PT and are expected to close on April 1, 2016 at 11:59 pm PT.
A winner will be announced on August 1, 2016.
The Contestant or Team must have all rights and permission for all creative content in their submission.
Once we have confirmed the first ten high schools, we will provide notice of intent to produce to the winning playwright.
The winning playwright will have creative consultation rights at the beginning of production.
The winning playwright's name will appear on the final billing block after the name of the school producing the play and Film For Humanity.