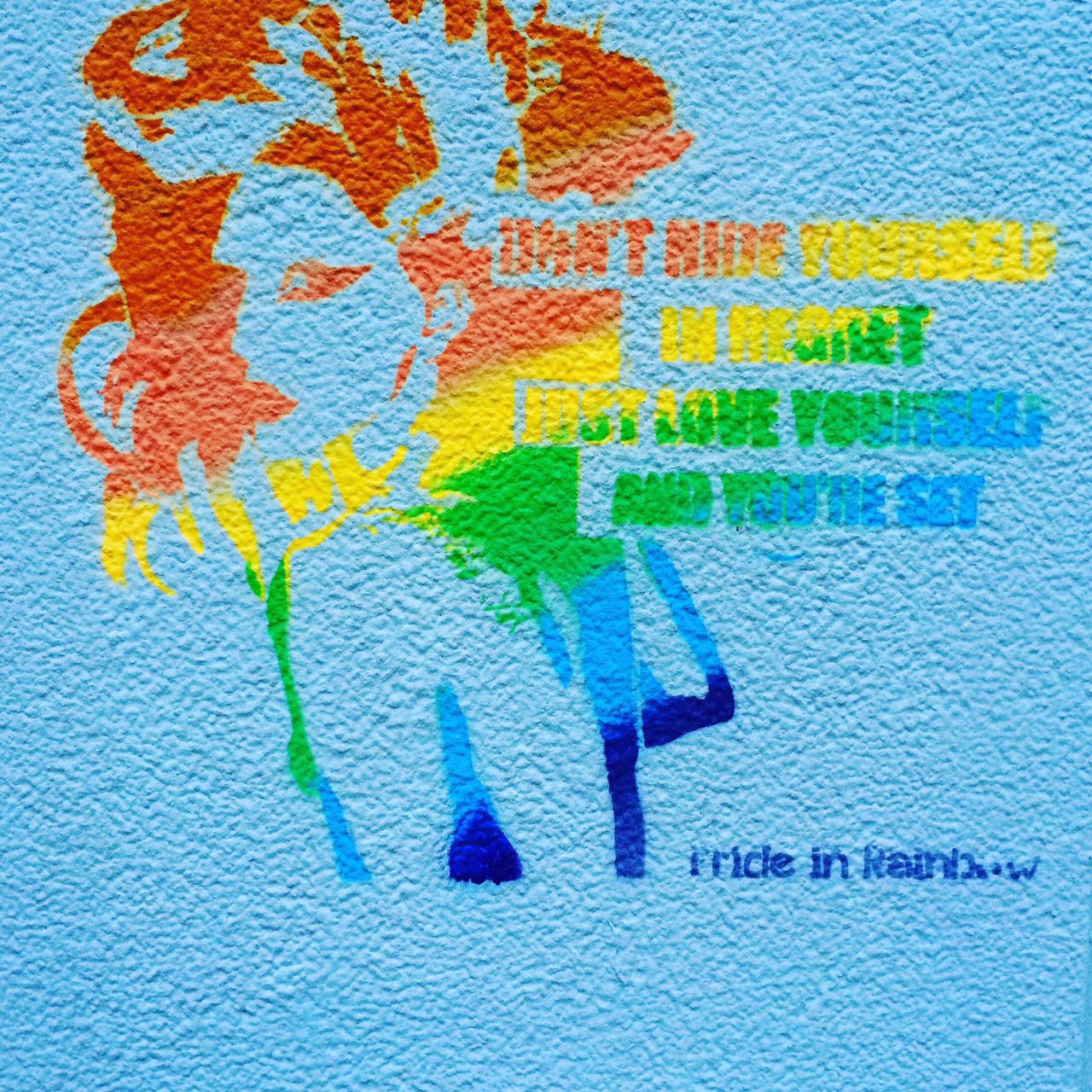 Way back in 2011 new colour began creeping into the streets of Hong Kong in the form of Pride In Rainbow, an anonymous street art collective who pushed a queer visibility agenda through pop culture graffiti and surreal visuals. Their earliest pieces appeared around Tung Lo Wan, coinciding with the annual HK Pride parade, and were produced by just two activists.
More people started to notice in 2012, by 2013 they were cropping up online and come 2014 they had basically vanished. What was so great about them was their visibility across the city compared to other artists, and I remember finding work across the island, up through Mong Kok, across Kowloon City. Maybe it was the blurred edges of famous faces, which made you lean closer to see if you were looking at HOCC or Faye Wong, at Hedwig or Lady Gaga. Maybe it was the pasted deer, bears and fish vomiting rainbows.
Maybe it was the politics. The same rage which has filled political street art like the Umbrella Movement brims at the edges of Pride In Rainbows stencils, but with greater nuance and in many ways greater confidence. Repainting bricks and railings in rainbow colours was an unabashed improvement on monochrome pavements, something natural bursting through, like the colours which burst through on the cities damp building facades. They even went as far as to invert the queer battle cry to, 'We are queer, we are here.' Place is incidental, we were always here.
Four years later and Pride In Rainbow has faded. The group has morphed into Pride.Lab, a Cantonese LGBTQ organisation. They wanted to focus more on the community, one source told me. It was a few weeks ago when I walked through Kowloon Tong that I saw a rainbow Lady Gaga along the East Rail Line. It looked freshly stenciled, at least I'd like to think it was. Pride In Rainbow brought queer aesthetics to the streets daily, beautiful and anarchic and for everyone.