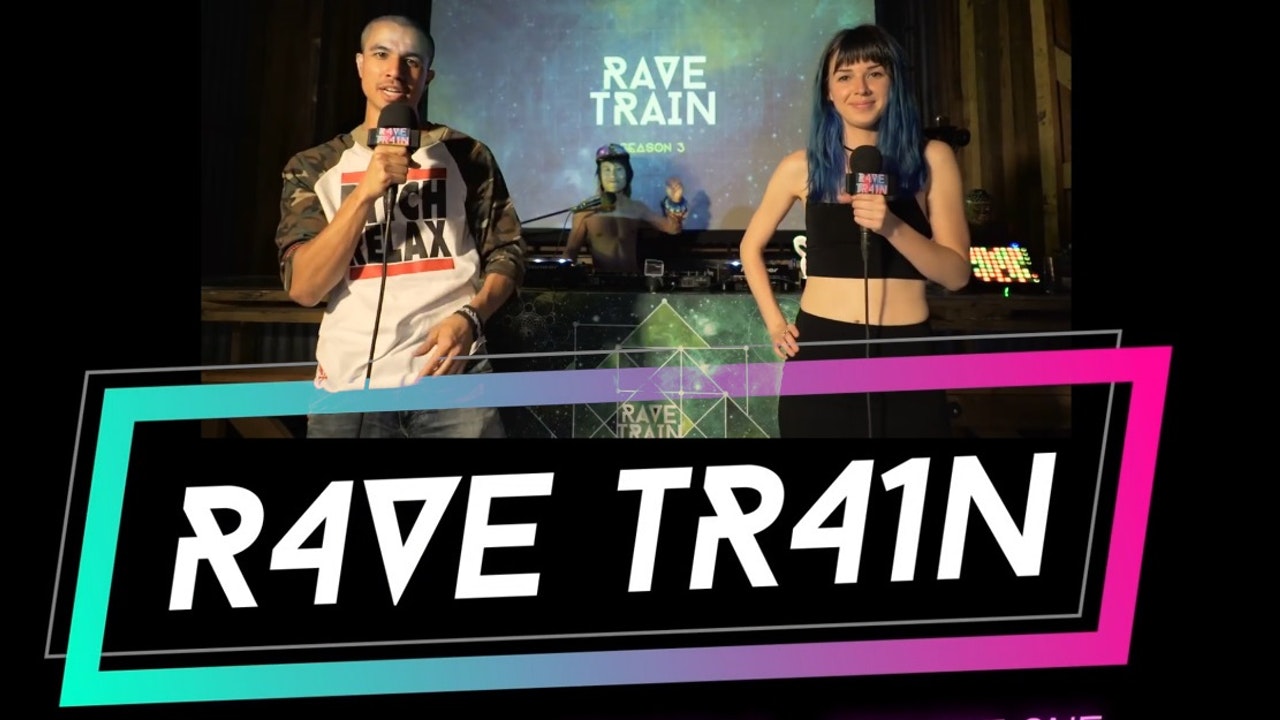 CHOPSO interviews producer Mitchel Dumlao and Danny Ho whose energetic digital series Rave Train is currently streaming on CHOPSO. If you love EDM, Rave Train is for you!
C: What is Rave Train?
Rave Train is an EDM Webseries and community that promotes new music, Dj's, producers, and the variety of dancers in the Raving and Music Festival world.
Rave train has two missions: the first surface level mission is to create a platform for the more underground styles of dance. We want to showcase dance music culture not necessarily what's shown in the mainstream but rather in a way that's well produced and represents what we all love in in our community. Each episode features a DJ and dancers performing in a cypher (dance circle), and these are all the styles of dance associated with dance music such as housing gloving, orbiting, flow and performance arts, shuffling go go etc. We want to create a platform for that that girl hooping at festival that wants an outlet for her skill set other than just hooping at festivals in or the occasional paid gig at a show. If you are young performer and you want to dance Hip Hop, then there are many ways for you to create a career around that. Although, if you are a young performer that's a glover or hooper, there is not much room to grow and hopefully we can help pave the way for the future of these art forms and others like it.
The Second mission is influence. We plan to use our influence and reach to add a voice for our community in regards to issues happening globally with regards to problems in our society and culture. As we grow and our audience grows, we plan to use our collective power to make changes and have a long lasting impact as positive voices from the EDM and Raving community. We're here to prove that Ravers and Music Festival goers are not just drug-induced party animals but a variety of intelligent individuals from various cultures who seek out music and dance as a form of stress release, self expression, and relationship building, who in turn have more to say about the world than most people give them credit for. We believe that this can all be done through video content, social media, and live events that strive to not only entertain through dance and music, but also educate through engaging content.
C: How did you get the idea to do it?
Rave train was founded by Danny Ho, Mitchel Dumlao and Hugh Hou three years ago. Both Hugh and Mitchel already had successful YouTube channels and Danny was a production manager.  The three close friends wanted to find a project that they can all work on together and Rave Train was the child of that relationship!
We all started raving at a young age and love EDM, so we figured we should combine our passions, interests, and talents together to make something that would not only be fun but also innovate the type of content out there in the digital space.
C: What has been your favorite part of making Rave Train?
The best part is when we are deep in it and filming. It's amazing to watch the circus come to life and when we are filming you can feel this amazing energy because it's a collection of artists all performing at their highest level. Watching everyone working together to help create a beautiful product while contributing their skills to the group is an incredible sight to see and experience.  DJs mixing music, dancers throwing down, set and lighting designers showcasing their work and film makers behind the camera.. it's magic !
C. Any advice for young Asian American filmmakers?
Best advice for YAAF is find something you love and go for it. The traditional route of going through the Hollywood system is dying, if not dead and what used to be a very small community with little chances is shrinking rapidly. The good news is that content and original IP is growing rapidly and if you have your own voice and create something compelling it's totally possible to blow up on your own and in that case you will own all of your own branding and intellectual property!
Also, don't wait for that passion project to sell or funding to come in for you to create – pick up a camera and film!  You have access to billions of people through Youtube and if you are truly passionate about filmmaking, there shouldn't be any reason for you to wait.  The world needs to see more content coming from the Asian American community so don't let your race be a factor – just do what you love and keep creating!  Sharpen your skills and don't be afraid to fail.  In the words of Bruce Lee "Knowing is not enough; We must apply. Willing is not enough; We must do"