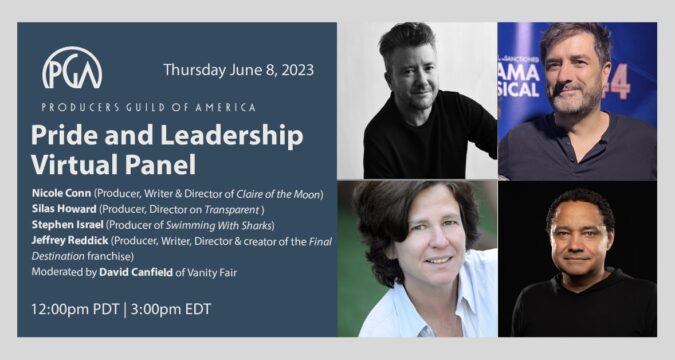 In celebration of Pride month, on June 8, 2023, at 12 pm PT / 3 pm ET, the Producers Guild of America invites the the public for a virtual panel conversation with Nicole Conn (Producer, Writer & Director of Claire of the Moon), Jeffrey Reddick (Producer, Writer, Director & creator of the Final Destination franchise), Silas Howard (Director of Transparent) and Stephen Israel (Producer of Swimming With Sharks). Carving out uniquely creative careers in their own right, these trailblazing storytellers will discuss the importance of LGBTQ+ leadership and the power of representation. The panel will explore the unique experiences and perspectives that shape LGBTQ+ storytelling. Moderated by David Canfield, entertainment contributor of Vanity Fair.
Last year, the PGA has produced a panel celebrating Trans Visibility Month which can be viewed on PGA's Youtube channel:
This year, the star-studded panel includes:
David Canfield
Moderator
David Canfield is a staff writer at Vanity Fair, covering awards season for the HWD section. He joined VF from Entertainment Weekly, where he was the movies editor and oversaw awards coverage. David is a National Arts & Entertainment Journalism Award finalist and GLAAD Media Award nominee. He lives in Los Angeles with his husband.
Jeffrey Reddick
Jeffrey Reddick made his first connection to the film industry at age 14 when he wrote a prequel to "A Nightmare on Elm Street" and mailed it to Bob Shaye, the President of New Line Cinema. Bob returned the unsolicited material. But the persistent young kid, from Eastern Kentucky, wrote Bob a passionate letter and won him over. Five years later, when Jeffrey went to New York, at age 19, Bob Shaye offered him an internship at New Line Cinema, which turned into an 11-year stint at the studio. Jeffrey is best known for creating the Final Destination film franchise, which was produced and released by New Line Cinema. He also created a bit of history by being the first gay, person of color to create a horror film franchise released by a major motion picture studio. As a writer and producer, Jeffrey has sold, or optioned, over 40 projects for film and television. Jeffrey's produced feature credits include Lionsgate's thriller, Tamara, the remake of George Romero's classic, Day of the Dead and The Call, starring Lin Shaye and Tobin Bell. In television, Jeffrey served as a supervising producer on Season 3 of HereTV's Dante's Cove and as a story editor on Season 2 of NBC's Midnight, Texas. He staffed on 2 animated series for Netflix; The Emmy-nominated A Tale Dark and Grimm and The Usagi Chronicles. Jeffrey Reddick's feature directorial debut Don't Look Back, a mystery thriller – was released in October 2021. Jeffrey is slated to direct his next horror film, Dead Rules, in 2023.
Nicole Conn
Nicole Conn has been a pioneering filmmaker for over 30 years, best known for her Cult Classic, Claire of the Moon, and her best-selling features, A Perfect Ending, "the sexiest film of 2012" (Curve Magazine) and Elena Undone, which  boasts the longest on-screen kiss in cinema history. This classic romance with a twist became the best selling film of its genre in 2010. Conn's latest feature, More Beautiful for Having Been Broken, won over 30 Best Awards from the 2019/20 Festival Circuit. Conn's latest venture Coming Out For Love, the first US Lesbian Dating Show may be an entertaining Reality Romp, but also delves into heavy topics that affect the community: abusive, toxic relationships, mental health issues, racism and an alcoholism redemption story that brings viewers to tears. Conn's 8th film, More Beautiful for Having Been Broken, won over 30 Best Awards from the 2019/20 Festival Circuit. The Advocate calls it "her most personal film yet," released worldwide through Vision Films. Conn's film, little man, is a documentary she wrote, directed, and produced about her premature son born 100 days early. The feature won 12 Best Documentary Awards, along with the prestigious Cedar Sinai's Courageous Beginnings Award and Family Pride's Family Tree Award. Showtime picked up the feature and ran an Emmy campaign on this hard-hitting story. Her documentary MOMENTS was the best-selling lesbian documentary ever made. She followed these projects with the award-winning short film, Cynara…Poetry in Motion. Conn has achieved worldwide industry recognition with her lesbian-themed films and is perhaps the most known Writer/Director of women's films in the world. Conn lives in Los Angeles with her son, Nicholas, who was the inspiration for More Beautiful For Having Been Broken where her daughter Gabrielle also makes her film debut.  She is currently developing her next feature as well as finalizing her epic tome Descending Thirds, which is in development as a mini series.
Stephen Israel
London born, LA based, prolific indie producer Stephen Israel is still probably known best for "Swimming With Sharks" – one of the most damning commentaries on the "me too" workplace, which (ironically) launched the film career of Kevin Spacey – recently revived as a series for Roku, starring Dianne Kruger and Donald Sutherland. Stephen's numerous other credits include some of the best-loved gay films – such as "Boy Culture" (2007), "GBF" (2014), "Miles" (2016 Outfest audience award winner), and most recently "Swan Song", nominated for two 2022 Independent Spirit awards for Udo Kier's career-defining performance. Documentary projects include Chris Russo's "Lady Buds" (2021) chronicling women in the marijuana industry, and the upcoming "Studio One Forever" about the legendary LA gay dance club. Stephen's recent genre productions include the political thriller "Affairs of State" (2018), "Last Moment of Clarity" (2020), and The Gateway (2021) – all distributed by Lionsgate. Coming from a corporate and tech background, including experience at Warner Bros., Turner Broadcasting, and top management consulting firm Booz.Allen & Hamilton, Stephen was also part of the team that produced "The Spot" – the world's first episodic series on the internet, in 1995. A little ahead of its time, he was the first to identify the concept of a network of episodic shows delivered via the web – which ultimately became 1995 tech startup American Cybercast, at which he served as SVP Development & Acquisitions. Stephen is also a trained rocket scientist and a Royal Air Force marksman (seriously).
Silas Howard
Silas Howard is a director and writer focused on telling honest narratives filled with groundbreaking characters. His credits include A Kid Like Jake, award-winning Transparent, Pose and Dickinson, as well as A League of Their Own, The Fosters, Faking It, This Is Us, High Maintenance, Tales of the City, and Everything's Gonna Be Okay. He was a founding member of the seminal queer punk band Tribe 8, co-founder of San Francisco's legendary Red Dora's Bearded Lady, and a 2015 Guggenheim fellow. His latest feature called Darby and the Dead, think Mean Girls meets Sixth Sense, premiered exclusively on Hulu in 2022.
RSVP and join free for the panel on June 8, 2023 at 12 pm PT / 3 pm ET via: http://tinyurl.com/prideandleadership