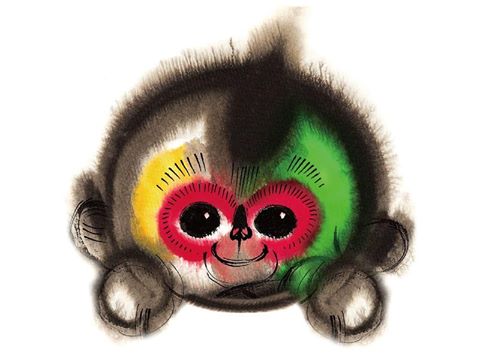 Ball-face. Tumor monkey. Traffic light. Never has a monkey been so hated. Chinese state-media CCTV launched Kang Kang last week as their official mascot for the Year of the Monkey. The tutti-frutti simian was posted on their official Weibo account last week, candidly asking followers, "What do you think?"
"I was going to name my newborn son Kang Kang. But I dropped the idea when I saw the mascot," remarked one netizen. A little extreme? With two large lumps of indeterminate function hanging off his face, many have suggested Kang Kang has cancer. Either that or someone is resting their balls on his chin.
The mascot was designed by Han Meilin and will front CCTV's New Year Gala. Han is no stranger to mass public derision. His last major public commission being the Fuwa mascots for the 2008 Beijing Olympics, a project which saw him create more than 1,000 character options to appease bureaucrats. He suffered two heart attacks along the way, with the final five being rejected by both the public and artist alike.
According to CCTV, Kang Kang (whose name ironically translates as 'healthy') just wants to make everyone happy. Dream on monkey, dream on.