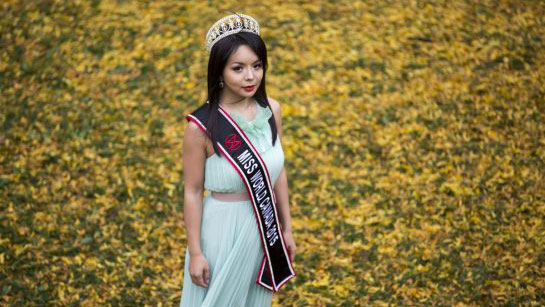 This morning, a 25-year-old Chinese-Canadian landed at the Hong Kong International Airport planning to connect her flight to China. Upon landing, she tweeted…
https://twitter.com/AnastasiaLinTO/status/669830322373066752
Being that she is Anastasia Lin, the current Miss World Canada, and also a very outspoken human rights advocate against China, this isn't just any ordinary tweet. Less than an hour later, another tweet from her makes headlines around the world.
https://twitter.com/AnastasiaLinTO/status/669839038098989056
Who is Anastasia Lin? Born in Hunan, China, she emigrated to Canada with her mother at the age of 13. After having read of the torture the Falun Gong practitioners endured from the Chinese government, Lin became a human rights advocate and a follower of the Falun Gong religious group. Last year, she appeared in Red Lotus, a film about the persecution of the the group's practitioners.
Lin was crowned Miss World Canada in May of this year. At first, her dad, who still lives and works in Hunan was proud of her title. She said he eventually asked her to refrain from her human rights activities because he had been intimidated by the Chinese security agents.
To make matters worse for Lin, the Miss World pageant is scheduled to take place next month in Hainan, China. In the months leading up to her departure for the pageant, Lin failed to receive the official invitation to obtain her visa. During the past month, she has been vocal about her suspicions that the Chinese government plans to bar her from the pageant. She decided to travel without the visa anyway since Canadian citizens are eligible to
obtain a landing visa upon arrival. After her last tweet at the airport in Hong Kong, Lin explained on her Facebook post, "I was not allowed to get on the plane. I had a phone interview yesterday with a Sanya customs official. During the interview, the agent asked questions to ascertain my identity, and once he confirmed that it was me, he told me that I am not eligible to go to Sanya. I did not get any further explanation as to why I can't travel there."