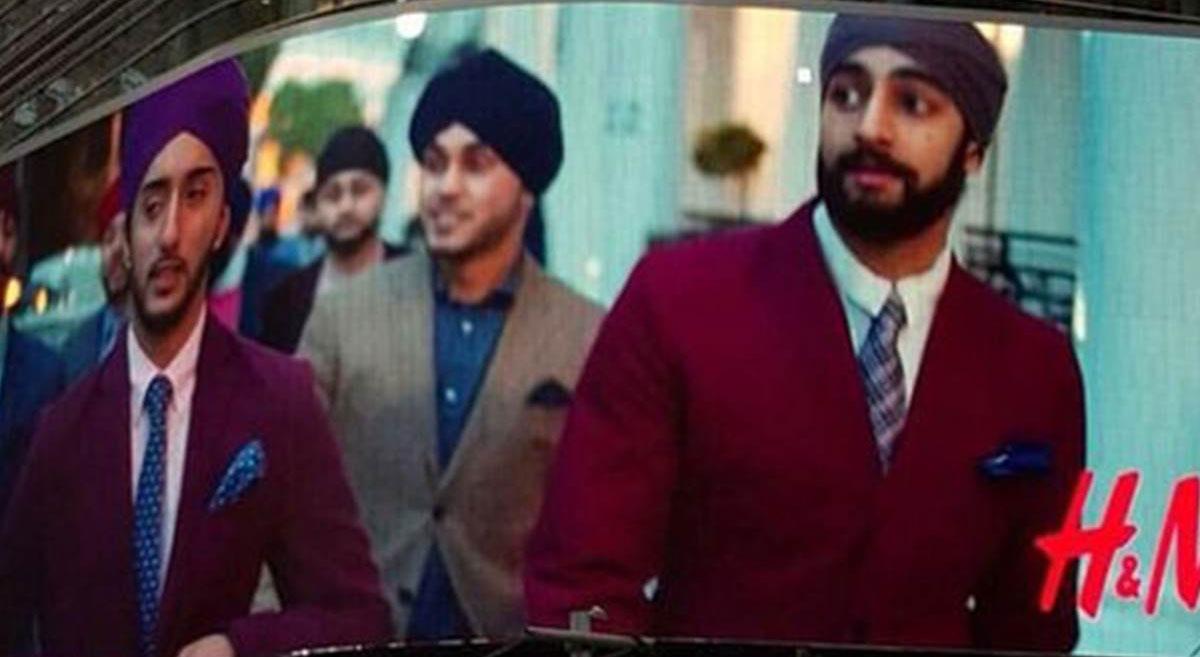 Step aside, hipsters with your top knots! Turbans are in and will obscure your man bun faster than you can say Nankana Sahib.
An H&M billboard of models wearing a turbans, headwear consisting of fabric wrapped around the head that originated long ago and is customarily worn by Indian Sikhs among others, recently popped up on Time Square. One of the models in this ad campaign, Pradeep Singh Bahra, blogger and founder of Singh Street Style, took to Twitter to express his turban pride, "I got bullied in school a lot…But never gave up on my dreams. Now look. Modeling for H&M. Things change."
Last year, H&M also featured Sikh models in its "Close The Loop" Campaign. The brand's campaign intended to promote sustainability by urging customers to recycle their clothes and was met with praises for portraying diversity in a variety of ways–from a woman wearing a hijab to men in turbans to Iggy Pop wearing nothing on top (for the record, I do count that as diversity).
Two years ago, the stylish actor/designer Waris Alhuwalia was featured in the Gap's "Make Love" campaign. The NYC-based found
er of House of Waris now graces the red carpet as a fashion icon and takes the turban-style to a new fashionable height. But apparently AeroMexico doesn't subscribe to Vogue. Alhuwalia was barred from boarding the Mexico City-NYC flight last week when he refused to remove his turban. Like all ending to this type of stories, the airline later issued an apology. And for a second, all is okay with the world again.
Not all turbans are worn by men. Three years ago, a female student Balpreet Kaur found her turban-wearing self in a photo posted on Reddit. A Redditer with the user name "european_douchebag" attempted to live up to his user name and posted a photo of the college student Kaur to Reddit, deriding her for not shaving and wearing a turban (As a religious observance, Sikhs do not cut their hair, rendering a turban necessary to hold the hair back and keep it clean.). The Ohio State University neuroscience and psychology sophomore took the highroad and responded on Reddit, "Yes, I'm a baptized Sikh woman with facial hair." Netizens flocked to Kaur's side and told "european_douchebag" what a douchebag he really was. Inevitably, "european_douchebag" had to apologize to Kaur and all the Sikhs in the world. And for another second, all seem okay with the world again.
With the latest exposure in the fashion world, let's hope that turbans blend into the crowd alongside the baseball caps and beanies. And while we're on it, Indians and Arabs are not the same.