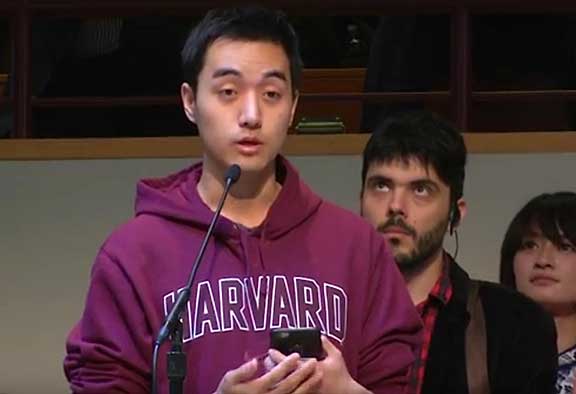 Harvard student David Choe swung a verbal rock at Donald Trump, revealing his ignorance and racist presumptions. "Are you Korean?" barked Donald Trump at the Asian American Harvard student. Enough said. Why should any Asian or Asian American voters support Donald Trump?
Earlier in the year, the same Harvard student posed a question to Japanese Prime Minister Shinzo Abe about the subject of Korean comfort women.
"I apologize in advance if my question comes off as provocative, but it has to do with a topic that weighs heavily on my heart," said Mr. Choe. "In the face of [much evidence], do you still deny the Japanese government's explicit involvement in the subjugation of hundreds of thousands of women into coerced sexual slavery?"
Check out Mr. Choe's question and Mr. Abe's response at 29:28:
A tip to the hat to Asian American David Choe who keeps swinging intellectual rocks at the Goliaths of the world.