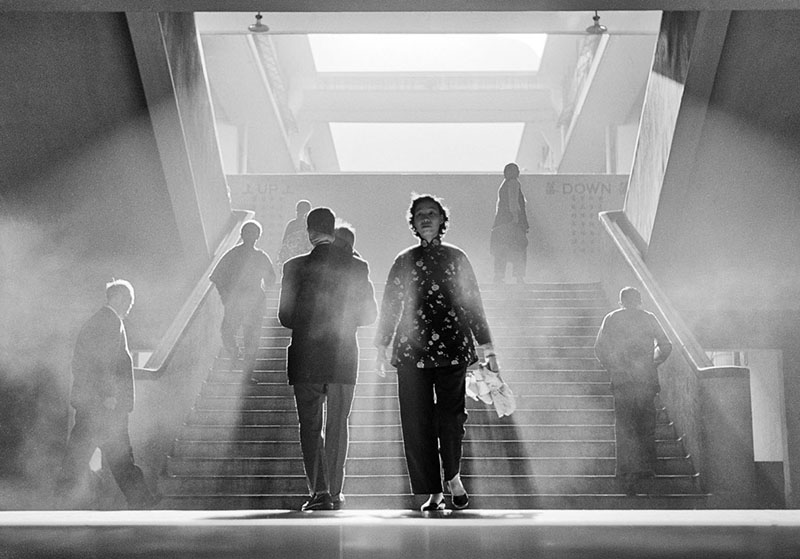 A few years ago, I discovered some photographs taken in the streets of Hong Kong during the fifties and sixties. Most of these photos depict unwitting, unposed people engaged in mundane urban activities like crossing the street or hawking wares on a sidewalk, but when frozen on film are suffused in atmospheric sepia light, trapped in filmic amber. Other photos from this same batch are abstractions, perfectly calculated formalist compositions that draw on geometry of light and shadow imposed by the city's building and angles on Hong Kong's urban dwellers themselves.

These photographs were taken by the Shanghai-born and Hong Kong-raised photographer Fan Ho. Ho utilized natural light in each of his shots. Along the streets and alleyways, Ho set up his camera waiting for just the right light to descend to accentuate his eye for pattern and design within the urban tangle. The extreme contrast found in his photos captures the contrary essence of Hong Kong itself–East and West coexisting in acontrasting yet harmonious fashion as this tiny British colony was entering an era of a mighty economic boom.
Over the past weekend in San Jose, California, 7000 miles from where his iconic photos were taken, Ho passed away of pneumonia at the age of 84 years old.
Fan Ho was born in Shanghai. He started taking photos at 14 years old when he received a Rolleiflex twin-lens camera as a gift from his father. After his family emigrated to Hong Kong when he was 18, Ho lugged around his camera to different spots in Hong Kong attempting to capture the moment when the light was at its peak for his photography. In Central Market Study, 1959, Ho said, "I often would go to there around 3:45to 4:30 pm to catch this wonderful light."
In 1961, Ho set aside his still camera and went into the business of motion pictures. He joined Shaw Brothers as an actor. After a few minor film roles, he left the studio in 1969 to pursue a career as a film director. He went on to make several films including the light erotica Innocent Lust (1977).
In 1995, Ho immigrated to the United States, settling in northern California. After several shows of his works, he quickly gained followers and published three books: Hong Kong Yesterday, A Hong Kong Memoir and The Living Theatre.
Throughout Ho's career, his work earned him nearly 300 prizes. He was also named one of the Top Ten Photographers of the World by the Photographic Society of America eight times.
Check out Fan Ho's photography site to view more of his work.