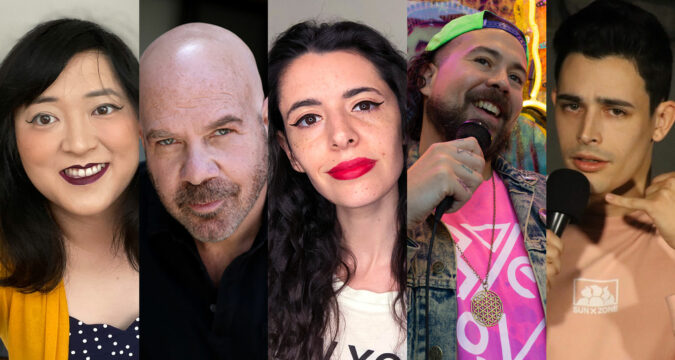 Five LGBTQ+ comics Juno Men, Jason Stuart, Amanda Alvich, Christian Cintron and Brian "Brucey" Clark (see featured photo above from left to right) are about to embark on filming an ensemble stand-up comedy feature film special "Laugh Proud," produced and directed by Quentin Lee who has created stand-up comedy television shows such as Comedy InvAsian, streaming now on Peacock and Tubi, and Comedy Invasion, streaming now on Amazon Freevee, the Roku Channel and Tubi. Laugh Proud will world premiere to a live audience and be taped this Saturday July 1 at Los Angeles LGBT Center's historic Renberg Theatre. Get tickets via Brown Paper Tickets!
Can you introduce and identify yourself briefly?
JUNO MEN: Hello! I'm a stand-up comedian and writer based out of Seattle WA. I'm asian, trans, queer, and usually hungry. I started comedy in Seattle in 2021 and since then have had the opportunity to do some cool things, including opening for touring headliners, participating in the Upper Left Comedy Festival, hosting and performing in the Seattle Moth Storyslam, being profiled by the Seattle Times, and even got nominated for best Seattle comedian by the Seattle Gay News.
JASON STUART: I am an actor and comedian. I've been in over 250 film and TV shows. I came out in 1993 on "The Geraldo Show". As an openly gay comedian. It changed the direction of my life and career. I had a major supporting role in the historical drama "The Birth Of A Nation" as a plantation owner. I'm currently in the Amazon Prime series "Smothered" now in its 2nd season. I won the Indie Series Award for Best Actor in a Comedy for season 1. I co-created and co-star in the series with Mitch Hara.
AMANDA ALVICH: I'm a New York Emmy winning and two-time Daytime Emmy nominated Brooklyn-based LGBTQ+ comedian, comedy writer, filmmaker and video producer. I received my Master's in Directing at the School of Visual Arts in 2017, where I directed my first comedic short film, "OUT."
Over the past few years, I've worked as a segment producer at NBCUniversal and a comedy writer/producer at BuzzFeed. I was also a finalist for the Coca-Cola Refreshing Films Competition where I wrote/directed/edited a 30-second spot that was screened at Regal Cinemas across the country. Currently, I'm a video producer at Paramount and perform comedy around the five boroughs in New York.
Within the past year, my comedic screenplay "Tiffany's Funeral" was named a second-rounder in the Austin Film Festival Screenwriting Competition and a semi-finalist in the Hollyshorts Screenwriting Competition.
CHRISTIAN CINTRON: I'm a writer and comedian. I created Stand Up 4 Your Power which blends stand-up comedy and self improvement. I help people process trauma and fins confidence using comedy. I teach at the Rodney Dangerfield Institute which makes comedy education accessible. I'm a former New Yorker and Vassar graduate. I also am a graduate of iO West and Second City Hollywood.
BRIAN CLARK: The name's Brian or "Brucey" as I go by on stage! I'm a gay stand up comedian from Washington, DC. I started comedy about 3 years ago and have performed in venues throughout New York City. On stage you can hear me talking about anything from dating, men, culture, or the trauma of being raised by a loving, paranoid immigrant parent.
How did you first get involved with comedy?
JS: I started as an actor and couldn't get arrested because I was gay. I had a manager that said I was funny, and that I should do stand up comedy. I audition at the Comedy Store my life flashed before my eyes. I was so nervous I was funny. Then I spent the next six months trying to re-create that.
JM: I remember wanting to be a stand-up comedian since I was in high school, but it took so long to finally get the courage and gumption to pursue it. I dabbled with open mics for a few years, but it wasn't until 2021 when I hit a depressive low that I decided to really chase after comedy, and I've loved it since.
AA: On Christmas Day in 2001, I received a special gift from my parents that forever changed my life: a Sony Digital Zoom Hi8 Camcorder. My tiny 12-year-old brain instantly exploded with ideas. Over the next few days, I forced my younger brother and our elderly, toothless Yorkie to star in my directorial debut, "Agent 008" – a spy comedy/thriller featuring my parents in a deep state of regret over their choice in a Christmas present. What began as a childhood hobby riddled with questionable child labor practices and OSHA violations quickly became a serious passion for filmmaking and comedy.
CC: I performed stand-up comedy in college. I did it once and killed… and once I walked off stage. When I graduated I decided to pursue it and took a class and the rest is history.
BC: I come from a long line of funny Latin women. Growing up, comedy was always used as a mechanism for finding joy even amongst the most difficult life circumstances. It's something that's ingrained in my soul and I love sharing on stage as a stand up comedian.
What makes you laugh as a comic?
JS: I love a comedy when I don't see the joke coming. I'd like to see a comedian who knows who they are. I like to see actual jokes rather than just attitude. I like funny people.
JM: I love dark comedy, though maybe that's because I like it when humor and joy come out of the unexpected.
AA: I'm a big fan of chaotic on-stage energy. Being caught off guard and finding humor in serious situations will always make me laugh.
CC: With me it runs the gamut but I do love comedy that goes deep. Something that cuts to the core that you cant help but laugh.
BC: The most normalized, mundane things we do as adults make me laugh. Things we just do but don't think about. Like why did I swipe left on a guy just because he has a giant fish in his photo? Maybe he's just trying to feed his family.
How did you get involved with Laugh Proud?
JS: I knew Quentin Lee from the film festival circuit. I had a part in one of his films, "Secrets & Toys." We had talked before about us working together on his stand-up comedy special. So I just called him and asked him if he was interested in using me this time around. As an actor & comedian, you reach out all the time to people and leave your ego at the door. It's not like a TV movie when people call you out of nowhere to be in their movie! LOL it's about relationships and people trusting that you can do the job.
JM: A few years ago as I was getting started in comedy, I was invited to be part of a corporate panel talk centered on chasing creative ambitions. The other person on the panel was a really rad visual artist named Diane Nguyen, who also happened to be from Orange County. She was gracious enough to introduce me to Quentin Lee, the director of Laugh Proud!
BC: I applied to Laugh Proud thinking I'd probably never hear back, like most texts I send. I am overjoyed that Quentin gave me this amazing opportunity to be a part of something special.
Do you feel LGBTQ+ people need their own comedy special or their own space for comedy?
CC: We have unique cultural touch points as queer people. We have common struggles and gripes. Comedy offers us solace and relief. As queer people we need more visibility. With specials like these queer comics can find their audience and the people their jokes speak to.
JS: LGBTQ comedians are still fighting to be in the main stream. When you go to a local Comedy Club, most likely you will see 75% straight men 25% women and under 75 straight men you'll probably say less at 5% of LGBTQ comedians. Other comedians are always more supportive than the actual club. People are still afraid of us. But it's also a job to learn how to reach straight people and I just preach to the choir. So we still have work to do. On the other hand, it's gotten a lot better, and I have a lot of my career to my fans and fellow artist have supported me as a standard comedian.
JM: Absolutely, for so many reasons, but the two that come to mind as being especially important are representation and community.
AA: I believe it's extremely important for LGBTQ+ comics to have a safe-space in comedy, and specials like Laugh Proud help bring the community together. From this experience alone, I've met amazing LGBTQ+ comics that I might not have had the chance to meet previously. For that alone, I am grateful for these opportunities.
BC: Honestly, the gayer the better. I think about myself growing up and if I had seen a special with this kind of representation as a kid. How much more empowered I would've felt to be me. Having LGBTQ+ exclusive representation is essential in creating a better world.
Have you been part of the mainstream stand-up comedy scene?
JS: I started in the mainstream comedy community. I was a closet comedian for the first 10 years of my career. I came out of the Geraldo show before Rosie, Ellen Ricky, Wanda, and most of the other comedians from now don't even come out. We just are. I have great respect for them all. I always pose the question when you break the ground do you get to walk on it. I intend to.
What was one moment you're most proud of yourself as a comedian?
JS: I think one of the proudest moments was when the late Budd Freeman asked me to headlight and AIDS benefit in Chicago at the improv comedy club. This was after I had done the RSVP cruise, which was the first time I ever did stand up on stage as a gay man in the middle of the ocean with a bunch of gay men. Not knowing that I had to talk about being gay because I had never been seen it done before. Now I gave myself the permission to be myself. When I did the show at the improv, I re wrote my entire show I used all of my pain of being a gay man growing up in the 70s and was able to make people laugh with my own experience, strength and hope.
JM: I don't think there's been a single moment that stands out as being the most proud moment I've had in comedy, but one moment I do recall giving me the feels was after I did an all asian comedy show where I was the only trans performer. I had someone in the audience coming up after to tell me that they really related to some of the jokes and stories I was telling, and that felt like a moment of both validation that I was doing something right and excitement that there were people out there who could relate to what I had to say.
BC: The first time I performed for a sold out show of over 100 people. The energy was electrifying.
What's one advise you would give to a fellow aspiring or upstart LGBTQ+ comedian?
CC: My advice to any new comic is to dive deeper and edit. New comics can often talk around things. So much of stand-up comedy is the power of your point of view.
JS: I read an article recently that Barbra Streisand had a friends daughter if she should be an actor. She said, if you have to ask "no." Being a comedian or an actor or anything in the arts has to be a passion. It has to be something that you want to do so badly that it hurts sometimes. I just watched the second season of "The Bear" and the show was so good and so funny and so touching and so real that it actually hurt in my belly that I didn't have didn't have the opportunity to be considered for it. That's why I created my own show "Smothered" that you can watch on some other http://www.SmotheredTV.com . It's on Amazon, REVRY, YouTube, and over 25 more platforms. #SupportLGBTQArtists.
AA: Bestie, just do it. There's a whole community out here waiting for you to join us, so get on stage and do your thing!
JM: Find community and make friends! I've been fortunate to have met and become friends with a lot of super talented, super funny queer people of color and it's made all the difference.
BC: The best advice I was given was to talk about what's important to you. I think as a newer queer comedian we have a tendency to shy away from certain aspects of ourselves. Never be ashamed. Always lead with authenticity and people will see that.
Get tickets now for Laugh Proud taping on Saturday July 1, 2023!