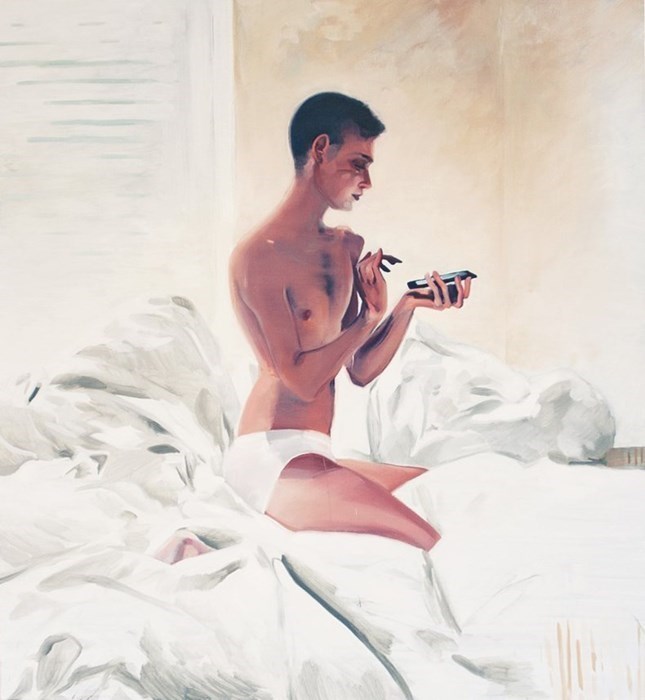 featured image by Sam McKinniss
It has been much reported across business and gay media for the past few days that Grindr, the self-proclaimed 'world's biggest' gay hookup app, has sold a controlling share of 60% to Beijing Kunlun Tech. There has been some concern and raised eyebrows, with the occasional bout of 'OMG CHINA!' hysteria, but for the most part, it has been recognised for what it is – a rather dull business deal that will make rich people richer.
The two key players are Zhou Yahui and Joel Simkhai, both self-made men for whom the deal seems to offer a way to further their respective ambitions. Zhou's Kunlun is an online gaming giant, rivaling tencent with products like Angry Birds, which wants to move into the lifestyles market. Simkhai's Grindr is the archetype of online dating, gay or straight, with ambitions 'to connect gay men to even more of the world around them.'
Grindr's main rival is Blue'd, with 3 million users now online and 22 million across China. Former policeman and founder 'Geng Li' welcomes the competition. "It shows the Chinese capital market's acceptance of LGBT social networks and their huge potential."
Geng's own rise has gone hand in hand with rights activism. After seeing his gay-networking site Danlan repeatedly shut down in it's early days, it was his work promoting HIV awareness that ultimately won over the establishment, and allowed Blue'd to gain momentum. "I told my team that we might have the chance to witness China shifting from a country that discriminates against gays to a society that accepts them."
So is Grindr's move to China a cynical money grab by a foreign company and a hetero-businessman, then? Simkhai seems well-intentioned, pledging support last summer to Chinese NGO's, including BGHEI, although the impact of this may have been a little inflated, according to sources I spoke to. And does queer China need a White Savior? Probably not, but as 2015 has shown, big business certainly helps bring LGBT people into the public arena. And whilst the focus has tended to be on economics and marriage, gay apps are also helping to bring both physical and mental health to the front (BGHEI reported that 50% of LGBT Chinese suffer with depression).
So what does this rather boring business deal mean? Dinah Gardner summed it up neatly in 2011, shortly after the PRC unblocked Grindr; '…the important thing is that these programs are available, and that China's gay communities have new ways to develop, strengthen and come together.'