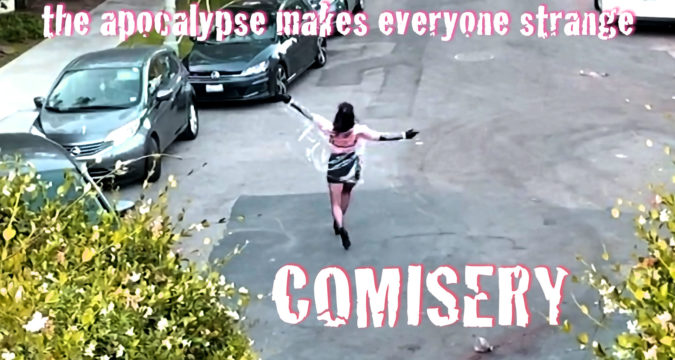 As the world is slowly coming out of the Coronavirus pandemic, I want to spend a little bit of time reflecting on last year, 2020. In March of 2020, I could feel the world closing on me with all my amenities, from restaurants to my favorite dance studios, closing. A lot of my friends were out of jobs and we started to commiserate together on Zoom. As I reconnected with an old friend in New York, Adi Tantimedh, an accomplished novelist and writer, we decided to collaborate and make a web series, the first Asian American sci-fi comedy, that became a feature film titled Comisery, now streaming on AAM.tv, Amazon Prime and on Tubi:
You can catch the film FREE now on Tubi: https://tubitv.com/movies/576000/comisery
Adi and I came up with the idea in a few days and Adi wrote the first draft of the pilot in a week. I reached out to actors I knew, cast the show in 2 weeks and started shooting a 10 minutes episode every week on Zoom. After we finished the web series, I did some in-person shooting with the two leads and cut the hybrid footage together as a feature.
What started off as an artistic therapy became an experimental feature film. Now looking back, I'm very proud of Comisery because it was so ahead of its time and such a freeing experience to create as a filmmaker. I co-wrote, co-directed and did all the editing and post work on my own. It was literally a handmade feature film.
After Comisery, I met up with my friend Kit DeZolt in July during the pandemic for lunch. As I learned from him about a community of gay Asian improv actors, I asked him if he would co-create an improv comedy series with me having learned everything about shooting on Zoom from Comisery. We put the cast together in a couple weeks and started shooting on Zoom. In eight weeks, we finished a full eight episodes season of Boy Luck Club, the first ever gaysian comedy TV series / sitcom:
Again I did most of the directing work, editing and post work with a fantastically talented ensemble of improv comedians led by Kit DeZolt. You can stream the series on AAM.tv, Amazon Prime and FREE on Tubi: https://tubitv.com/series/300006390/boy-luck-club
On top of Comisery and Boy Luck Club, I also finished producing "Searching for Anna May Wong," a 35 min. documentary that was abandoned by the original director. During the pandemic, I took on the reins with my editor friend Denise Chan and finished the 3-year-old documentary, now streaming on AAM.tv and Amazon Prime:
Little did I expect, 2020 became my most productive year as a filmmaker. Having lived through this unforgettable pandemic COVID-free, I'm grateful that I've finally gotten my vaccine as a COVID-19 Compliance Supervisor. What can I say?
Carpe Diem.