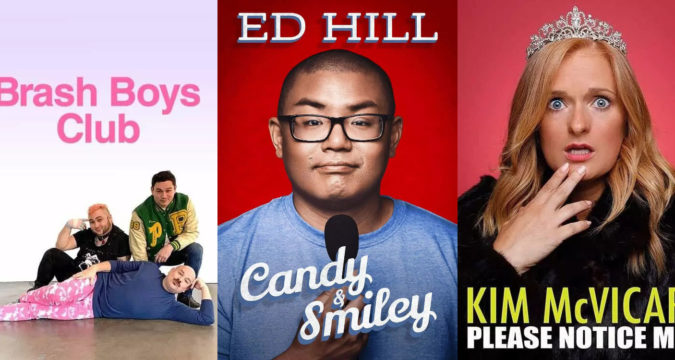 At the end of 2019, I had struck two distribution deals with Comedy Dynamics to distribute two comedy specials, Kim McVicar's Please Notice Me and my own Brash Boys Club that I would produce and direct. Kim and I were able to shoot out our specials in January, safely escaping the COVID pandemic that stopped all productions worldwide in March.
I met Kim at my hip hop dance class at the Edge Performance Arts Center and we started collaborating on Brash Girls Club. After Brash Girls Club, Kim wanted to do her own special and I produced and directed it for her, the first female comedy special that features dance breaks. "Imagine if Beyoncé did stand up!" perfectly captures the spirit of Kim McVicar's Please Notice Me.
After shooting Kim McVicar's Please Notice Me, I cast three diverse queer comedians, Owen Alabado, Dash Kwiatkowski and Brad Loekle to create Brash Boys Club, the queer stand up feature film that would be a companion piece to Brash Girls Club.
At the end of 2019, Comedian Ed Hill came to me and wanted to work with me. We came up with the concept of Candy and Smiley and he wanted to shoot it at the end of March. I did ask if he could shoot it closer to my other two specials so we could consolidate our publicity efforts together, but he felt it was too early.
So March 2020 rolled around… the pandemic started and he had to postpone the shooting of his special to end of October. Then when we realized that even at the end of October the British Columbia government would not allow in-person gathering, Ed opted to shoot his special in July with an audience of friends and family as a pandemic edition. We got it in the can and delivered it to Comedy Dynamics, who just released the special, Ed Hill's Candy and Smiley, this week.
Looking back at 2020, I'm grateful that despite the pandemic and lockdown, I was able to produce and deliver three comedy specials that will hopefully cheer up the world.
Stream Kim McVicar's Please Notice Me Now!