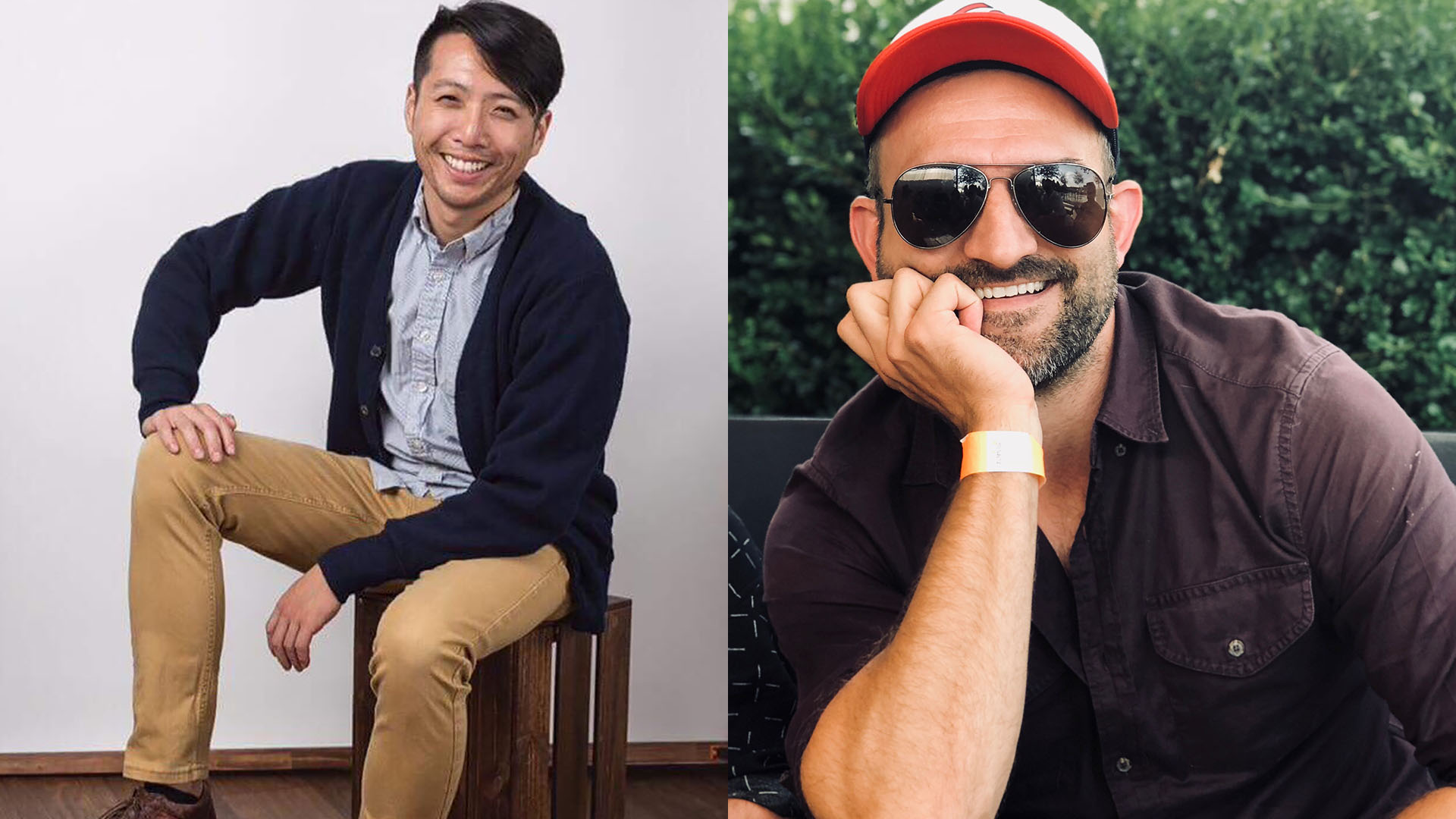 CHOPSO interviews comedian Edwin Li and director Matt Szymanowski on their debut feature The Purple Onion now streaming on CHOPSO.
C: How did you two meet and decide to collaborate on The Purple Onion?

Matt: I was working at the Punchline comedy club in San Francisco. I was a door guy at the time, new to the city, and Ed was a regular. We got to chatting and we clicked. He was making short comedic skits. I was out of film school in Europe. We made a few video sketches together. Curious about Ed's process as a comedian I began following him with a camera recording his shows, sometimes a few in one night all around the Bay Area. Then one day I remember waking in the middle of the night feeling this urgency. I texted Ed that we had to make a film about a comedian. We were both hyped. We workshopped a bunch of ideas. I wrote the script. Ed's real comedy is stitched throughout the film. We wanted to show the life of a comedian when not on stage and how the events in his life are ultimately manifested in his stand up. The San Francisco comedy scene is an inspiration, so is the city itself. There's a lot of strange fixations and sadness and longing in there, too. I included some of my own sentiments. I was feeling reverse culture shock at the time after moving back to the US after a half a decade abroad. And I got out of a big relationship which lead me to question everything. I also watched a lot of dark films that spoke to me at the time. And all that was funneled into this film.
Edwin: Yeah, Matt and I just clicked. I'm not really sure why. We started talking and I found out Matt made films. My sister was getting married so I asked if he would help out with an engagement-video. Matt said yes and we worked on it together. Gradually, we made more videos together and Matt would show me these cool European films. One night he texted me, "let's make a movie" and I was like, "hellz-to-the-yeah!"
C: What's the most challenging thing for each of you toward making your first feature film?
Matt: I had no clue how long this process would take or how exactly we were going to do it. I heard that you shouldn't start a film if you don't have a strategy all the way through distribution. If I were to follow that thinking I would not have a film. All I had was an idea. I didn't know where the money would come from. After each major step in the process there was a new obstacle which I didn't know how to solve. We crowdfunded money for production. Eventually we had a rough cut and I was broke. I showed the film to a friend I knew from the Polish Film School. He has a post production company, Fixafilm. Luckily he liked the film and agreed to take it on and finish it. And he did it for free with a coproducer credit. Then we had to figure out the festival aspect. I began blindly submitting to every major festival without a strategy. We got into about a dozen festivals, which was cool. I reached out to distributors and sales agents. No one was interested. I figured it was time to move on. The real tipping point was two years later when producer Andre Gaines read an article I wrote in Filmmaker Magazine just as I decided to give away the movie on Vimeo. Andre saw it and wanted to distribute it. That was a game changer.
Edwin: I thought It was going to be a weekend project – like we take out a DSLR and fool around for a couple hours. But everything just got more complex. The most challenging thing for me was the scheduling. At the time I moved from San Francisco to Los Angeles, I was broke and living week to week barely able to pay rent. When I had to come back to play the role, I was a nervous wreck. I wasn't sure I was going to have a job once I returned to Los Angeles.
Also, production was intense. We were using my house to film and there was a Homeowner, who didn't want to pay his share of the water bill. And because my mother is the treasurer, he tried to scapegoat the production team and sent out this nasty email about how we were, "being disruptive and using too much water." It was a real headache for my mother and I felt awful about it.
C: Edwin, how did you become a standup comedian and what was your first gig?
I started comedy young, around 16 years old. My high school counselor Kaseem Bentley took me too an open mic in Downtown San Francisco and after that I was hooked. I didn't get my first gig until my second year into comedy. I was paid 5 dollars and I got to perform in an empty nightclub. When I got home that night, I was glowing!
C: Matt, how did you become a filmmaker and what was the first thing you made?
I watched a lot of movies before Netflix even. I made films with friends in high school. I volunteered at the local film festival. In college I interned at a TV production company and helped on a lot of student films. Then I went to film school in Europe and I started making my own films. The first thing I made is probably a black and white road movie on 16mm in Poland called History of Solitude. That was fun.
C: For you, how was the reception for The Purple Onion and how did you feel about it?
Matt: We made a unique film. We had a simple story and a diverse cast in a stylized San Francisco. We had a talented and dedicated team. Still we got a lot of rejection notices from festivals. We thought the film would at least get programmed by a few more Asian American film festivals. We're fortunate that we got into the ones we did. Yet there was still this anticipation that at least the Asian American community would be more accepting. Though they weren't really. We figured that this was because we made a film that was not about being Asian or Asian American. It had Asian leads, but it was about something else. Maybe we made something too far removed from the mainstream, too indie, too dark. In retrospect a few people and festivals were super helpful, and they loved it. And here we are now on Chopso.
Edwin: It felt amazing to have accomplished, at least for me, something so big. From writing the script, production, ADR, and all the little nuances of filmmaking. Also Matt has my eternal respect for his relentless drive. However, I still don't believe we've found our audience with this film. It's very dark, and sexual so I can see how it can turn people away. Regardless, The Purple Onion is the greatest project I had the pleasure of taking part in.
C: What have you learned from making The Purple Onion?
Matt: If you want to make a film, or anything, the only way about it is by doing it. Timing is always off. Conditions will never be perfect. But if you stay focused and put everything into the process, it might just work out. And whatever you do, just keep going.
Edwin: Don't be a dick on set. I had a lot of maturing to do. It was my first, "actual" film, with a full crew, so naturally I was a little on the edge. Everyone is working hard, and conditions are never going to be perfect. Just by being cooperative and pleasant, you can create an environment where people are more likely to complete the task.
C: What's on the horizon for each of you?
Matt: I'm developing my next film. I don't know how long it will take to make but I'm trying to get the ball rolling now. And I'm also doing my Masters degree in Writing for Film and TV.
Edwin: I still perform stand up and make short films.
C: What is one advice that you'd give to someone who wants to do what you're doing?
Matt: Dig deep in yourself and find something that moves you. Once you know what it is, focus on it, and keep working at it. It may not make you money at first, maybe not ever, so you have to figure out how to keep doing it while surviving. But whatever you do, don't stop, have patience, and maybe you'll get there.
Edwin: My advice is – don't take yourself too seriously. Learn to have fun, make a ton of mistakes, snowball your project until it gets bigger and bigger. Don't stop.
Follow Matt on Instagram @mattszy and Twitter @mattszy
Follow Edwin by googling him.