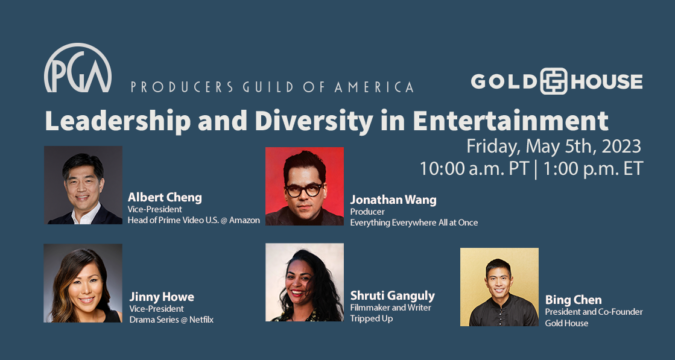 Celebrating AAPI Heritage Month, on May 5, 2023, at 10 am PT / 1 pm ET, the Producers Guild of America's AAPI Working Group, with community collaborator Gold House, hosted a FREE PUBLIC WEBINAR / virtual panel conversation titled "Leadership and Diversity in Entertainment" with Albert Cheng (Head of Amazon Prime Video), Jinny Howe (Head of Drama, Netflix), Jonathan Wang (Academy Award & PGA Award-winning Producer of Everything Everywhere All at Once) and Shruti Ganguly (Filmmaker & Writer). Throughout their careers, these leaders have used their backgrounds to shape the entertainment landscape and pave the way for future generations of creatives. Cheng, Howe, Wang and Ganguly will share insights on their personal journeys. They'll also discuss how they've leveraged their cultural heritage and experiences to drive innovation and creativity in their respective fields. The chat is moderated by President and Co-Founder of Gold House, Bing Chen.
Check out the bios of the panelists of this star-studded AAPI panel:
• Albert Cheng (Vice-President, Head of Prime Video U.S., Amazon)
Albert Cheng is VP, Head of Prime Video U.S. In his role, he serves as a single-threaded leader overseeing the Prime Video business in the United States. He leads the U.S. and global tentpole programming strategy and consumer insights, in addition to overseeing Prime Video's brand strategy, brand social, influencer marketing, marketing operations, media and audience insights. He previously served as Chief Operating Officer at Amazon Studios, where he oversaw the general management of the company alongside Head of Amazon Studios, Jennifer Salke. Prior to Amazon Studios, Cheng spent 15 years as an executive at The Walt Disney Company, most recently as Executive Vice President, Digital Media and Chief Product Officer for Disney/ABC Television Group. During that time, Cheng and his team won four Primetime Emmy Awards. Cheng has also held executive positions at Fox and board roles at BMI and Lifetime and was a strategy consultant with The Boston Consulting Group.
• Jinny Howe (Vice President of Drama Series, Netflix)
Jinny Howe is Vice President of Drama Series at Netflix where she is responsible for setting the strategic direction of original scripted dramas and licensed programming. Howe has played an integral role on such critically-acclaimed and culture-defining series as Bridgerton, Maid, and Inventing Anna; recent breakout hits include: BEEF, The Night Agent, The Diplomat and The Lincoln Lawyer. Howe joined Netflix in 2018 from John Wells Productions where she spearheaded TV series including the renowned, Shameless. Having emigrated to the U.S. from South Korea, Howe is focused on championing emerging underrepresented voices in television. She is a UCLA graduate.
• Jonathan Wang (Producer, Everything Everywhere All At Once)
Jonathan Wang is a Taiwanese-American film producer and long-time collaborator of the directing duo, Daniels. Beginning in music video production, Wang produced several award-winning music videos including projects for Bob Dylan, Beyoncé, and Jay-Z. Wang then pivoted to feature films in 2015 with his debut Swiss Army Man, which premiered at Sundance 2016 and won the U.S. Dramatic Directing Award. Wang has produced five other films with A24, including A24's highest-grossing film of all time, Everything Everywhere All At Once, which took home seven Academy Awards in 2023, including a Best Picture win for Jonathan Wang.
• Shruti Ganguly (Filmmaker and Writer)
Shruti Ganguly is a filmmaker and writer based between New York City and Oslo. Shruti was a member of Obama's ECCO committee of 30 leaders and creators in entertainment, chairing its Asian Caucus, and is on the Creative Council for Emily's List. She has produced several feature films that have premiered at Sundance, Venice, Tribeca, Telluride, and Berlin. Shruti recently directed TRIPPED UP which will be distributed by Decal (North America) and Universal Pictures (Global). Shruti sold DEATHSPA to Sony International, and is currently writing SECRET DAUGHTER for Amazon Studios. Her coming-of-age feature comedy, PRIYA, AT 12. On the TV front, Shruti is a writing-EP on the half-hour TV series BROWN BABY, which will star Himesh Patel, set up at Apple UK, and has been developing FLOSSY, a half-hour with comedian and writer Kerry Coddett. Shruti is a co-founder of the Resistance Revival Chorus. She is on the board of New York Women in Film and TV (NYWIFT), Neutrogena Studios, and Commit2Change. Shruti received her Bachelor's degree from Northwestern University, and went to NYU's dual MFA (Tisch Grad Film) and MBA (Stern) program . She hails from India, by way of Oman.
• Bing Chen (Moderator, CEO and Co-Founder of Gold House)
Bing Chen is an impact entrepreneur and new world builder, leveraging storytelling and systems to deliver greater socioeconomic equity. He is President and Co-founder of Gold House, the premier collective of Asian founders, creative voices, and leaders dedicated to uniting the world's largest populace–Asians & Pacific Islanders–to enable more authentic multicultural representation and societal equity. He is also General Partner and Co-founder of AUM Group, a multicultural film fund; and serves as a Board Director and Advisor to several leading digital media companies including Google's Global Marketing Board, Snap's Yellow Incubator, Omnicom's Sparks & Honey, Baobab Studios, Oura Health, Musely, and more. Previously, he was YouTube's Global Head of Creator Development and Management. Bing is a third culture kid across North America and Asia, finally graduating from the University of Pennsylvania. He was born in Knoxville, Tennessee, which becomes obvious at $11.99 buffet.