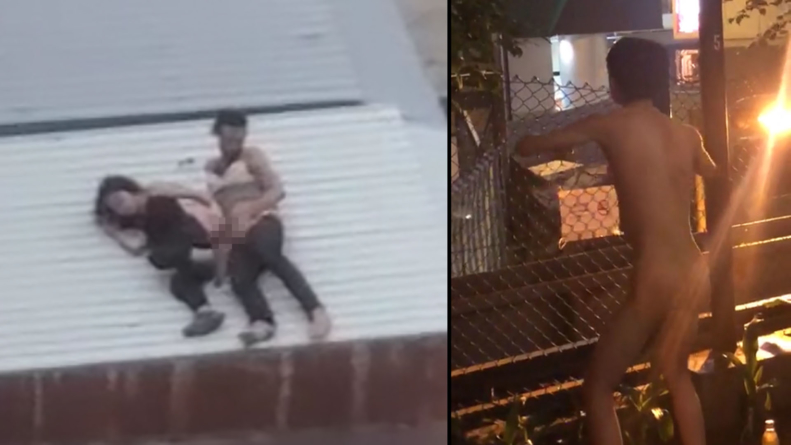 Secret Lives of Hong Kong Protesters
WARNING: SOME PEOPLE MAY FIND THE FOOTAGE CONTAINED IN THIS ARTICLE TO BE DISTURBING OR OFFENSIVE.
When I was in Hong Kong during the first week of the siege when the student protesters holed themselves inside Hong Kong Polytechnic University, a friend sent me two videos that I have never seen in mainstream media. They were both shot by students on Poly U campus during the protest. One was a protester couple—a Hong Kong female and a Caucasian male—having sex on the roof of a Poly U building. The second one shows a young male student dancing nude to bunch of student protesters presumably during the student protesters taking over Poly U.
My friend who forwarded me these two video clips said that they have been circulating in closed WhatsApp groups about the protest. I've had these videos for a week and finally decided to share them because they show a raw and human side of the protesters that we don't see in mainstream media. The raw humanity of these clips transcends partisan politics. I'm sure conservatives would frown at these clips and try to use them to discredit the protesters. But for me, they really show the humanity of the Hong Kong protesters beyond their masks and being used as political pawn by mainstream media and politicians.
Watch Couple having sex on the roof of a Poly U building:
https://www.pornhub.com/view_video.php?viewkey=ph5dd9801117d92
My journalist friend from New York said that sex on the roof was so Occupy Wall Street and 2011.
The couple was indeed a protester couple. They were later photographed by fellow protesters or students.
Watch A young male student dancing nude to student protesters in Poly U:
Watch A young male student dancing nude to student protesters in Poly U:
I'm trying to figure out the sexuality of the young nude dancer as I don't think a straight Hong Kong male would do that. In the background you can also hear female voices cheering him on and you can see several masked protesters taking videos of his dance.
I suppose having sex and dancing nude in public is liberating and fun. The protesters, like everyone else, need to entertain themselves and have fun too. These video clips really connect to our basic instincts. Do you feel like a voyeur watching them? What do you make of them? How do they make you feel?