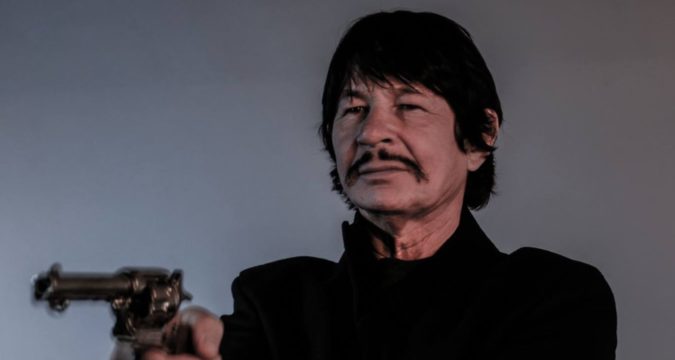 Last Saturday at midnight, fighting weekend ennui, I was flipping through the new TVOD features on my Amazon Fire TV Stick to see if I have missed any recently released independent features. Just as I was about to sleep, I came across Lionsgate's 2021 The Gardener whose keyart features Charles Bronson. I was startled awake as I thought Charles Bronson died in 2003. So I played the trailer and was totally convinced that it was Charles Bronson in the film only to find out that his name was Robert Bronzi. The first thought was did Charles Bronson not die and use a fake name to star in B-movies?
So I rented the movie and started watching while researching "Robert Bronzi" who is a Hungarian look-alike actor of Charles Bronson that indie filmmaker Rene Perez discovered in Spain and brought him back to California to star in his Bronson-inspired features. You can read this informative article: "The Strange, Sordid Tale of Charles Bronson Lookalike Robert Bronzi" by Josh Bell.
The Gardener is an expectable but well-made British home invasion thriller with a couple of fascinating plot twists that Lionsgate picked up featuring Robert Bronzi probably in his most respectedly budgeted feature. Even with a Hungarian accent, Bronzi aced his role with a Bronson-like figure who acts more than he speaks.
Seeing The Gardener made me curious about checking out Bronzi's earlier feature Death Kiss, as I was quite fascinated by the Death Wish franchise which is essentially reverse-horror movies with Charles Bronson playing a sympathetic yet ruthless vigilante gunslinger serial killer.
I did more research into Rene Perez who is a Northern-California-based indie filmmaker who made his early films with Bronzi all for under $50,000. While mainstream critics enjoyed panning how low budget filmmakers follow their passion despite not having enough money, I, a struggling filmmaker for decades, was rather impressed with Perez who could make his movies and got them released. Of course, we have different tastes as filmmakers but I would never fault a filmmaker for his/her budget as long s/he completes and releases the film. Making a movie and finishing it is simply not a walk in the park, especially with no money.
As I think more about Bronzi and Bronson, I really can't tell them apart. But there is something compelling about the role they played—the laconic action hero or anti-hero. Maybe we deeply miss that as a culture from the 80s and hence explained the unlikely but compelling rise of Robert Bronzi.