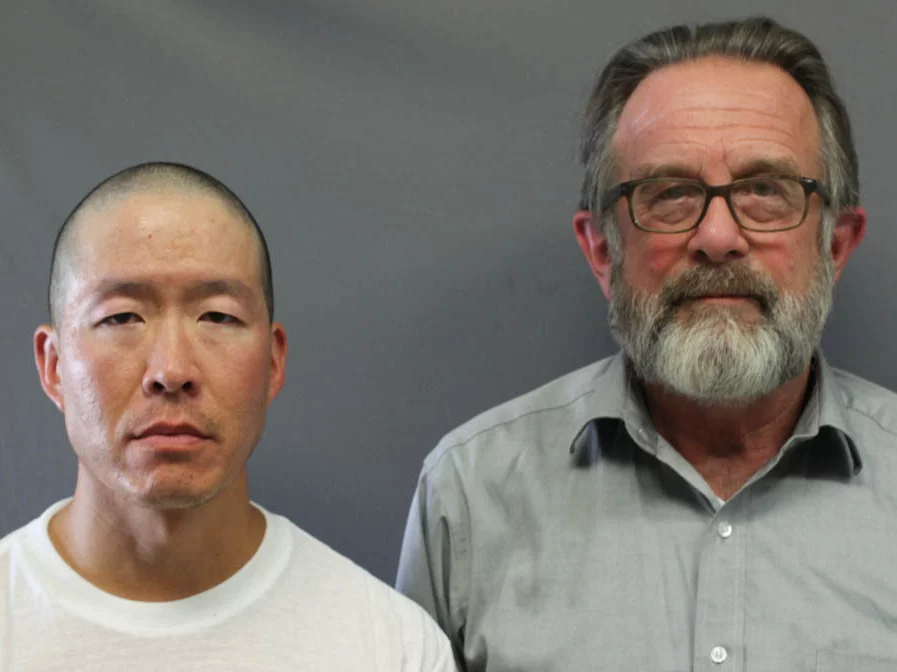 I became serendipitously connected with Wayne through his art at Hayena Gallery when I was producing the feature film #1 Serial Killer aka Chink. I became fascinated with his background of being an Asian immigrant and one of the early mass shooters in 1992, due to schizophrenia, and has been trying to make redemption by working with one of his victims' father Gregory Gibson.
According to Wikipedia, Wayne Lo is an American citizen born in Taiwan who perpetrated the shooting at Bard College at Simon's Rock on December 14, 1992, in Great Barrington, Massachusetts. He murdered one student and a professor, and wounded four people, before he surrendered to police. He is currently serving two life sentences without the possibility of parole plus 20 years.
When I interviewed Wayne about the Orlando mass shooting and shooting on UCLA campus in 2016, Wayne has previously expressed in the article that I wrote saying that had guns been less accessible and mental health be more accessible he wouldn't have done what he has done. Due to the recent rise of mass shootings, I reached out to Wayne to get an update. While he declined to speak further about guns and mass shootings, he has turned his efforts in improving the lives of API prisoners in MCI-Norfolk and beyond, and entrusted me with his open letter:
Dear Sir/Madam,
I am writing to introduce to you the Asian Cultural Awareness Committee (ACAC) here at MCI-Norfolk. MCI-Norfolk is a medium security prison located in the town of Norfolk, Massachusetts, housing approximately 1,400 inmates. MCI-Norfolk is one of only a handful of community based prisons remaining in the U.S. where an inmate council serves as a conduit between the inmates and the administration.
The inmate council system also oversees many committees which provide positive activities and assistance for the general population. The ACAC focuses on the Asian and Asian Pacific Islander American population here which range from between 25 to 40 inmates at any given time. Other committees such as the African American Coalition Committee, Latino Awareness Committee, the Music Committee, etc., focus on their respective constituencies which are much larger than the APA population.
The ACAC currently holds biweekly meetings where our diverse APA membership of Cambodian, Chinese, Korean, Laotian, Thai, Japanese, and Vietnamese brothers share poetry, music, cultural trivia with the rest of our membership which includes all other races and ethnicities here at Norfolk. We have lively discussions on both historical and current events affecting the APA population. We also hold an annual function where an afternoon of music, poetry, speeches and skits are shared with the general population who are not ACAC members. The board of the ACAC is reaching out to you in hopes of gaining guidance and help in achieving our mission to provide unity, understanding, and assistance to not only the APA population, but also to educate and offer cultural exchange with the general population of the prison.
While society may harbor the stereotypical view toward APAs as being the affluent and law abiding model minority, the truth is we are no different from any other population and along with success comes with personal failures. While many APAs may see our failures and criminal activities as shameful and grounds to ostracize, we feel that such a perspective is outdated and harmful for those here who will one day return to society. We must pay our debts to society but we also need to better ourselves so that we do not fall into a cycle of failure. The Covid-19 pandemic has not only brought hardship and heartache for the world, but also produced very unfortunate discrimination against the APA population.
We would love to hear back from you; and whatever opinions, suggestions, or questions you may have will be greatly appreciated. With the current push for criminal justice reform, both locally and nationally, we hope that the APA population at your institution will be closely involved as well. Thank you for your time and attention and we hope to hear back from you soon!
Wayne Lo
skid.lo@hotmail.com
Pictured above: Wayne Lo has been making amends to his victims including Gregory Gibson whose son he murdered.