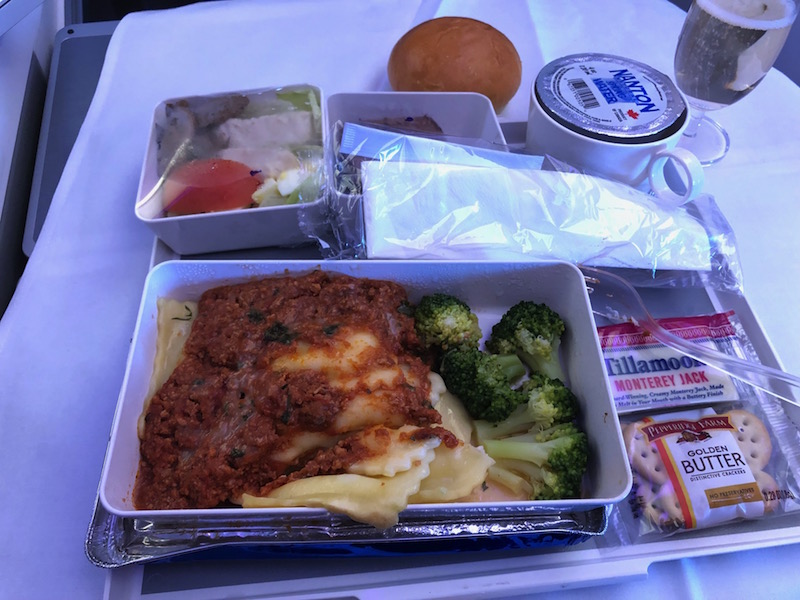 Beware of those alluring and deceptive upgrade offer signs at the check in counters of Hong Kong Airlines. When I decided to pay for a business class upgrade for my flight from Los Angeles to Hong Kong, the ground staff informed me that because it was a last minute upgrade I might not get a business class meal and they made me sign a piece of paper. Because he said mostly likely I would be fine, I signed it.
When I was lining up to pay, I bumped into another upgrade passenger, John, who said they had told him the same thing. We both paid for the same upgrade. Then later on aboard, I was served an economy class meal after negotiating with them while the other upgrade passenger was served a business class meal.
I was obviously upset and talked to the flight attendant who said that I signed a piece of paper that waived my business class meal. I told him that the ground staff informed me that I might not get a business class meal if none were available but he told me that I should get one as business class wasn't full.
On the plane, there were obviously business class meals available as the other upgrade passenger got his and still the flight attendants didn't offer me one until I argued and argued with them about it. By the time they were willing to bring me an "available" business class meal, I was already full because I ate the pasta of the economy class meal. What kind of service you're giving if your customer would need to argue to get a proper meal having paid a business class upgrade? That's the bad or lack of service in business class I'm talking about.
Can you still call this "Business Class" or "Business Class Upgrade?" I paid the same price with another business class upgrade passenger and got treated as an economy class passenger.
Or are you really selling a "Business Class" upgrade with an "Economy Class" meal? Simply ghetto.
In my four decades of flying and having flown first and business class of United, American, Singapore, Asiana, Cathay Pacific, Hawaii, Air France, Alaska… Hong Kong Airlines you suck. You suck not because you don't have new air crafts or resources. You suck because of your service. You suck because you would not accommodate someone who has paid premium price for business class and would not serve him a business class meal even if you have it available.