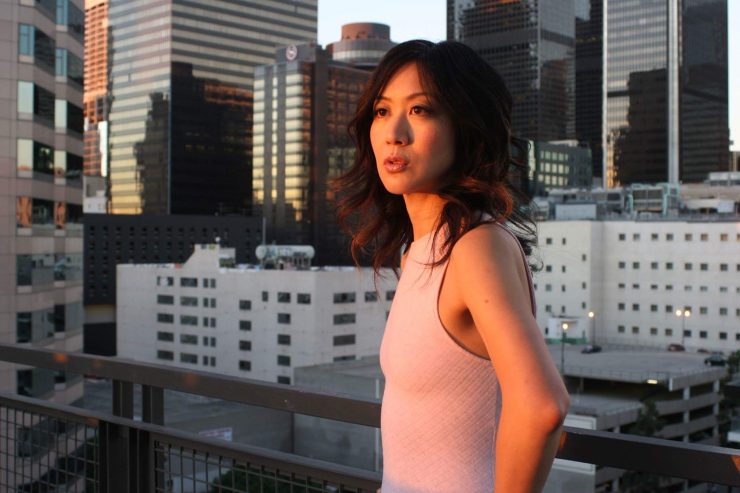 Betty Ouyang's directorial debut "Father's Day" just premiered in streaming on CHOPSO. We did an interview with the upstart Asian American actress and filmmaker on her directorial debut that has gotten buzz through the festival circuit.
Tell us about your background and how you've come to be an actress and now directing your own short film.
BO: I was born in NYC and remembered always playing in the imaginary world since I was little. My cousin always brings up how she heard me mimicking commercials in the shower when I was around 6 or 7. I remember my mom taking me to see "A Chorus Line" on Broadway when I was 12 , and I fell in love with the whole world of Storytelling–both on stage and in film
When I attended Barnard College at Columbia University, though, I felt this intense pressure to pursue a "serious career". I was exploring Journalism for a while because I did love writing and investigating. But I sought out acting opportunities whenever possible. Eventually a one-line role as a Reporter on "Law & Order: Criminal Intent" got me my SAG card. I moved to Los Angeles soon after.
Adjusting to LA was definitely "bumpy" the first few years. I had to start from scratch because I did not have any strong connections here in terms of representation. I wasn't well-connected in LA at all. And then in 2013, my mom was diagnosed with pancreatic cancer. So I temporarily moved back to the East Coast to be with her. I unfortunately lost her in October 2014.
Having to return to my "normal life" in LA after my mom's passing…it felt quite surreal. A huge part of my healing process was writing, directing, acting and producing my first film "Father's Day". Even though it's only a short, I felt it really captured the many complicated feelings I was going through during this time: Sadness, Guilt, Anger, Camaraderie, Appreciation, Optimism, Love. It's all in there.
How did "Father's Day" come about? What made you take the dive into directing?
BO: The script for "Father's Day" came out quite naturally, probably because of all the strong emotions I had been experiencing that had to be released. I remember completing the entire script in two weekends. I never for one minute suffered from Writer's Block. Quite honestly, I wasn't sure I could pull off making a film, though. I had many years of experience Acting and being on a set. But I had never actually written, directed or produced a film before. I never went to film school. (I had done just a little directing for stage in the past, but I knew that film is an entirely different animal. )
I have a lovely friend, Raymond Ma. He is always trying to help and nurture young Asian-American artists. He encouraged me to direct "Father's Day" myself because he knew how personal the story was to me.
Raymond recommended to me a DP/Camera Guy/Editor Elnar Mukhamedyarov. Both Raymond and Elnar are superstars. They helped me so much in getting grounded during the beginning stages of production. Elnar is so talented in many aspects of the filmmaking process. And he helped me assemble a dedicated, talented crew. We shot the entire film in one day: 11 hours.
I think it helped that prior to shooting, I rehearsed scenes alot with the other 2 Lead Actors. I kind of approached it like we were rehearsing for a play because the film is, at times, very dialogue-heavy. (I strongly recommend that Directors take time to rehearse with Actors prior to Shoot Day if you have that luxury. It really helps your Actors get grounded before the chaos of a set begins.) We then taped our rehearsals and sent the recordings to our DP/Camera Guy to help him figure out shots, lighting, etc.
I did not do any Crowdfunding for "Father's Day". The Original Budget (just over $2K) came out of my own pocket.
Who are the three people that inspired you most as an actress and filmmaker?
BO: Filmmaker Pedro Almodovar: I've always admired his irreverent humor, especially in his early films, his use of Color, and his confidence in expressing his own voice.
The work of Playwright Tennessee Williams always blew me away when I was studying theatre more; his poetic imagery.
The third person who has been inspirational has actually been novelist Haruki Murakami. His novels are, to me, extremely cinematic. I love how he embraces the Dream World and Animal Spirits. I think Murakami has definitely had an influence on the current Series I'm creating.
What are you working on next?
BO: Something has been pulling me towards writing/directing/producing and starring in a half-hour Original Dramedy Series.
"Lala's Love Lessons" centers on an offbeat Chinese-American Love Guru in Los Angeles. I'm absolutely in love with the character and her Universe. And the Series has been completely inspired by MUSIC from the 1970s to present-day. It will also feature Dancing and an Original Italian Fashion Line. I have a small design team in Italy that has offered to create the Lead's entire wardrobe for free for the Pilot Episode. I'm pretty blown away by this. But I also now feel more pressure to make something Awesome since more people are getting involved… and more people are counting on me to succeed.
I know making this Series is going to be a lot of work, but I really think it's an important time right now to showcase Asian-American Lead Characters that we haven't seen before. And yes, I think we're in the Golden Age of TV and Digital Series, globally.
What's the one advice you'd give to someone who wants to do what you're doing?
BO: As you can tell, you don't necessarily need tons of money to make a short-film. I certainly didn't have tons of money or industry connections. The hardest past is often just getting started.
I agree with others who say: JUST MAKE SOMETHING. Whether it's 3-minute funny videos on your iPhone. Or your standup routine. Just do it. The more you do it, the better you get. Collaborate with your friends. If you don't enjoy writing, find a friend who does. Then make stuff together. Grow and learn together.
And it's not only about Creating. I probably spend WAY MORE TIME promoting than actually making the actual product. So having someone on your Team who is a relentless Promoter is absolutely needed.