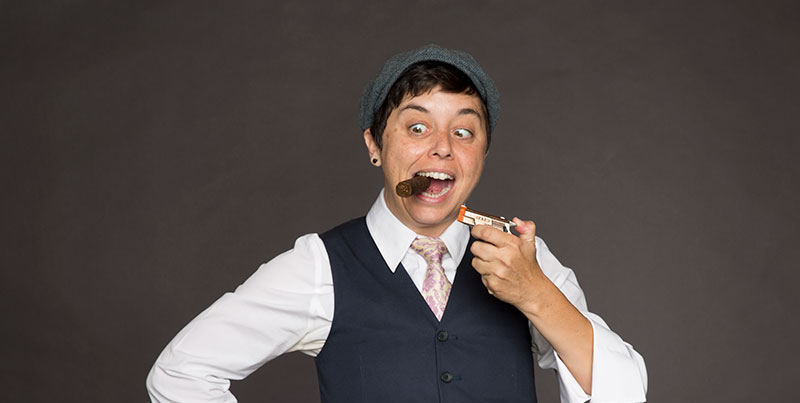 Comedian Leah Mansfield, Sue Limsukonth and I got together this morning to record an episode for Slanted View podcast, but alas, out of my complete stupidity, I didn't press the record button correctly and did not record our podcast. However, I decided to write out our memorable and fun conversation the best I could remember. I just directed Leah Mansfield in the first ever all female stand up comedy limited television series Brash Girls Club now streaming free on Tubi.
QL: I know you have an interesting family background… tell us about it.
LM: My dad is super white with descendants from Europe and my mom was a quarter or half native from a tribe near Fresno.
SL: So you're like one eighth or a quarter? What's the name of the tribe?
LM: Chukchansi. Our tribe was "discovered" during California Gold Rush era and my grandfather had to go to one of those Indian Residential Schools in order to become American. He moved to Washington area and had my mom. My mom met my dad, and I was born and raised in the Washington area.
QL: Have you been back to the tribe?
LM: Not lately. But there is definitely a documentary film there. There was so much fighting there at one point. In 2003, the tribe was given a Casino license. The government basically handed them a multi-million dollar business but there weren't really competent people to run it. The reservation was divided into two factions: one were the bankers and the other owns the casino. Even after the milennium, someone would be burying a bag of cash in hole on the ground. The casino was closed down at one point and the Feds had to step in.
QL: You dedicated your special to your mom… can you talk about her?
LM: My mom passed away two years ago. I had a difficult relationship with her because she was an addict. She was addicted to Oxycotin most of her life. She had a very bad car accident when she was nine and I think she was in pain most of her life… which led to her addiction. My youngest brother lived with her until he was twenty five to take care of her. He was really the one holding the family together. After she passed, her ashes sat on my aunt's refrigerator for a few months until we scattered her ashes where she had wanted on the reservation.
QL: I was given Oxycotin before after a surgery and did it… but it made me dizzy and I didn't like the feeling. I gave them to one of friends. I want to mention that you had a really funny bit in your special about doing pot with your dad.
SL: Really?
LM: [Laughing] Yeap… and you got to watch my special for that.
SL: I don't like to get high… it's not my thing. But how did you become a comedian?
LM: I was in the military and one time they asked me to MC an event and gave me no preparation whatsoever. It was maybe around 2005. I got up there and made everyone laugh… and that night I thought could be a stand up comedian.
QL: So you've been doing it for like 14 years. And when did you come out?
LM: It wasn't until I became First Lieutenant when a lot of my old friends left. I started partying with this new group, went to a bar and got drunk for the first time… and not much longer I brought home my first girl.
SL: Were you the "Don't Ask Don't Tell" generation?
LM: Yeap. "Don't Ask Don't Tell."
QL: I was surprised you didn't come out in college.
LM: Believe it or not, I was very religious in college. I joined Campus Crusade for Christ. I was young and vulnerable and they got to me. I even went on missionary trips to Japan and Korea.
QL: And you never messed around with a girl on those trips?
LM: Nope.
SL: Wait, what did you do in the military?
LM: I was a Nuclear Launch Officer. I was twenty two. I joined the ROTC in college… you know there was a piece of paper that asked you what you wanted to do in the military? They would wipe their asses with it and put you in whatever they randomly assigned you. And I got that position. It's really a good position for someone with a family because there is a set schedule and you won't be deployed overseas. But for a 22-year-old who didn't know what she wanted? I was bored to death. And for the first year I had to read all these top secret documents… and I kept falling asleep reading them cuz they were so boring.
QL: With what you know as a Nuclear Launch Officer, do you think North Korea is a threat?
LM: I've signed a 99 years NDA in the military so of course what I say will only be from the news we all get. Well, I think he's crazy. He's the third generation of his crazy family. We think we can talk to him like a regular human being… but you never know right? You just don't know what he thinks and what he'll do. Pyongyang does look beautiful from what I've seen. There is no trash and it's really green. It would be nice to go visit one day.
SL: How long were you in the military?
LM: I served for four years and as soon as I got done I bought a plane ticket and went backpacking through Europe. I love traveling.
SL: To wrap up, what are you working on?
LM: I'm part of this year-long WGA mentorship for veterans and I'm writing a pilot for a series based on my experience as a Nuclear Launch Officer.
QL: That's great. I hope it will also have an LGBTQ angle to it.
LM: Yes, it will. But won't be based on my life… cuz that character would be very boring.
Stream now Leah Mansfield's episode of Brash Girls Club on Tubi and follow her on Twitter and Instagram!