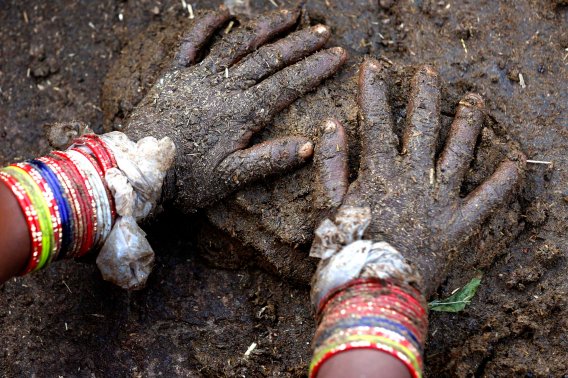 Pies are selling like hot cakes on eBay and Amazon these days. Not apple pies though, unless you're talking about road apples, and they're not made by mom either. These pies come straight from cows: it's their poop mixed with hay. The cow poop is collected and dried in the sun, mostly by women who live in villages in India, and then sold over the Internet.
Cow dung is advertised as having several usages. Commonly used as manure, it can also be used to produce bio-gas to generate electricity and heat. The gas produced by cow dung is rich in methane and can provide a renewable source of electricity. In Africa, villagers have burned cow dung inside their dwellings to repel mosquitos. In cold places, cow dung can be used to line the walls of houses as insulator. It can also be used in place of firewood for cooking.
According to Daily Mail, one seller advertised an amazing quality of cow dung. When burning these cow dung cakes, the temperature never rises beyond a certain point ensuring the nutrients in the food are not destroyed by overheating.
Several Indian and Pakistan sellers on eBay are selling cow dung patties at around $1-$2 a piece. For large orders, buyers will even get free shipping.
On one Amazon store with the item The Big Indian Store Cow Dung Dry (sic), netizens couldn't help themselves and left tongue-in-cheek reviews.  "Straight out of the anus of the Angus!!! Your kids WILL love these things. Send to your liberal, hippie, multi-cultural friends. They would love to eat this sh*t up!!!! Can be used as a Frisbee in emergencies too!!!"
Another Amazon reviewer said it like what it really is, "This is bulls***! ;)"