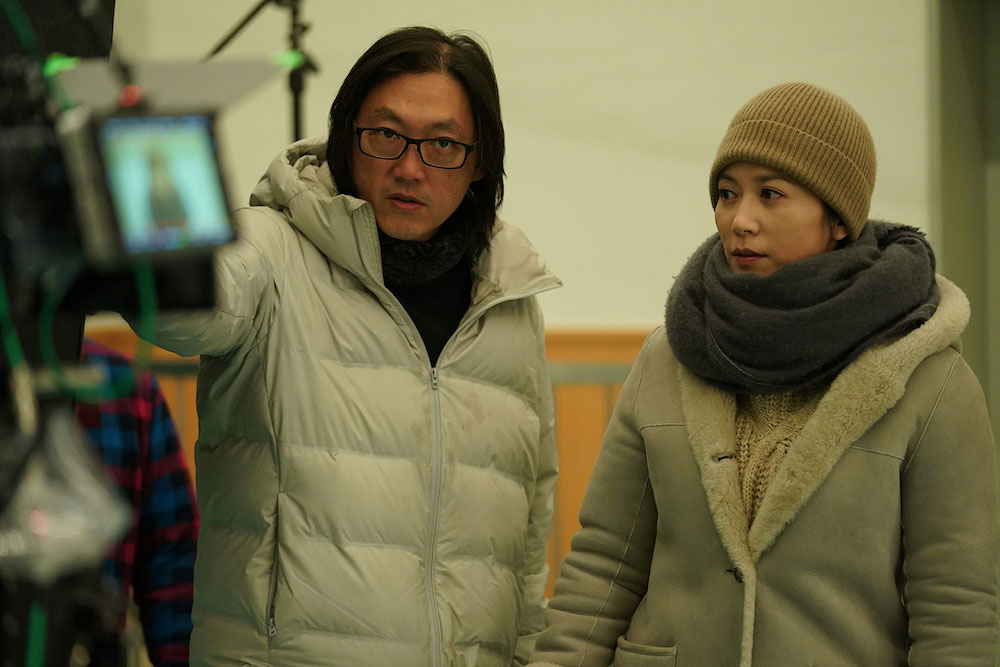 Hong Kong born Canadian citizen Kenneth Bi is a veteran film director currently based in Hong Kong. Here, he discusses his oeuvre in Chinese cinema and evolution as a director from his first film Rice Rhapsody to his latest Wish You Were Here.
You have both Hong Kong and Canadian background… and you made your first feature "Rice Rhapsody" in Singapore. Can you talk about how you started making films to your first feature?
KB: I studied Theatre in Canada and didn't have that much interest in film. It was through writing some one-act plays after graduating that I found I exhausted the subject matters I could mine rather quickly. I read a great writer's quote that a writer needs roots. I found that I didn't know my roots so I came back to Hong Kong to find my roots and to get into film. For years, I did a variety of jobs in film to make a living and also to educate myself on all things film. I did art direction, acting, writing, translating scripts and subtitles, editing, assistant directing, producing, all to learn about the craft of making films.
It was during those years that a friend told me about screenplay competition in Taiwan. There's a cash prize and every year, they pick ten screenplays. I wrote the script of Rice Rhapsody in English and my friend translated it into Chinese. The script was selected as one of the ten and I got a cash prize which gave me some confidence to go forward.
It still took about three to four years until I got the film made. Getting to make the film with Sylvia Chang, Martin Yan and Melanie Laurent (Inglorious Basterds) and the local Singaporean young people was very exciting. It was a charming experience looking back on it now.
You're a very diverse director having made drama to science-fiction. Is there a genre that you're most excited about? Why and why not?
KB: I'm attracted to different things at different times in my life. They're kind of reflections of where I am in that period of my life. There's one genre I've been wanting to do. Musical. It's a form that's gone of favors but gets reinvented every few years with films like Once, Chicago and La La Land. I'm doing research on a particular subject that I hope will one day be a musical.
It's a form that is very enjoyable to watch in a pure way. We're born to move when we feel emotions. I also love the theatricality of the presentation, it heightens everything.
Control would probably be your highest budget feature. Can you talk about your experience in making that film and what you took away or learned from the project?
KB: After doing a personal and lower budget films, I wanted to push my limits and learn about different types of genres and ways of making films, namely VFX films.
I read a script from the US by Jack Messitt, I couldn't put it down until the very last page. I wanted to make that into a Chinese film and decided to set it in Any City Asia.
The bigger the budget the film, the more problems there are. They're more expensive and bigger problems.
What I took away from the experience was largely interpersonal. How to navigate and manage all the personalities of a film and remain focused on your vision. There are very real challenges in executing one's vision on a big film because it involves so many more people. 
I value the relationships I built with the people involved on that film. The cinematographer Roman Jakobi worked with me so well that I asked him to film my most recent film Wish You Were Here.

Out of all the features you've made, which one is closest to your heart and why?
KB: Sophie's Choice. All the films one does are meaning to you at that time of your life. At this time, I think my recent film, Wish You Were Here, is closest to my heart because in the process of writing and making the film, I attempted to give shape to an inner universe, and tried to temper the urge to please, entertain and create unnecessary conflict. I refrained from the tricks of the trade and tried to go for a non-calculating way of presenting a story. Keeping it very simple.
The creative team behind the film like the production designer, cinematographer, composer, actors and even the singer who sang the title theme song were all on the same page and fit like a glove.
It was a very rewarding experience overall creatively.
I know that you've also embarked on a new journey of having a child. Does having a son now change the way you look at movies or the movies you want to make?
KB: Having a child does change my perspective a lot. In fact, Wish You Were Here was informed by my experience of having a child. It affects the way I look at the world. Romance, fame, money come and go but the love for your child is eternal. It's a humbling thing.
Let's talk about your latest movie Wish You Were Here, a romantic drama made for China. Is this your first movie made for the China market? How was the experience in making that?
KB: Wish You Where Here looks like a romance but it's a weird mix between a mystery and a romance and a drama. It crosses many genres. It was a very personal film.
Actually, Control was more made for the China market as a genre film with a cast that's known in China.
Wish You Where Here was extremely difficult to make because of the subject matter of a woman in her 40s that's not a particularly melodramatic story, had to be made with a lower budget. The amazing thing is that with all the difficulties facing production, the crew and creatives behind the film kept pushing on and shielding me from the problems they faced and delivered high quality work. I was very moved by the whole experience. The cast also gave it their all, although they were mostly oblivious to the production challenges. I felt blessed that those involved were so committed to the project
You work with a lot of highly experienced actors… what is your strategy like in terms of directing them?
KB: Directing each actor is different. It really depends on how the actors like to work but I would say a what all the actors have in common is that trust was built. I do rehearsals with them and depending on the actors' experience, I device different types of the theatre games and improvs for them to do that somehow relates to the film.
The actors feel alive and in the moment and know what I demand from them is a sense of authenticity and not just deliver the necessary beats and emotions from the script.
What's on your horizon?
KB: I'm currently editing a documentary, researching and writing a few projects at the same time, two TV projects for the US and a couple of Chinese language feature films.
If there is one advice you'd give yourself when you first started out now having all the experience, what would it be?
I'm not sure I would give my younger self any advice. If anything, it would be reversed. One gets jaded in life and in working in the same field for a couple of decades makes you immediately drop some ideas that you once would not think of abandoning. I would like to hear from my younger self say to me, "you're just getting started, keep getting busy and knock down bigger walls."