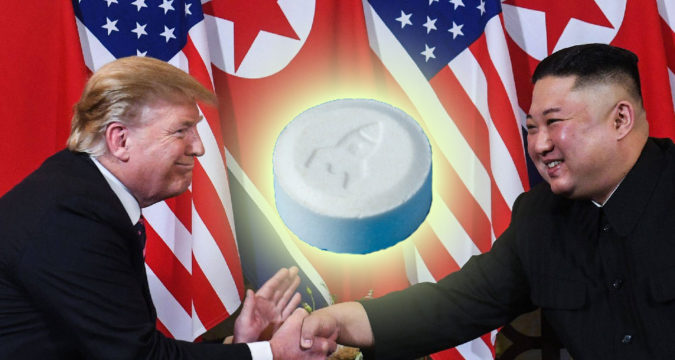 In an exclusive press release e-mailed to CHOPSO at midnight on April 1, 2021, former president Donald J. Trump told CHOPSO that he absolutely approves North Korea's first and latest single dose COVID oral vaccine "Rocket X" in the form of a pill that does not require refrigeration and can be widely distributed by drug dealers worldwide.
"It's simply brilliant! I've been leaking research from Pfizer and Moderna to my dear friend Kim in North Korea and his scientists came up with the first single dose oral COVID vaccine that's essentially an RNA vaccine with 99% efficacy thoroughly tested in North Korea. What's even better is that the vaccine is laced with Molly (MDMA) to cover up any potential side effects, perfect for young people all over the world!" exclaimed Donald J. Trump in the exclusive release.
"My family and I, including Byron, have used 'Rocket X' two weeks ago and had a tremendous night together. Melania and I even made up and made love that night." said Trump.
Trump plans to work only with drug dealers who are certified American citizens to distribute "Rocket X" all over the world. Get ready for anti-COVID rave parties worldwide this summer!
#trumpsavestheworld #trumpsavesamerica #aprilfools2021