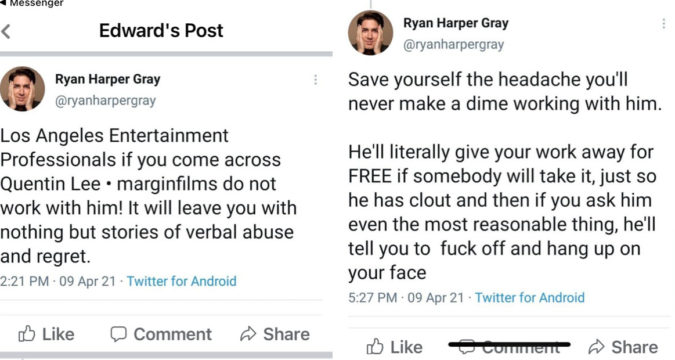 On the night of Friday April 9, 2021 after coming home from dinner, I received a few e-mails from friends sending me screenshots of someone named Ryan Harper Gray (@ryanharpergray on Twitter) who has been tweeting "shit" about me. And I remember Gray is the husband of Atsuko Okatsuka, a comedian whom I worked with on the First Season of Comedy InvAsian, first sold to Hulu as an exclusive in 2018 after wrapping the production in 2017.
Honestly, I haven't had much interaction with Gray except once I met him photographing Atsuko at their place for the promotional poster, another time at their wedding which I felt obligatory to attend for the team, and he called me on a weekend last year trying to have me remove Atsuko's publicity clips from Youtube posted years ago. I hung up on him because I was upset he called me on a weekend asking me to do something that I had already relayed to the team days ago.
As I was hurt by what he wrote, I asked an old indie filmmaker friend who had worked closely with Gray as Gray told me they had a falling out in 2013. While the filmmaker friend didn't want to be named, he told me, "I departed ways with Ryan owing to his doing something against an agreement, and then lying about it to me, and ended up saying I didn't remember telling him something I never told him, because 'I was old.' I haven't had a word with him since. He was, for me, a good actor; but not a good enough liar by a long shot."
Having heard that, I realized Gray was not someone I would ever work with or trust.
I also feel regretful having worked with Atsuko Okatsuka as she has given me nothing but grief over the course of the production in 2017 until today. After her contract was signed, negotiated and approved through her manager, having performed her one-night special and getting paid, she told me she wanted to pull her performance from the series because she learned that the co-financier and distributor was a Trump supporter. I told her she signed her contract and had to stick with the terms and plan.
A couple of weeks before the Hulu release, Atsuko called me to ask me to take out a scene from the cut. And I told her that it was already delivered to the network with her approval on the locked cut months ago… and there was nothing else I could do at that point.
Last November, Atsuko e-mailed me to have her Comedy InvAsian publicity clips removed from Youtube and I told her that, first, I was not the publicist, and secondly, the distribution company and co-financier owned the rights to those clips and it would be at the discretion of the distribution company. Even after I had put her directly in touch with the president of the distribution and co-financing company Victor Elizalde (years ago), she chose to bother me who had been off the project for years.
That same weekend, after I had already sent an e-mail to the team about her request, her husband Ryan Harper Gray called to tell me to remove her clips, so I hung up on him and blocked his number.
Then just last Friday, all hell broke lose with Gray tweeting about me, "Los Angeles Entertainment Professionals if you come across Quentin Lee • marginfilms do not work with him! It will leave you with nothing but stories of verbal abuse and regret." And he tweeted right after, "Save yourself the heartache you'll never make a dime working with him. He'll literally give your work away for FREE if somebody will take it, just so he has clout and then if you ask him even the most reasonable thing, he'll tell you to fuck off and hang up on your face."
Responding to his "make a dime" accusation, Atsuko was paid 50% of her live box office as an advance against her revenue sharing equity on the series after the production's recoupment. Before making the series, talking to my co-creator Koji Steven Sakai who had just produced a comedy special with comedian Dwayne Perkins, we designed this deal so that the comedian would at least take home some live box office money. In Comedy InvAsian's case, each comedian took home anywhere from $200 to $1,200 depending on the live box office of his/her/their show. In Koji and Dwayne's special, Koji and Dwayne opted to finance the entire production through the live box office so they put everything back into the production. At that time, the SAG ultra low budget scale rate was $125 / day. So I thought $200 to $1,200 wasn't a bad pay for a few hours of work, considering that it was above daily scale for a SAG Ultra Low Budget production.
As the producer, director and investor, to this day, I have still not made a dime from the production because the production hasn't recouped and I have taken a full equity position on Comedy InvAsian Season 1. It's disheartening for an indie filmmaker who tried to take care of the talents as much as possible and in return received cold hearted character assassination and ruthless defamation. Be careful of whom you work with. As with your best intention and doing everything legal, the discontent can still try to hurt you via negative publicity.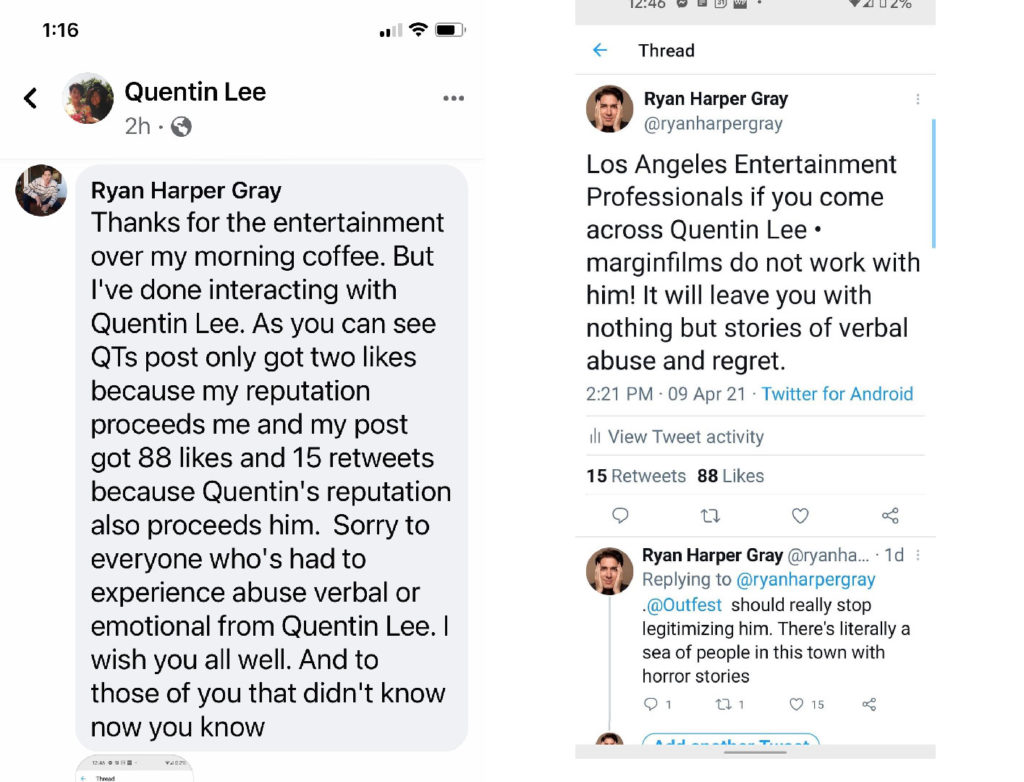 Snakes are everywhere in this town. They are clichés of Hollywood. I hope you don't have to deal with them. And I'm posting an approved e-mail below from Executive Producer Victor Elizalde from Comedy InvAsian. He's the man I will work with again, because he's one of the good people, a rare breed in Hollywood indeed.
---
After I posted this article, Ryan Harper Gray e-mailed me this message threatening me to remove the article: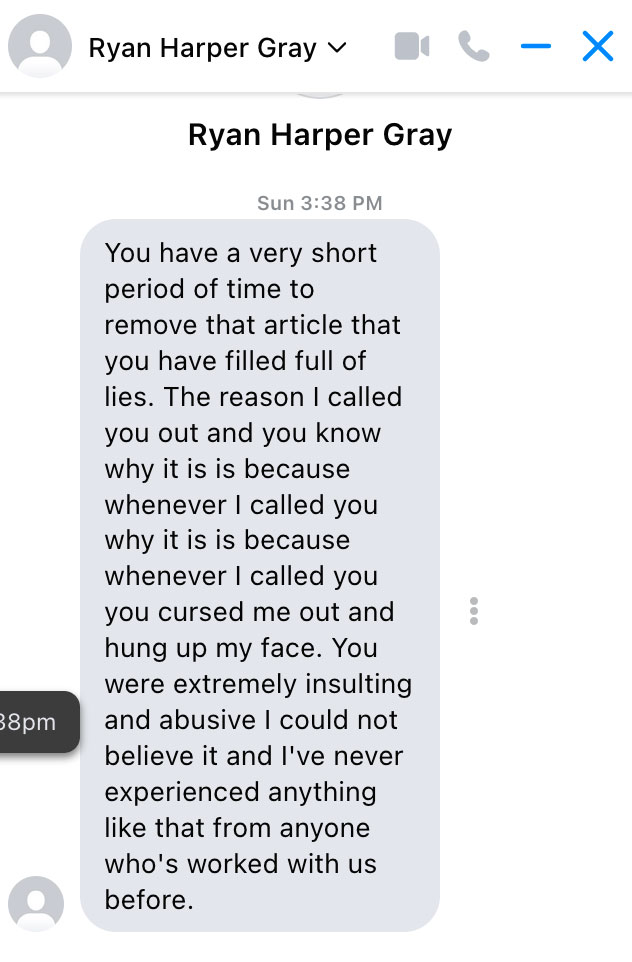 If by telling the truth, the whole truth, and nothing but the whole truth, shall get me in trouble, then so be it. Amen!
---
An Open Letter about Comedy InvAsian from Victor Elizalde, president of Viva Pictures
All:
As executive producer please allow me to sort things out. I am putting everyone on bcc so that you can air your grievances with me directly. I am disappointed that things have come to this but I am hopeful they will now come back together. The anger should not be at each other but rather Hollywood that continues to give us people of color lip service and no opportunities other than the ones we create for ourselves. We are not victims which is why we are moving forward.
The background on Comedy InvAsian is that Koji & Quentin approached me a few years ago with the concept to promote / produce under-represented comedians, namely Asian comedians since we had just started a successful LatinX stand-up comedy show on HBO, which is now in its 5th year and licensed to HBO Max through 2026.
The two agreed to also co-finance the production with their own money without having any distribution deals in place because we knew if we waited for that the project to get approved it would never get completed. They believed in the performers in the line-up because they represented the best of Asian diversity with the strongest comedy.
After completion no distribution platform picked up the series. No one. I have some close contacts with the folks at Hulu and eventually got them to pick up the series for almost nothing to be able to tell the world that our talent premiered on Hulu – a big win for everyone. At this time we were willing to do this deal since it was the only respectable option but was also a way for us to showcase the proof of concept for Asian comedy.
Fast forward a few years later, to just a few months ago (before the now popular media de jour cries against anti-Asian racism) and applause to Quentin & Koji for willing to put up more money to try a season 2. Yes, we have agreed to co-finance a season 2 because we know this is the right thing to do even if not profitable now – we have not recouped even 30% of the original season 1 production budget and I assure you it is not because we overspent on the production.
Because of season 2 we are re-promoting the season 1 assets in a fair but meaningful way by releasing the audio and looking to build a true series which we critical to turning the corner on the LatinX comedy series. The audio is via sound exchange and our partners at 800lb Gorilla which automatically assigns a portion of the revenue to all performers directly which we thought would be best and fair for the performers. For anyone who does not think this is fair try working with another distributor and see what you get.
I can say first hand that breaking the Hollywood comedy coronation barrier at the studios is beyond difficult but I know we can do it as we have done it with the LatinX comedy which now has a live tour fully coordinated/booked by WME and is at the Hard Rock Hotel Casino Ft Lauderdale next weekend. However, it requires that we all work in the same direction. I understand and fully expect that many of you have much better and more polished routines today as that is part of the natural progression of stand up comedy. I only ask that even if you are not happy with your performance back then that you take pride in what you have started and not try prevent or interfere with this movement from happening for the good of all. We were all willing and excited participants when this material was recorded so please support us or at a minimum allow us to move forward. Anything to the contrary hurts everyone.
I am open to talk in person should anyone want to do so. Thank you all so much for being pioneers.
Respectfully,
Victor