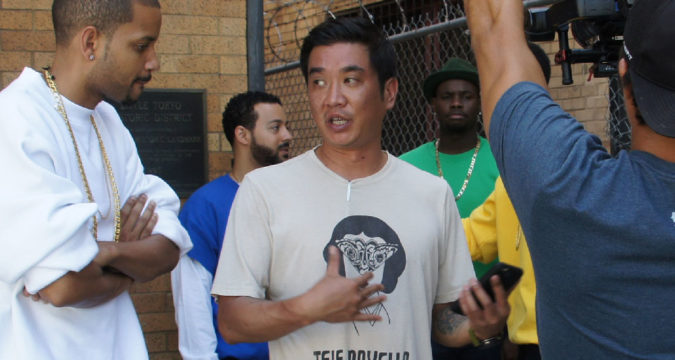 AAM.tv releases "Two by Milton Liu," a limited series featuring Milton Liu's web series How John Hughes Ruined My Life starring Samantha Futterman and his feature documentary I Hate Big Phony. CHOPSO interviewed Milton on the creation of his two oeuvres now streaming on AAM.tv: https://www.asianamericanmovies.com/two-films-by-milton-liu
How did you come into filmmaking and why?
ML: I grew up in the suburbs of Chicago where there wasn't a lot to do that didn't involve maiming yourself as a kid (we tried) — so I wrote stories. But my first taste of filmmaking was in Spanish Class. We were tasked with making a short video in which only Spanish was spoken. On a VHS camcorder, I decided to create a fake trailer for the movie, Faces of Death. Fake blood, guts and a dummy that we ran over with a car. The only dialogue was a V.O. that would say, "Muerte" – over and over. Cinema!
But it wasn't until after college, when I was in stuck in a Finance job, that I got more involved with my childhood friend (Dennis Lee) and producing his shorts he was making at Columbia Film School. Our first short we did, JESUS HENRY CHRIST, won a Student Academy Award. That was it — I quit my finance job, pissed off my parents, moved to NYC and we started a production company: Kulture Machine.
How did "John Hughes Ruined My Life" come about?
ML: Growing up near Chicago, John Hughes' movies were seminal to my life. Understandably, there is a backlash as to how Long Duk Dong was portrayed – but I looked at him as the real winner in the film. He got to party, hook up with a girl (consensual) and didn't even have to go to the wedding. I'm not trying to be glib or give Hughes a pass – but at that time, there were so few Asian faces onscreen, Gedde Watanabe's character really spoke to me.
Flash forward to my days in finance. One of my closest friends shared my same love of Brit Pop, questionable fashion and that emo romanticism. One night at a bar, looking at the dearth of prospective men, she asks me, "Where's my Jake Ryan?" I responded with "Jake Ryan is a lie. John Hughes ruined your life."
I immediately knew this would be my first screenplay I would write. I wrote a terrible first draft in a week. But with passion (and help from my friend's childhood journal), I got it into decent shape and was lucky enough to win Tribeca All Access with that screenplay.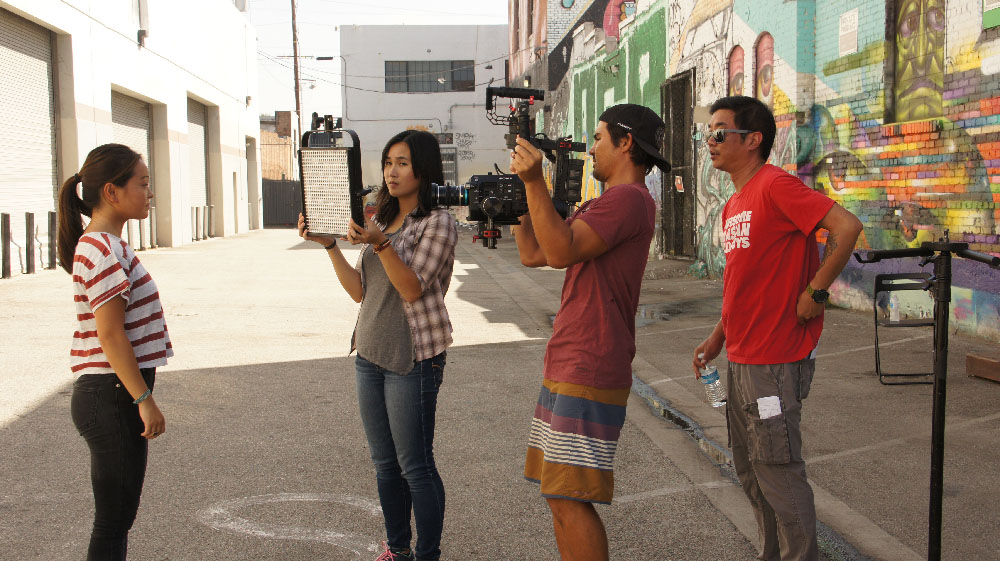 Why did you choose Samantha Futerman as the protagonist?
ML: When Tribeca gave me a grant to make the web series, I knew it was paramount to find the right leading lady – and one who was Asian American. I had just watched Sam's amazing documentary, TWINSTERS, and loved her scene-stealing scenes in OVER 21. She has that perfect crusty/sardonic exterior, but with a soft gooey inside. When we met, she immediately passed my Blondie test – "cold as ice cream, but still as sweet."
"I Hate Big Phony" is a departure from narrative. Why did you decide to make a documentary feature?
ML: I didn't – but after meeting Bobby Choy, his enigmatic personality started to create an itch. Years ago, I was at SXSW and a friend had kept saying that I had to meet this musician named Big Phony. With a stage name like that, I thought he would be some hardcore rapper. Turns out he was this unassuming mop of black hair who I thought was part of SXSW's accounting department.
We got to know one another through many bottles of soju, and I was leaving for my first trip to Asia since I was a child. I was ecstatic to find out that Bobby had just moved to Seoul from LA and we could link up there. In Seoul, after listening to his melancholic and melodic songwriting, I was amazed that he also occasionally played with one of the biggest punk bands in Korea – No Brain. And he also played one of the leads in a feature film that was about to be released – K-Town Cowboys. Who was this man who uprooted his life in America to move to Seoul, had an eclectic array of artistry, and in every press photo had a bag over his head?
I knew then that his story needed to be told.
What do you find most moving / fascinating about Big Phony's music?
ML: His music is filled with earnestness and heart that can only come from the realness of his life. Understanding his past – how his father died when he was young, living on the streets of NYC, giving up a career in America to connect with his home country that he never knew… all plays into his music. At times, soul-crushing (Short Intermission); and at other times, spine-tingling joy (Ready Or Not). But like Bobby, each and every song of his exudes craftsmanship, passion and love.
What are you doing and working on now?
ML: I have a feature horror/thriller with Janet Hsieh attached, possibly shooting in Taiwan. And my managers just sent out a fantasy/comedy pilot of mine: Tina Chang Goes to Hell! Think Buffy, but if our lead was an APA adopted millennial slacker.
Currently I'm finishing a horror/detective pilot with Koji Sakai. Over the pandemic we created this Hapa teenage girl who begins documenting to her social media pages, weird events as she dives into an Asian urban legend – and then she seemingly goes missing. The pilot is about detectives searching for this missing girl.
Oh and I'm in the nascent stage of working on a sports documentary with Dennis Lee. It's a crazy NBA story, but need to keep it under wraps for now.
I realize you produce, direct and write. Which do you lean toward more after directing a web series and a documentary?
ML: Honestly, all I care about is the story – whether I produce, direct or write it. For instance, with John Hughes and Big Phony – I had to direct those projects. Those have to come from me. But I'm currently producing a short film (with Jenna Ushkowitz) that Sam Futerman wrote, directed and stars in. It's her story dealing with being an Asian American adoptee during the pandemic and how she can feel stuck between two worlds. It's her voice and her vision – I want to get her story out into the world.
What is one advice you would give to a young AAPI startup filmmaker?
ML: Read. Read as many scripts as you can. Films and TV shows that you love. How did the writer make you laugh, cry, champion your hero?
But also write. Each day. 3-5 pages. It doesn't have to be a screenplay – it can be a short story, a journal entry or a letter. Build your writing muscle, because you never know when/where/how that story will come to you.
Lastly, make sure you understand and know why you are the only person (and the right person) to tell this story. Be vulnerable — you have to bring what is unique about you into the story.