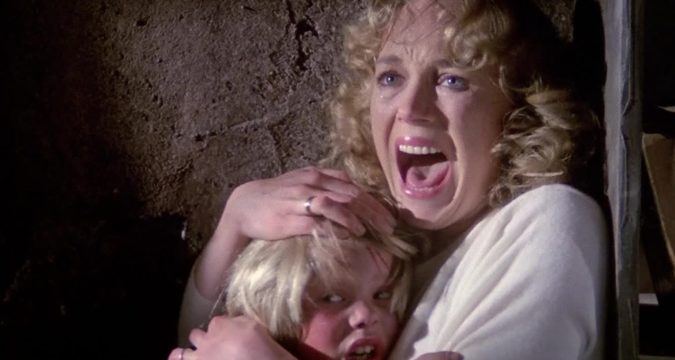 In the blink of an eye, Lucio Fulci's The Beyond turns 40 this year in 2021. I was introduced to Lucio Fulci back in the 80s when I was growing up in Hong Kong as a teenager with a healthy diet of horror movies on VHS rental. I vaguely recall renting Zombie 2, the unofficial sequel to Dawn of the Dead which was titled as Zombie in some international territories as a teenager. Quickly realizing Fulci's Zombie was nothing like Dawn of the Dead, I was mesmerized and disturbed by his use of English dubbing and random extreme close-up shots.
While ripping off Romero's Dawn of the Dead, Fulci's Zombie was also inventive in creating a genre of supernatural zombies that no one has done before.
Over the decades, I've become more and more fascinated by Lucio Fulci who was both a prolific and uneven filmmaker. For my taste, there are about ten or so Fulci films that are well-made and fascinating while the rest are a bit unwatchable.
In celebration of Halloween, I'll list my ten favorite Fulci films that you can binge in order of favoritism.
Zombie (1979)
There is no escape from Zombie as Fulci proves himself to be original even while ripping off Romero's classic of the genre Dawn of the Dead.
2. The Beyond (1981)
3. The House by the Cemetery (1981)
Essentially Fulci's The House by the Cemetery is a haunted house with a zombie twist. What makes it especially haunting is the friendship between the two children characters.
4. City of the Living Dead (1980)
In City of the Living Dead, A priest hangs himself in the cemetery opening up the gates of hell. Be warned… it features the grossest horror film moments in history where a young woman vomits out her entire gut, literally!
5. Don't Torture a Duckling (1972)
6. Manhattan Baby (1982)
Manhattan Baby is Fulci's inventive conversation with the traditional Egyptian curse horror movie, kind of a cross between The Exorcist and Carrie.
7. The Psychic (1977)
8. The Black Cat (1981)
Fulci adapts Edgar Allan Poe! There are some interesting scenes but the film never quite gels together.
9. Murder Rock (1984)
10. New York Ripper (1982)
New York Ripper is gratuitous and choppy. It's definitely my least favorite of Fulci. But you might as well binge it so you can get a full dose of Lucio Fulci. #luciofulci