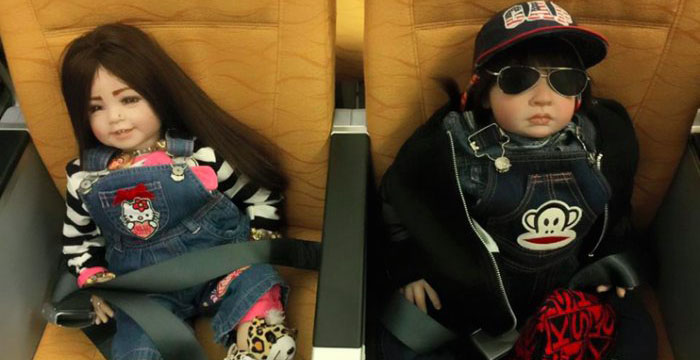 Thai Smile Airways, Thailand's domestic low-cost subsidiary airline of Thai Airways, is allowing a bizarre provision for passengers to buy tickets for their dolls to cater to the nation's latest craze of superstition while perhaps making some extra cash on the side.
The decision is due to a new trend sweeping the nation where Thais treat life-like dolls, believed to contain the spirit of a child, as if they were real, living human beings. Luke Thep, or Child Angel, began a little over a year ago with Thai celebrities publicly praising these dolls' spiritual powers. Locals have since flocked to buy the foreign-made dolls, which in many cases are sold by vendors evading import taxes. Before these dolls are considered an angel, they would have to be blessed by Buddhist monks.
This fad is not uncommon in the Thai kingdom where there is an underground industry of selling mummified stillborn fetuses covered in gold. These fetuses called Kuman Thong, or Golden Boy, are said to be inhabited by the spirit of a child and will bring their owners good fortune.
Luke Thep, an evolution of Kuman Thong if you will, is more wholesome than its necromantic ancestor. Owners can bring their dolls to cafes where they will be served food, salons to beautify them and clothing stores for the latest fashions. But with the latest leaked memo from Thai Smile Airways, the Civil Aviation Authority of Thailand (CAAT) had to make a statement that Luke Thep are "non-human beings that cannot be considered passengers."