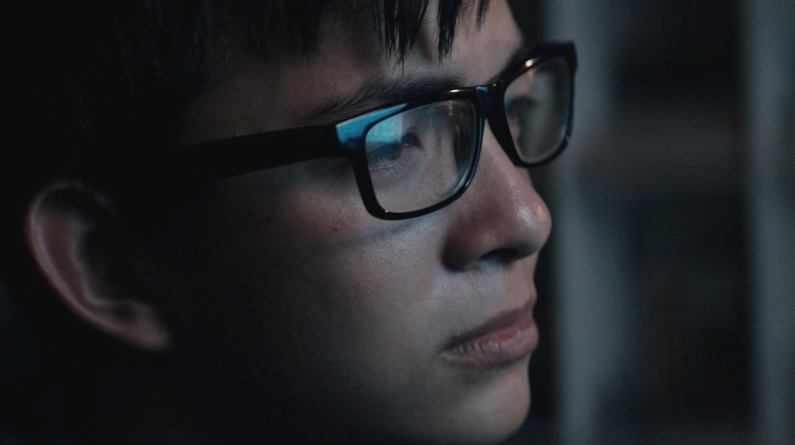 Major Curda Upcoming Star
When I first auditioned Major Curda who might have been ten or so at the time, I felt the boy had a certain OOMPH so I created a small part for him in White Frog. Unfortunately, most of that role was cut out. It was total serendipity that I caught Major again at 18 acting in "Godlike," a short film currently streaming on CHOPSO. Of course, I must grab a quick interview with this upcoming star whom I'm very positive about.
C: Can you talk about how you got involved with "Godlike"? Was it your first leading role?
MC: I got involved with "Godlike" just like I do for most projects, I auditioned. The audition is actually a funny story, after the first round of auditions I was called back to read with other actors auditioning for different roles. After reading with 5 or 6 other people I was wondering when they would have me step out and bring in someone else to read for Alex, but they never did. It wasn't until I was onset with Mikey, the director and writer of "Godlike," that I found out he had already cast me as Alex at that point, he just hadn't told me yet.
I specifically remember being excited about "Godlike" because it was very well written and it's not so often I get to go in for a lead role explicitly described as Asian. Although I've played leading roles in Musicals and larger roles in TV and Film this was the first time I was playing a lead role that was specifically Asian American. It was a fantastic opportunity, one I doubt I'll forget. Not only was my cultural perspective something I could really utilize when playing Alex, I also learned a lot about what it means to be number one on the call sheet and the responsibilities that come with that.
C: What's your ethnic background and how does that inform you as an actor?
MC: My background is 50% Korean and 50% Irish, Scottish, and Cherokee Indian. My background as a half-Korean Asian American has it's way of informing every role I play, whether a character is distinctly Asian, Asian American, or not. I believe that your ethnic background is undoubtedly a part of who you are, whether you acknowledge it or not.
C: What's the favorite role you have played so far and why?
MC: It's certainly a toss up between Alex in "Godlike" and Bassianus in Titus Andronicus. Godlike was so special because roles like Alex don't come around very often, it was a rare opportunity to push myself as an actor and bring my full perspective as an Asian American to the table. The production of Titus Andronicus, Shakespeare's first tragedy, I took part in was a very special adaptation which was cut into an hour-long comedy with puppets, improvisation, and clowning; it was immensely fun.
C: What's your outlook as an Asian American actor and what one advice would you give someone starting out like you did?
MC: Life for an Asian American in the entertainment industry is getting better, but it is by no means easy. There will be stereotypes, discrimination, and what feels like a lack of imagination on the part of content creators. Although you'll have to decide for yourself how to confront each of these things, I will tell you one thing: There will be times where you'll feel like you're not enough; maybe you're not enough for that part you wanted, or that casting director, or that producer, or maybe even yourself. Know that you are enough, you are right now and you always will be.
C: Now that you're in college, are you still pursuing acting or you're putting a hold on it right now? Will we be seeing you more in the near future?
MC: I'm actually in the Acting/Musical Theatre program in the School of Drama at Carnegie Mellon University while also working toward a minor in Creative Writing, so you could definitely say I'm still pursuing acting. In fact, many well known Asian and Asian American actors have graduated from my program, Ming-Na Wen (Voice of Mulan and series regular on Agents of SHIELD), Telly Leung (currently playing Aladdin on Broadway), Krista Yu (who just wrapped a series regular role on Dr. Ken), and Devin Ilaw (currently in Miss Saigon on Broadway). Lastly, though I'm not currently working on any projects you can always go on Netflix or tune in to the CW and find me in Season 1 and 2 of Riverdale where I play Dilton Doiley.