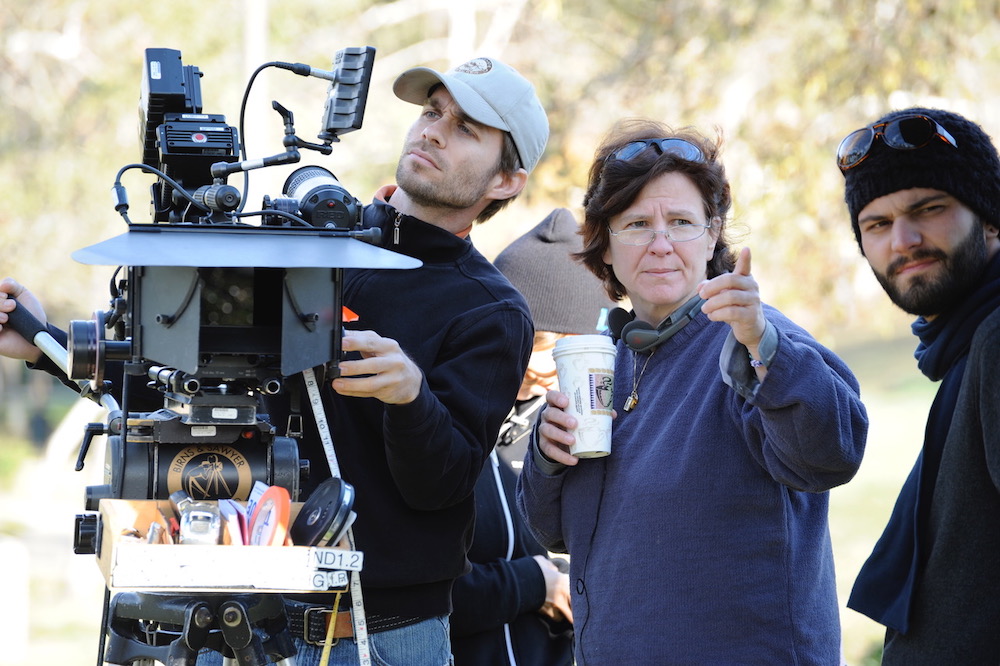 I saw Nicole Coonn's pioneering lesbian feature Claire of the Moon in the theater in 1992 and I was totally riveted by the film's beauty and truthful portrayal of lesbian relationships. I became a real fan of Nicole's work and took the opportunity to interview her for CHOPSO when she's now pushing her most ambitious project yet, Nicole Conn Films Global, a global hub for all things lesbians!
Can you talk about your experience of making your first seminal feature Claire of the Moon in the pre-digital era? Would you have made a different film had you made it now?
NC: I started out to make a 10 minute B&W short to cut my director's teeth on and that turned into a 110 page script that became "Claire of the Moon." We shot it as a real film in 35mm and the entire experience was one of the best of my life. I do believe you make different films working in a digital universe because you are no longer constrained by the "preciousness" of film. With film you can't see a take until you get your dailies – so you have no idea what you actually picked up for the day and whether you need to reshoot. You also don't have the prohibitive cost of sending your negatives to get printed so that you can see a version of your film on tape – usually ¾" or ½". It was an entirely different world but I'm thrilled I got to have the experience of all the filmmakers before me who cut on a flatbed and saw their film projected on a large screen looking more beautiful than anything you can imagine, and for me, as a filmmaker, nothing digital matches the look of film. The closest I can get to that is using the RED camera and special filters as well as coloring a specific way in post. Ultimately I feel the film would be better because I would have shot scenes until I got the takes I wanted/needed.
There was over a ten-year gap between you made your first and second film. Can you talk about what happened and how you had come back to filmmaking?
NC: Yes, after "Claire of the Moon" came out I did the BTS called "MOMENTS" – The Making of Claire of the moon – which was the first of its kind. Along with all the other ancillary we created; t-shirts, posters, one-sheets, jewelry, soundtrack cassettes, then CD's – You name it we had a COTM merch item for it – even Xmas ornaments. Back then COTM was it. It was the first lesbian title since "Desert Hearts" in 1985. So seven years between lesbian movies and the women went wild as the film became a cult classic.
So I spent 7 years roughly doing that as well as writing the novelization "Claire of the Moon" which is in it's 20th Reprint. I then began work on several novels which Simon Schuster picked up, "Passion's Shadow" and "Angel Wings". Oh and decided to have children!!
How has motherhood transformed you as an artist and filmmaker?
NC: It's changed me in every conceivable way I can imagine. Having my perfectly healthy daughter made me realize there was something bigger than myself and my needs and realized I had been insufferably selfish and narcissistic as a filmmaker who people oohed and ahhhed over during "Claire of the Moon's" reign. I didn't much like myself. But when Gabrielle was born all of my selfishness was replaced by the purity of love I felt for this gorgeous little baby.
And then 18 months later when Nicholas came into the world 100 days early at only 1 pound my life and my career took a completely different shape than I could ever have imagined. I ended up doing a documentary, "little man" about everything Nicholas went through in the NICU and then what we all went through as a family dealing with Nicholas living in the hospital on and off the first five years of his life.
How did you find filmmaking when it has evolved from celluloid to digital on your second feature Little Man? How did you find making a documentary different from a narrative feature?
NC: Filmmaking had already shifted to taped digital formats and we shot most of "Little Man" with my professional Canon GL-1. I fell in LOVE with that camera because it was such an amazing workhorse for the 2 ½ years we shot footage out of my home and the hospitals. We were also very fortunate that we shot right before the HIPPA privacy laws were enacted – so we were able to get footage in the NICU no one will ever see again – (unless it's provided by the hospitals AV team).
Digital filmmaking may have been less expensive in some ways, but it also had its own set of challenges. Transferring 200 hours of Nicholas's life took up thirty five – yes 35!!! 250 Gig Hard Drives that were all daisy-chained together so you can imagine if one of the drives got corrupted you had to Disk Warrior 35 drives – well that easily took up half a day to find the problem and reboot. It was insanity!!
The very best thing about being digital is that I'm what I call a "footage whore" who wants to shoot out everything every which way I can so I have that one special moment I can cut in. Which is extremely wasteful but shooting digitally costs so little that you can keep shooting stuff out forever. And that's also my downfall – so much footage that I then have to cut over and over again to refine it down to its perfection!
Can you talk about "She Walks in Beauty," your latest feature in development?
NC: Actually "She Walks in Beauty" is only partially in development. The interior story, "Cynara" inside the novel has been optioned by Film McQueen and Jane Clark a fellow writer/director is attempting to make that into a feature.
My next feature is "Do We Not Bleed" (Working Title) A gripping and haunting love story between two women who meet at a specialized grief group and. One woman has lost her son to a school shooting, the other woman's sister commits a violent murder/suicide. Both are consumed with their grief and it isn't until they meet that they discover the only way to heal is through each other.
Let's talk about your new platform, Nicole Conn Films Global. How can other female filmmakers participate and what do you plan to accomplish with it?
Why don't I let our mission statement answer that for you:
Nicole Conn Films Global is an international group dedicated to the funding and supporting of women's stories in the 21st Century. We are committed to producing quality and entertaining Feature Films, Documentaries and TV/Web Series made By, For & About Women and their complex lives. Our mission is to keep Women's Lesbian Cinema alive and thriving by having created a Hybrid Funding Model.
The New Funding Model: How it Works
We came to understand there are four essential ways to fund films today, but only one way often does not fit the largest swath of interested parties. In order for us to be able to create these wonderful films we've created a new Hybrid Funding Model which includes 4 major components: 1) Subscription 2) Donor 3) Cash for Credits 4) Investment. This way each individual can tailor-make their own commitment to good women's films and women in the arts in the way that's the best fit for their particular circumstances.
We are working to make www.nicoleconnfilmsglobal.com a major destination hub for all things lesbian content and are creating working relationships with all the other major destination Hubs like OML, Curve, Tello Films, LesFlicks in the UK, Outake Media, Lady Parts TV, etc.

Finally we subscribe to the philosophy that we are Better Together and that by teaming up and working with each other we have a lot more resource to put together content for the community.
What do you think about the current post #metoo climate for female and lesbian filmmakers?
I think it's been a massive touchstone time in our industry. Women have been "taking it" for as long as we've been on this planet and I think we all finally just got fed up with the double-standard and hypocrisy. There should be no industry that can treat women like that and I'm hoping the way the entertainment industry is getting a thorough scrubbing – I hope that lends itself to all the other male-dominated industries.