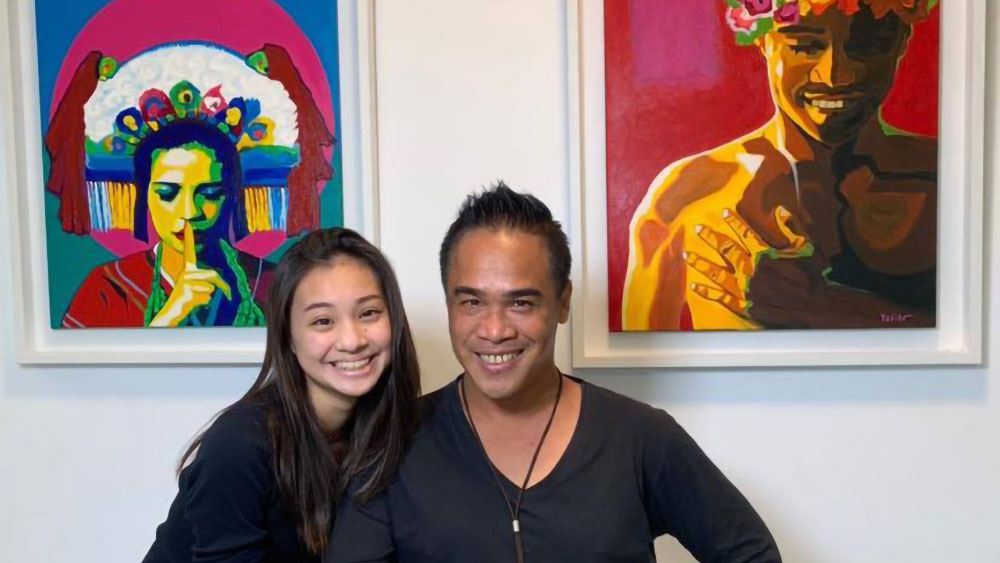 Recently, I received an email from a Yale student asking me to talk to a prospective Yale student Kristina Yang about my filmmaking and grad school experience at Yale. We scheduled a Zoom conference and it made me hopeful and refreshed to have met and talked to Kristina Yang, a 17-year-old rising senior and filmmaker in Taiwan, especially in this cautious and trying time of global pandemic. All by herself, she made a short documentary titled "An Untamed Artist" on the Ami tribe native Taiwanese artist Yosifu who is one of Taiwan's national treasures. I thought the documentary was a succinct and well-made first film which has already garnered over 92K views since it was posted on YouTube earlier this year. And I took the opportunity to interview her for CHOPSO.
Tell us how old you are and how did you come to filmmaking?
KY: I am a 17-year-old rising senior. Growing up, watching movies was not merely a hobby; it became an integral part of my weekend routine. I would glue my eyes to the movie projector in my family's petite apartment, a canvas draped across our entire living room, for hours on end. Freshman year of high school was when it all came together. A film productions class was offered as a visual arts elective at my school. I was more than happy to take it in order to fulfill my credits, nothing more. Little did I know, it would manifest into a passion and a road to self-discovery. Initially, I was drawn to film because it offered new light in critiquing Hollywood movies that I adored. Understanding the cinematography meticulously planned behind every shot completely altered the way I watched movies. Insight into behind the scene processes, previously unbeknown to me, became the forefront of my appreciation for film. In class, I was asked to create a micro-documentary interviewing someone of contribution in my community. I threw myself into this project immediately. It was tough settling on a single subject to interview, but I decided on telling the story of a middle-aged woman, a fruit & vegetable vendor at a traditional Taipei market. From there on then, I fell in love with the distinct ambiance that documentary filmmaking brought, as well as the unique voices & raw humanity that shines through. 
How did you come to make "The Untamed Artist," your first film?
KY: My family and I love to travel to the southeastern coast of Taiwan on holidays. Our favorite place is Taidong. Hidden in its rich river valleys are countless indigenous communities that have been left behind. As we toured the coast of Taidong, we spotted a very popular tourist destination, an indigenous café called Tribal Queen Cafe. In the café, indigenous artworks were plastered across the wall & breathed life into our surroundings. We soon found out that the owner of the cafe was Yosifu, a self-taught indigenous artist. As I took a closer look at his paintings, the strokes and pigment began to tell a deeper story. I asked him about his childhood and soon found out that his success & recognition was embedded in sacrifices and years of inner turmoil. In that moment, I really wanted to capture the voice of conflict because Yosifu had battled so many demons in order to find solace in art, his indigenous identity & home. I found a strong voice and narrative in Yosifu's story and decided to capture his life story through my camera. 
What's the filmmaking process like from production to distribution?
KY: Subject-scouting is a huge first step. All of my subjects have unique backgrounds, a motivation and driving force that describe the essence of their life story. It doesn't have to be in any way, bizarre, or dramatic. These narratives carry themes ranging from familial dedication to the reinvigoration of indigenous culture. There is always a central purpose. With a set focus, the rest of the story really just takes off from there. Generally, the process begins with extensive background research. I need to go into a documentary interview knowing the intricacies of my subject's life story in order to prompt an animated discussion that develops organically. Post-production is paramount. The creativity really begins with editing the story together; what you see in a 5-10 minute doc is cherry-picked from approximately 3 hours of rolling footage and countless audio screenings. My job is to reconstruct these 'hidden gems' and recapture their essence. All of my works feature individuals who narrate in Mandarin. But each story has open captions with English subtitles! My goal is to broadcast these voices abroad and beyond, to the outskirts of our international community. Capturing the soul in each story through subtitles is not only a stylistic touch but also a vital element to my final product. Distribution is very new to me because my "Yosifu" documentary is the first piece of work that has garnered quite a significant amount of views. I gained some significant momentum through Yosifu's audience, who then shared my work with their respective communities. I am currently trying to grow my own online presence and portfolio (through my youtube channel, instagram film account, film website) in order to amplify my voice in the film community. 
It's impressive you get 91K views on Youtube. How has the response been?
KY: Thank you! The response has been so surreal. A lot of the exposure came from Yosifu, who loved this documentary and broadcasted it across his extensive media platform. The comments on my Youtube channel never cease to amaze me; people have thanked Yosifu & myself for inspiring them & their journeys of self-discovery, media companies have requested to publish my documentary on their platforms & host interviews with me, indigenous individuals & communities have shown this to their children at home to empower their identity affirmation. Of course, I've also received some hate for empowering indigenous individuals, because "many of them are alcoholics and lazy burdens to the rest of society". However, comments like these remind me that exclusionary minority narratives STILL exist; it reminds me why I do what I do and keeps me going. Regardless, I am so fortunate to have reached such a large audience!
What is the most valuable thing you learned from making "The Untamed Artist?"
KY: Stories are not one-dimensional; this is why we have to reject one-dimensional stereotypes. My take on Yosifu's story, the way in which my 11-minute film is edited and cut together is one of many, many renditions of how his story can be visualized. I have learned that there is no objective truth to story narratives. Hence, it is all the more important to synthesize and diversify inclusive narratives. While the editing process was overwhelming at times because I occasionally lost track of my focus and strayed away from the core message I wanted to tell, An Untamed Artist has bolstered my own voice & style and taught me how to capture the essence of complex storylines. 
Can you talk about why you think it is important to represent native Taiwanese artists like Yosifu?
KY: I believe that the purpose of documentary filmmaking is to capture the voices of seemingly mundane characters that we don't think twice about in our daily lives. Hollywood is only keen on creating films that will pack the box office (which are usually unrealistic counter-narratives juxtaposed with our very "ordinary" lives). Mainstream media tends to sensationalize headlines, which comes at the expense of allocating diversity and representation equitably. I want to change this. Too often, we overlook the value in 'ordinary' stories that encapsulate a myriad of people that build our communities from grassroots levels. This especially rings true in the Taiwanese indigenous community, a community that has been historically oppressed and erased from our history. Indigenous artists, specifically, are often the backbone diversifying Taiwanese culture. However, many traditional indigenous designs and artworks are being capitalized & exploited by private companies. With indigenous communities fighting to preserve their culture and language, it is paramount to give voice and make space for indigenous individuals. This is a cause I have dedicated myself to.  
Close your eyes and look to the future… what kind of films make you excited to make?
KY: I love interviews and documenting ordinary people & their not so ordinary stories. However, I'd love to dive into narrative film work. I think that's where my creativity will thrive. Recently, I have been obsessed with the Netflix show, Snowpiercer so I'd be thrilled to direct a psychologically bending, dystopian action thriller someday.
As a prospective Yale student, what draws you to Yale?
KY: Yale truly brings the arts to life. As a filmmaker passionate in discovering how film and journalism intersect with language, culture, and social advocacy, I want to study change and be a part of change firsthand. Yale provides a dynamic learning environment, extending well beyond the classroom, and encourages its students to embed diverse forms of art and self-expression in academics and scholarship. I love this fusion because students at Yale are able to envision the bridge between their aspirations & actions. Yale's Native American Culture Center, coupled with its unique major in Ethnicity, Race & Migration, and spoken word group WORD exemplifies how students at Yale are able to diversify & unify their passions and initiatives.