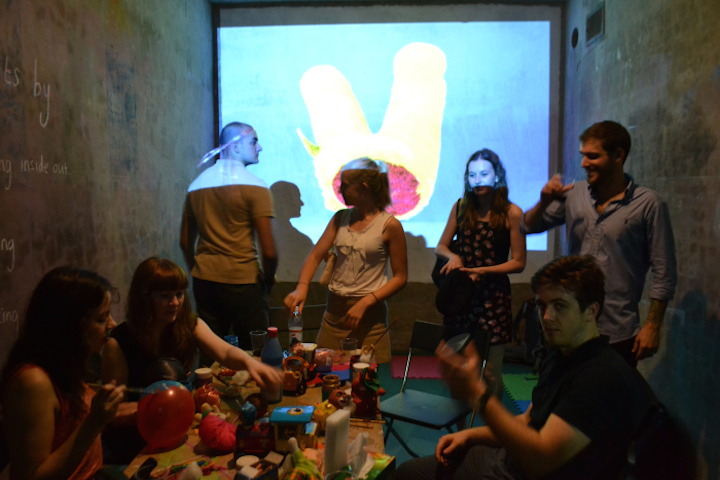 Winter has arrived in Shanghai this week, and as citizens are getting ready to hibernate, one of the city's more interesting cultural movements is stirring awake. Underground cinemas are DIY film screenings organised in unusual venues by cineastes and reprobates, where walls are screens and permission is negligible. It's unique exposure for filmmakers and audiences alike, and China brings its own flavour to the proceedings. Lax piracy laws mean license fees aren't a barrier. But government restrictions have seen organisers arrested and jailed, or in the least get very creative (one Beijing film festival moved a screening onto a train a couple years back to avoid being shut down).
Shanghai's circuit is vibrant, and any given week through the winter months you can sometimes find a dozen DIY cinemas happening.
SHARSIES
Art collective Basement6 drops video media events from time to time, and their Sharies series is one of the best. Monthly guest curators introduce films important or influential on their own artistic practice. Beneath film school jargon, there's a genuine affinity in the accompanying mini-lectures.
SUB-CINEMA
Cult classics including Funeral Parade of Roses and Solarys are peppered with mainstream hits like Life of Pi. Weekly, with free popcorn…in an old bombshelter.
CINEMQ
The bastard offshoot Shanghai's queer film festival, CINEMQ plays queer short films from China and around the world. They're chopped together like hour long mix tapes, with are usually followed by disco heavy after parties. Previous events have included tributes to Paris Is Burning and a screening in a shed on a rooftop. Follow them on Facebook.
FLAMINGO SHANGHAI
The local branch of a consultancy firm opens its doors once of month to serve up documentary features and surprisingly elaborate hors d'ourves. Follow their twitter account.
NOMADIC CINEMA
Two women, a projector and a noodle shop. Walls are literally screens with this show, which takes a mix of Pathe shorts and new works by local filmmakers and projects them on random street corners around the city's French Concession. Location is dictated by making friends with small restaurant owners who are willing to run a power cable for the projector out of their shop.