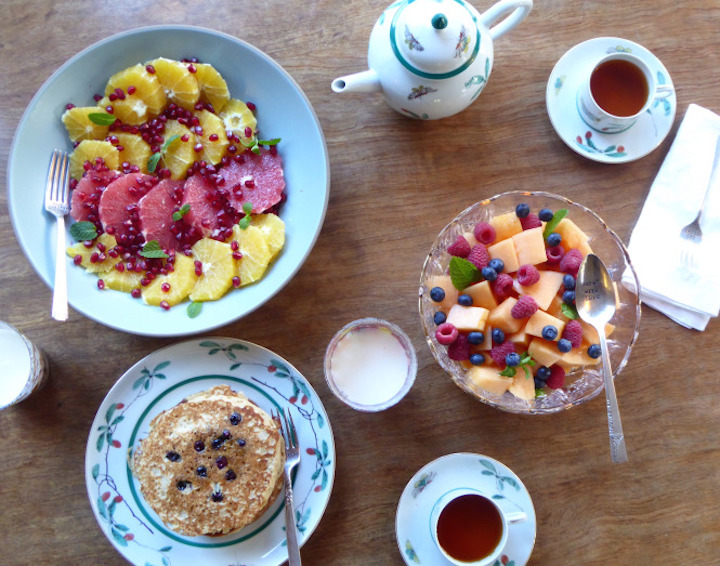 Join Hungry Empress' Joan Chen on her first meal of the year with blueberry pancakes and fruit salads: "Both Angela and Audrey had their first sip of champagne last night, toasting the arrival of 2016.  As I raised my glass, I was somewhat in shock that another year had passed in what seemed like a blink of an eye.  Much was accomplished, but with sacrifices; and much too, was lost, but redeemed by love. Along with families the world over, we have fortunately endured the hardships and thrived in our unity.
Angela will be going away to college this fall, and Audrey will be attending high school.  They are transforming themselves into young women right in front of my eyes.  Transformation, no matter how natural and beautiful, is nevertheless a loss — I miss the cookie and milk scent on their skin and in their hair.  But of course I can't help but feel hopeful — as they become taller, stronger, more independent and so full of anticipation of what they will become.
I rose early to prepare our first meal of the year.  I wanted it to be delicious, healthy, colorful, uplifting and abundant — it is not only a meal to start our day, but also a meal to start our year.  I am not a superstitious person in general, but I wanted our new year breakfast to be auspicious — the word orange sounds like luck in Chinese and the color red brings fortune in my culture.  The blueberry pancakes, well, they have no other meaning than being the yummiest thing I could think of this morning. I always made them with buttermilk, but there was no buttermilk in the fridge, and I instead used 2 cups of milk and 1 cup of plain Kefir.  They turned out perfectly."
Happy New Year!
Get Hungry Empress' pancakes recipe on HungryEmpress.com.