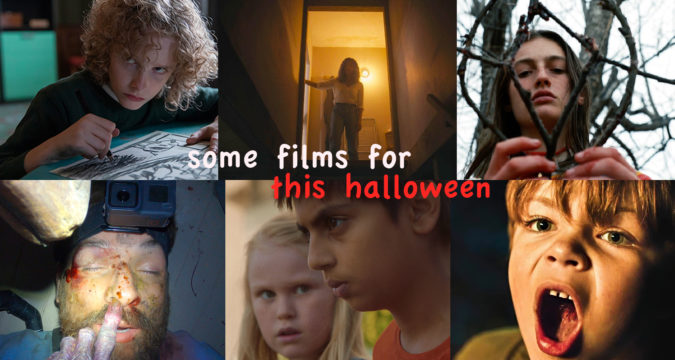 This Halloween season, I've been binging horror films and discovered some really compelling and genre defining new films. Check them out!
1) Barbarian
I was unexpectedly surprised by how well-made, fun and fresh Barbarian is. It took the director almost two decades to get this feature off the ground because it is not a conventional horror film. The storytelling is incredibly creative and the filmmaker is not afraid to go against the grain of Hollywood convention. Barbarian is definitely one of the freshest horror movies I've seen in years, and I did go to the theaters do see it. If there's one horror movie you must watch this year, it will be Barbarian.
2) Marionette
In terms of distribution, Marionette totally slipped through the crack. I caught it on streaming and discovered this brilliant gem of a horror film. It's The Omen meets Matrix. What starts off unexpectedly about an American psychiatrist, after a tragic loss, relocates to Scotland and inherits a young patient who claims to be able to control the her future culminates a conclusion that turns the supernatural horror genre on itself.
3) The Innocents
The Innocents (2022) is a Nordic supernatural thriller about four young kids discovering telekinetic power a la Carrie and The Fury is a subtle slow burn. Nevertheless, it's incredibly effective as you get inside the heads of the few kids and you really feel how their friendships / relationships develop to an unexpected climax. The Innocents reminds me of an art house and non-found-footage version of Chronicle.
4) Speak No Evil
Speak No Evil is a Danish horror film, very much resembles the 70s paranoid films like , that criticizes how Nordic people have become so civilized that they are failing in survival. What starts out as a Danish family visiting a Dutch family living for an idyllic country side getaway turns into an irredeemable and unimaginable family apocalypse.
5) Hellbender
Hellbender is a bit of a puzzle in a good way and resembles more of a poem or experimental film than a conventional narrative film. Maybe that's why I really enjoy it. The mystery centers on the relationship between a mother and daughter, who have magical powers and resemble what we define witches as, isolating themselves in a their rural property. Things go awry when outsiders enter their lives. Hellbender is really a beautiful and haunting film with creative visual effects that remind you of early Ken Russell films. The mother and daughter form their own punk rock band that's named Hellbender. It's a super hip and stylish film that reminds me of a horror version of Run Lola Run.
6) Deadstream
So you know how we are all sick of another found footage horror film, right, especially one about an obnoxious live streamer? Well, I almost skipped this but after seeing it several times I decided to give it a try. When I started watching it, I became compelled by the filmmaker's use of multiple cameras to tell a found footage horror story and the film turns into a found footage version of the original Evil Dead. The result is an unexpectedly fun horror flick!
#somefilmsforthisHalloween